Discover the Magical Little Venice of Mykonos Island, Greece!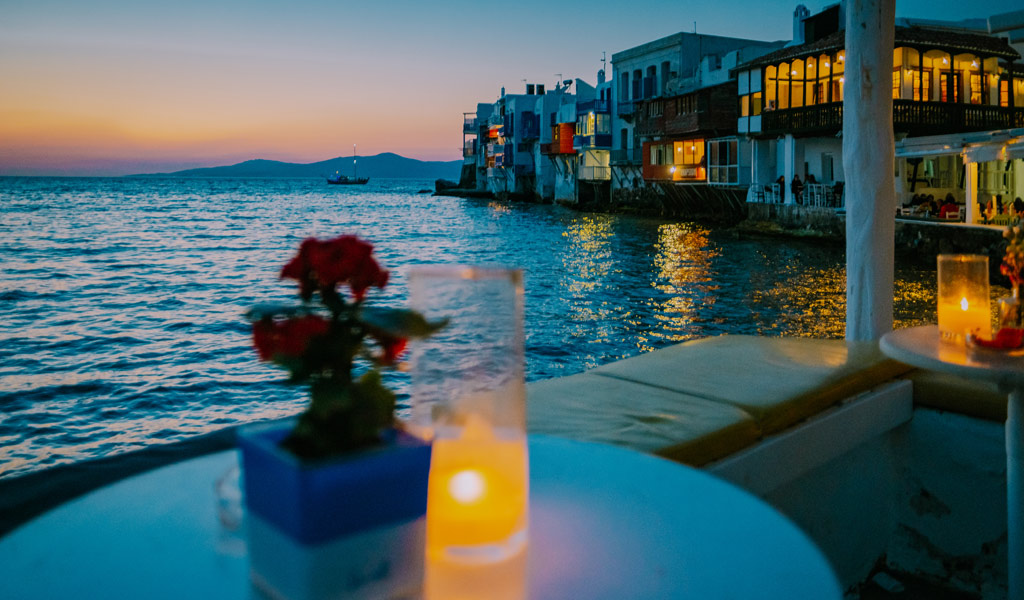 Little Venice in Mykonos, Greece is a sight to behold. Located on the western edge of the island, it offers a stunning view of the Aegean Sea and a glimpse into the traditional architecture of Mykonos. As you approach Little Venice from the waterfront, you can't help but be captivated by its beauty. The pastel-colored buildings line up along cobblestone streets, with balconies overlooking the sea.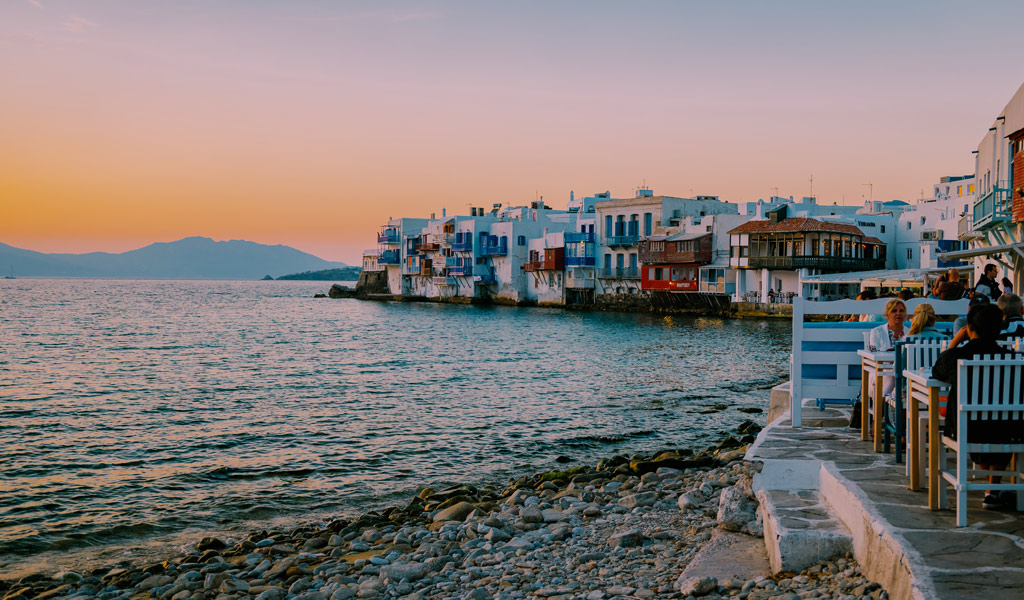 The area has undergone renovations since the 1950s to include several seaside restaurants and cafes to enjoy your meal or coffee while overlooking the sea. At night Little Venice lights up with bars, music, and partying making it an ideal spot for high-quality cocktails or bar-crawling without covering much distance from place to place!
Little Venice also offers some of the best sunsets on Mykonos Island. Watching as the sun slowly sets over the waves of Aegean Sea immerses you into a kaleidoscope of colors creating a unique light show against house fronts that you can only experience here!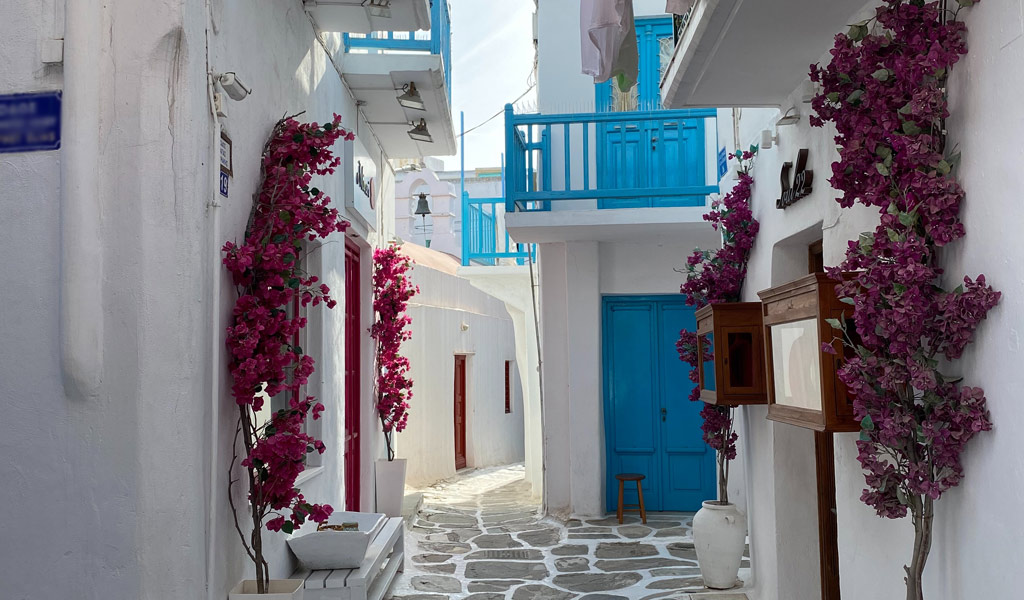 After watching this amazing show you can take romantic stroll through century-old side streets surrounded by bougainvilleas while enjoying fine dining restaurants that respect aesthetic of Little Venice adding just enough modernity to make your romantic getaway perfect!
The view from Little Venice on Mykonos island Greece is truly breathtaking—from here you can see all around to nearby islands such as Delos and Rhenia, as well as out towards open sea in all directions. It's easy to understand why this area has become so popular among tourists; it offers an unparalleled sense of serenity that only comes with being surrounded by nature and ancient history at once. Whether you come here for an afternoon stroll or spend an entire day taking in its beauty, Little Venice will surely leave you feeling refreshed and inspired!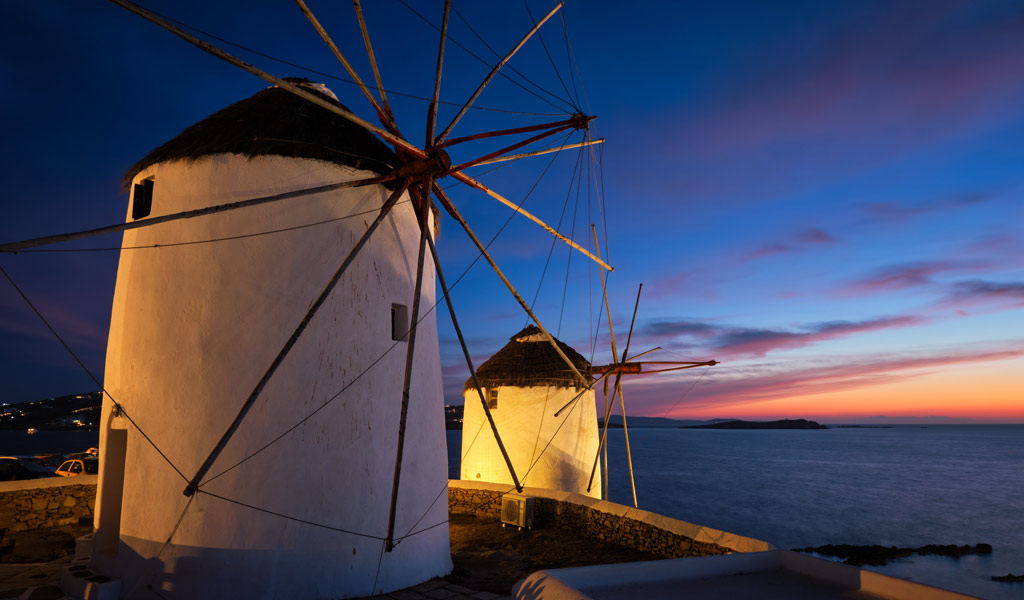 The most iconic feature of this area is undoubtedly its windmills—the trademark of Mykonos Island. These tall structures are painted white with blue accents and have been standing since 16th century when they were used to mill wheat for bread production. Today they stand as reminders of Mykonos' rich history and culture—and make for some amazing photos!
Accommodation options are plentiful in this area too – from luxury Mykonos hotels and boutique hotels to cozy bed & breakfasts – so you'll be sure to find somewhere that suits your needs perfectly.
Overall, there are countless things to do at Little Venice making it an unforgettable spot on Mykonos Island! Whether you want to go bar hopping or take a romantic stroll with your loved one this is definitely one location not be missed when visiting Mykonos Greece!
Venturing to the enchanting realm of Mykonos, seeking that idyllic haven to call your home away from home? Let our expert team be your trusted guide, as we reveal the crème de la crème of Mykonian abodes. Immerse yourself in our thoughtfully composed article, "Where to Stay in Mykonos," a veritable compendium of the island's diverse and captivating landscapes. We have skillfully handpicked an exquisite selection of hotels, organized by location, to ensure your visions of a transcendent Mykonos sojourn blossom into cherished memories that linger in the heart.