Mykonos Tours
Explore the Culture of Mykonos
Mykonos tours by car or by boat – Experience the best tours in Mykonos
Mykonos is far beyond just another cosmopolitan island that draws the attention of thousands of celebs, VIPs, and jet setters. It is a Cycladic pearl that has it all – a rich history, sites of archaeological interest, natural beauties, delicious locally-produced wines and flavors, and lots of cobalt blue and sandy shores to explore. Undeniably, including a few Mykonos tours in your to-do list while visiting the Island of the Winds is one of the most rewarding things you can do. Below are some hand-picked tours in Mykonos definitely worth your consideration.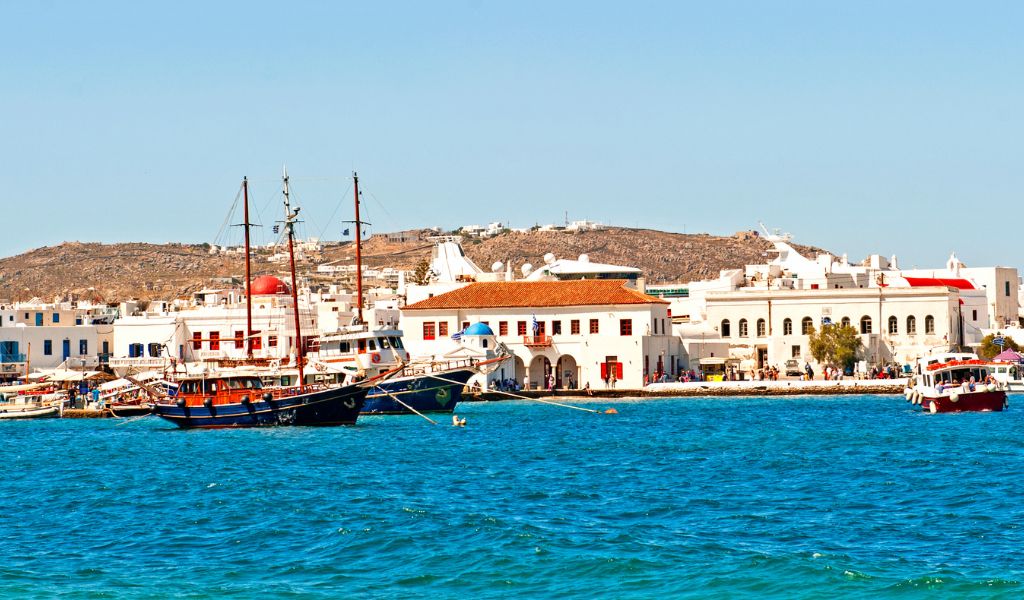 Enjoy a Full-day Relaxing Cruise by Discovering the Hidden Gems of the Mykonos' coast
You'll set sail from Ornos beach and travel along the coast towards Dragonissi, an island known for its stunning shoreline and sea caves. If weather conditions allow, you'll get up close to these natural wonders and have the chance to go swimming and snorkeling. After your swim break, you'll enjoy drinks and a snack before heading to Kalafatis Beach for a delicious Greek lunch with wine.
This tour is suitable for all fitness levels as it is leisurely paced with plenty of time to take in the views or just relax onboard.
The tour includes: a cruise, lunch, and 250 ml of wine
Additional information:
Languages are spoken by the guide: English
Vegetarian options upon request when booking
The departure & arrival point is Ornos Beach on Mykonos island.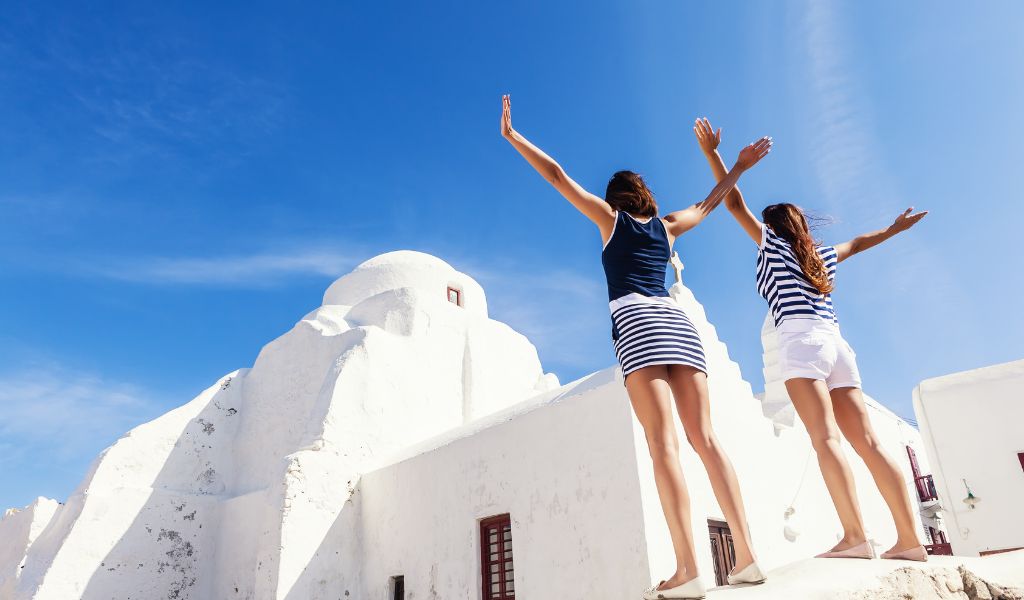 Explore the Beauty of Mykonos: An Unforgettable Guided Tour for Mykonos' Lovers!
Mykonos Island Guided Tour is the perfect way to explore one of Greece's most beautiful islands. The tour starts in Mykonos Town, with a walk through its picturesque streets and a stop at the local port, town churches, and renowned windmills. Afterward, you'll board a bus to take in beaches, private chapels, Cycladic-style houses, and more.
The tour also includes time in Ano Mera – Mykonos' second main village – where you can visit the Monastery of Panagia Tourliani and the traditional square. You can also relax on Kalafatis Beach for some stunning views across the island before ending your day back in Mykonos Town.
This guided tour offers visitors an unforgettable experience with chances to take in iconic churches, windmills, and streets as well as free time to explore Ano Mera village. It also provides scenic views of the island from Kalafatis Beach that will stay with you forever. The guide speaks English, German or French so everyone can enjoy this wonderful experience!
The tour includes guide services as well as transportation by air-conditioned vehicle from Fabrika Square bus stop in Mykonos Town so all you need to do is turn up! So why not come along for an unforgettable day out exploring one of Greece's most beautiful islands?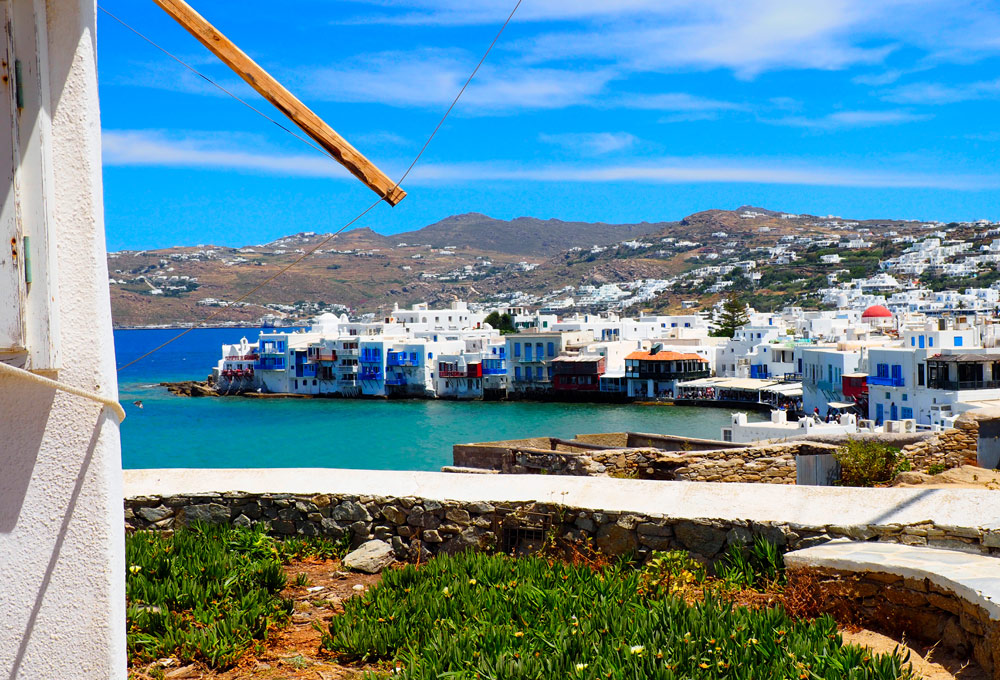 1. Mykonos inland tour
The Queen of the Cyclades is home to some of the most amazing inland charms. From pristine beaches and party-crazy beach bars to scenic villages and towns with narrow, cobbled streets and bougainvillea-filled balconies, whitewashed monasteries, picturesque coves, imposing Mykonos windmills, and neighborhoods featuring impressive Cycladic architecture with Venetian influences, you certainly have plenty to see around. No wonder there are so many tours in Mykonos that introduce visitors to the unique Mykonos allure from the first instance!
Note that you can arrange to have private Mykonos tours, either on foot, by air-conditioned vehicle, or even via a fantastic helicopter ride!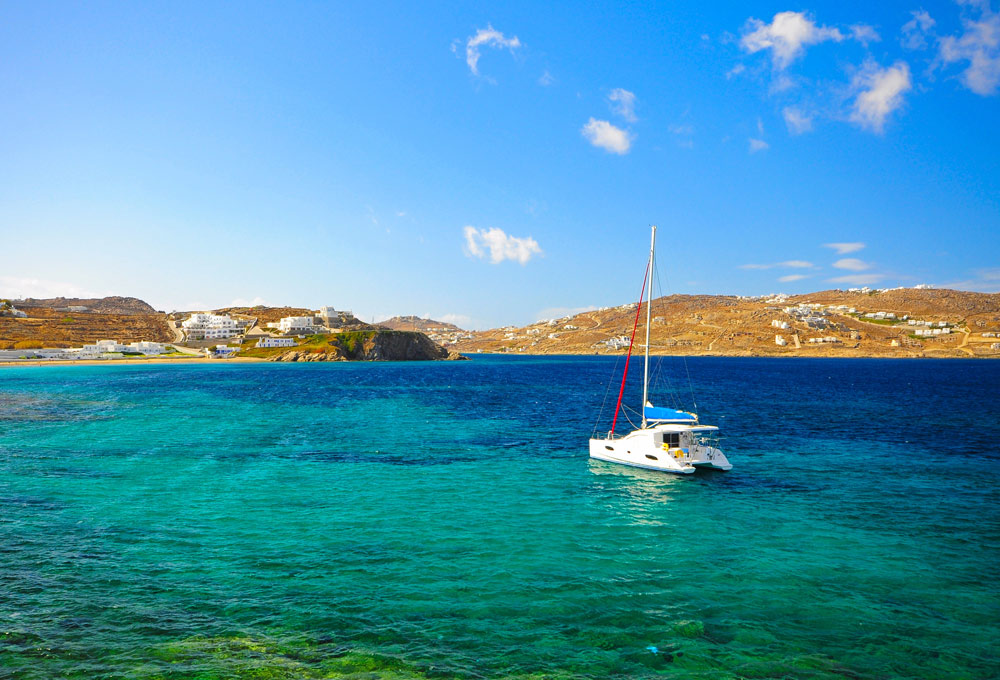 2. Stepping foot on sugary beaches
Among the most popular Mykonos tours is on a sailing yacht. Feel free to discover all the hidden treasures of this wonderful island and sail around Mykonos to view the most beloved shores. The sandy beaches of the southern coast are more cosmopolitan, well organized, wind-protected, and crowded than those of the northern coastline. If you fancy the idea of mingling with party goers and VIPs alike, do sail to the shores like Ornos, Paraga, Elia, and Psarou. For more laid-back experiences and raw natural beauty, Mykonos beaches like Fokos will please you for sure, especially if you are a windsurfing fan! Of course, you may also have such Mykonos tours by car or, why not, boat-taxi. The truth is that whichever sandy part of Mykonos you decide to traverse, you will come across luxurious Mykonos beach hotels, elegant mansions, and chic villas featuring ravishing details from traditional Cycladic architecture and providing the fullest range of modern comforts and amenities.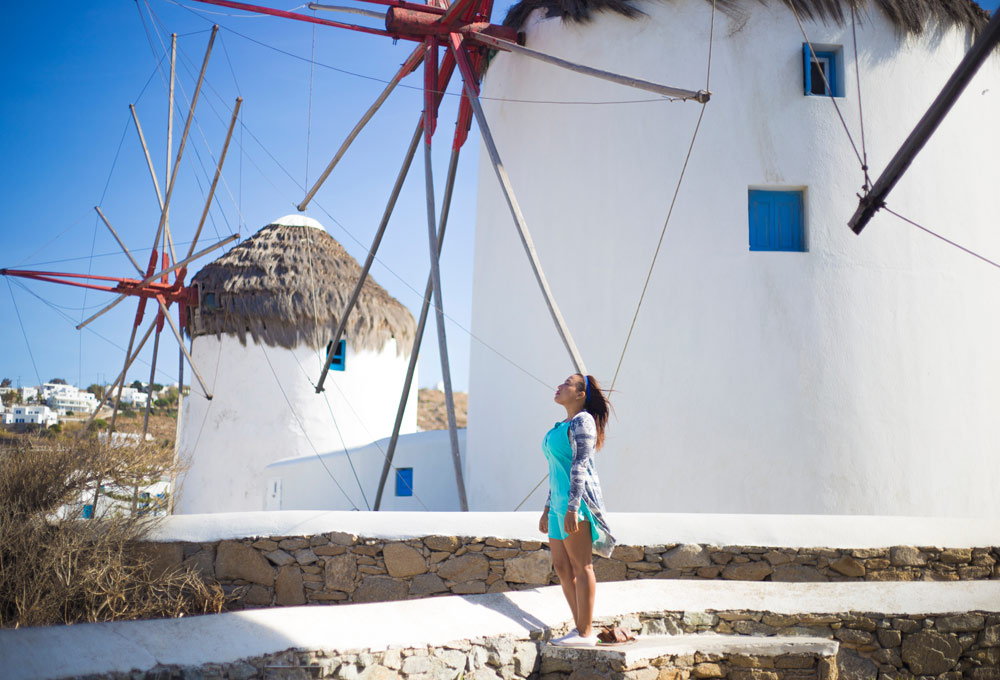 3. Setting sails to the wind
With the Meltemi winds giving sails a good blow almost all the time, it goes without a saying that sailing-related tours in Mykonos are an experience not to be missed. Get onboard a catamaran or sailing yacht and enjoy from a Mykonos beach safari to a nice excursion to the rest of the Cycladic islands that dot the Aegean Sea. Visit Paros, Naxos, Santorini, Milos and the other 20 major islands that form the Cyclades and enjoy pristine shores, idyllic sunsets, and sea vistas that will fill your heart with a sense of fulfilment and gratification.
Notes
Most Mykonos tours start from Mykonos Town, the island capital.
Depending on which tour you book, you may also get complimentary services, such as onboard buffet of Greek tastes, soft drinks, and wines.
You can also organize a party for you and your loved one(s) while onboard with lots of champagne, delicious foods, and Greek flavors.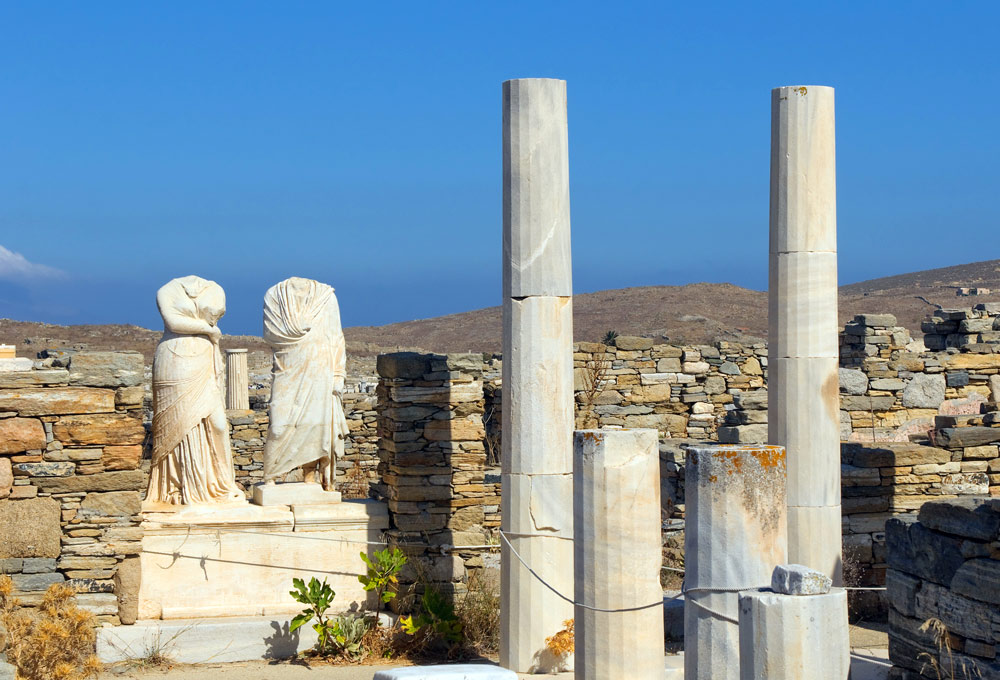 4. Walking the mystical lands of Delos & Rhenia
Besides Mykonos sightseeing activities that involve the islandic appeal, there is a lot of mystery and eerie energy waiting for you to explore at nearby Delos and Rhenia islands. Get on a boat or yacht and get yourself to the archaeological site of Delos – now declared a UNESCO World Heritage Site. Don't be surprised to see people practicing yoga or other meditation techniques along your way – the energy here is extraordinary! Secluded bays, isolated beaches, and crystalline waters await to show you a world never seen before. Wondering where to turn to and have such Mykonos tours arranged? Most prestigious Mykonos hotels employ friendly and knowledgeable receptionists perfectly capable of helping you live your dream vacation exactly as you have envisioned it.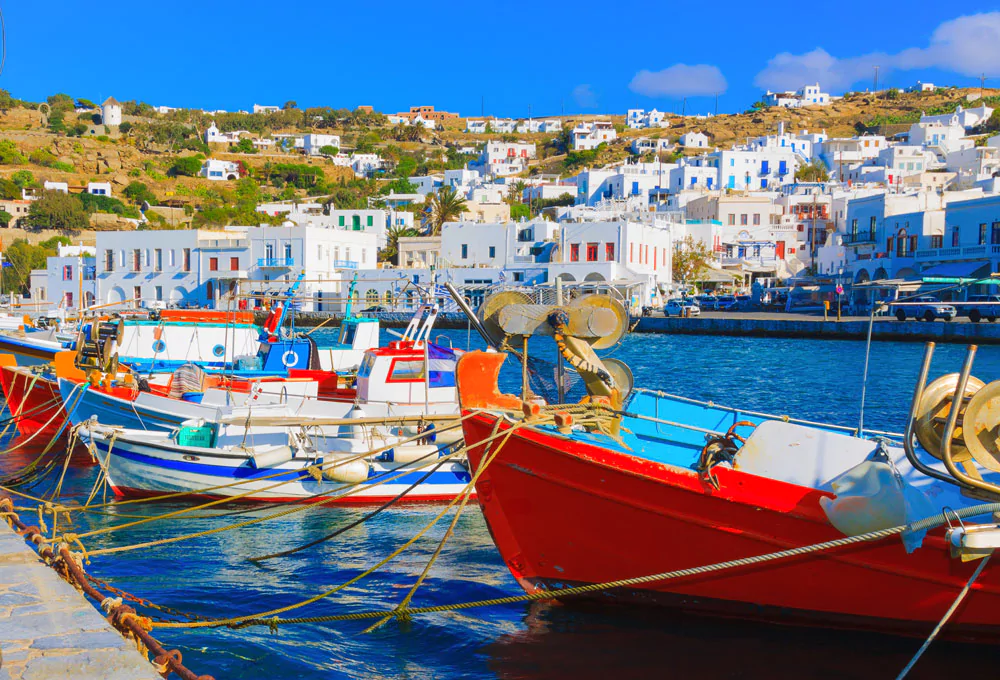 5. A rich marine world to be explored
Being on a Greek island that is surrounded by crystal clear waters and a rich underwater world instantly creates the need for snorkeling, scuba diving, and deep sea diving Mykonos tours. Underneath the surface of the Aegean Sea lies a cosmos that is incredibly fascinating. Take a guided tour and see first-hand the exotic sea life while learning techniques that will allow you to identify sea creatures, and more.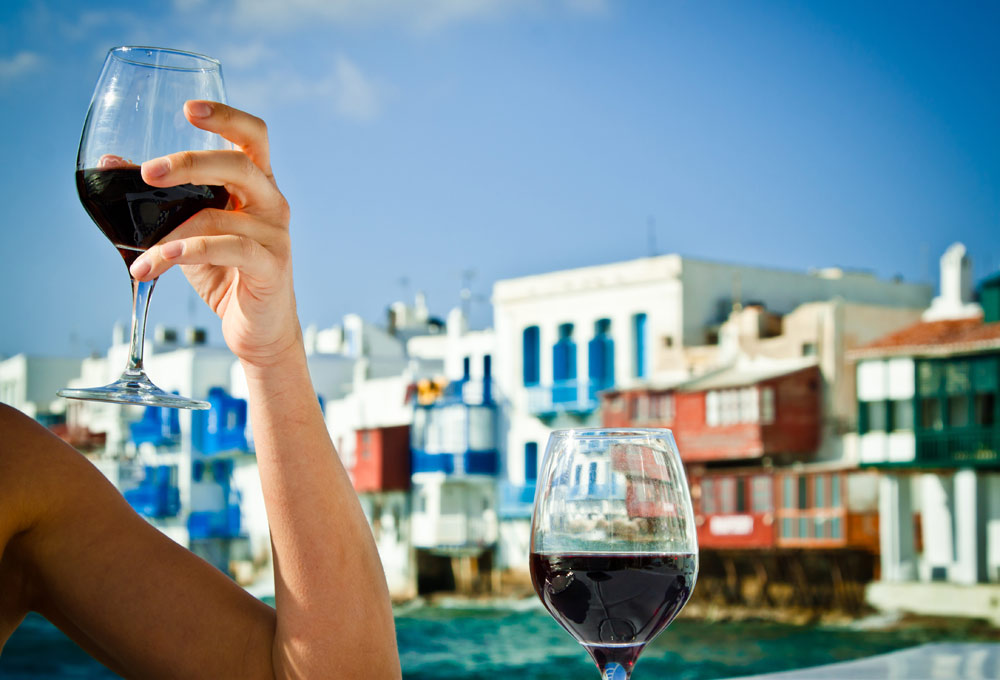 6. Cheers to your best Mykonos holidays!
You will be surprised by how many Mykonos tours have been organized to give you the chance to taste great local Greek wines of international fame. Some of the most reputed wineries are located across the island, offering visitors several different wines to treat their palate with, as well as information about traditional tasting methods, among many others. Most of the times, the wine tours also include dinner or lunch!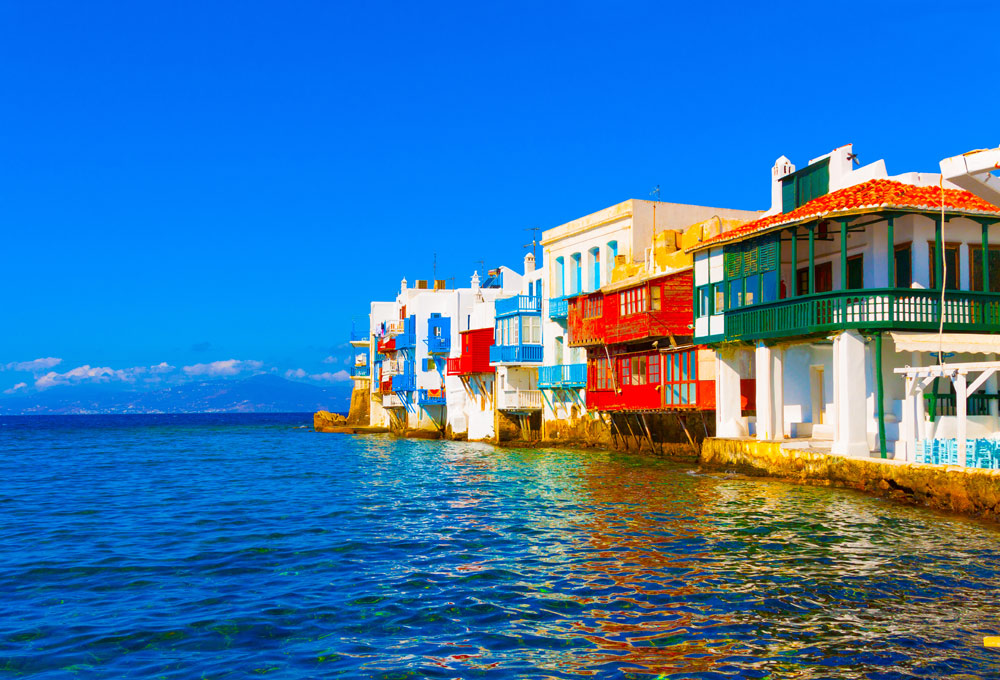 7. Authentic culture & rich history on your plate
Except for the romantic sunsets, the vivid night scene, and the famous windmills, many Mykonos tours will give you an insider's look at the island's culture and rich history the most authentic way. The purpose of this experience is to enable you to get off the beaten tourist path and see things only locals see or know about. Part of such a tour may include a visit to an organic farm, scenic mountainous villages that seem forgotten by time, historical monasteries, fishing ports, places like the Archaeological and Folklore Museums, and more. Even a stroll in the Old Town and the quaint Little Venice region will leave you with a sweet taste in the mouth as you dive into the town's cultural and ancient roots.
Chances are you will be mind-blown by the diversity of things to do and experience in Mykonos. From attractions that have become world-famous for their legendary parties to venues that have hosted the world's most rich and famous, and from elegant Mykonos boutique hotels to dreamy, whitewashed whiter-then-white cubic-shaped constructions, holidaymaking in Mykonos is an endless adventure.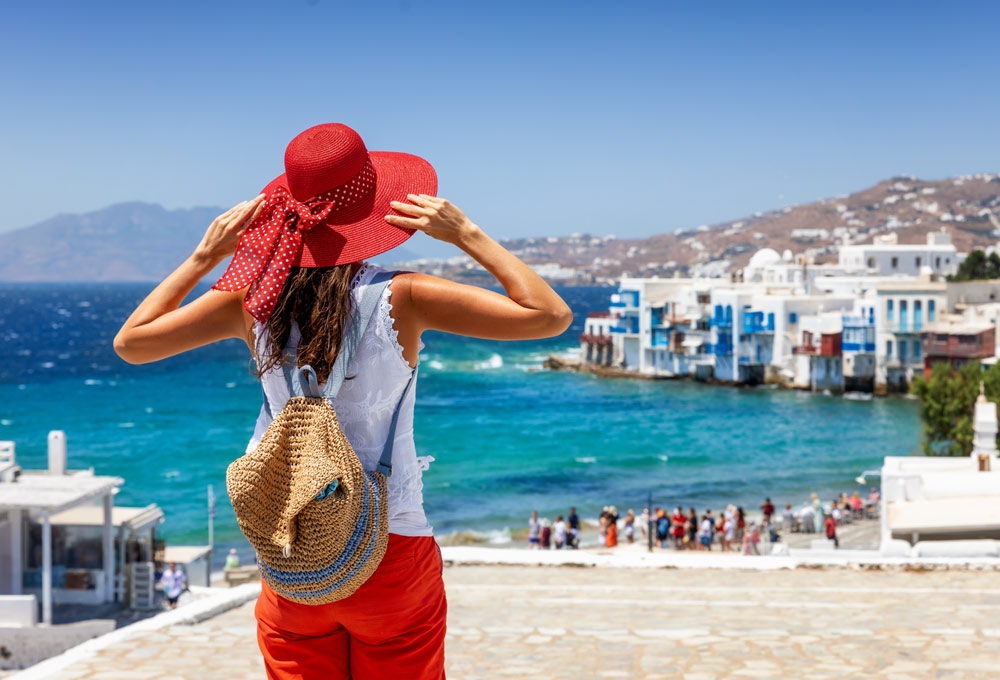 When to visit Mykonos
There is really not a specific best time to visit Mykonos. Everything depends on the type of vacation you are after. This detailed guide will help you choose the most suitable period based on your particular needs and requirements.
Where to stay in Mykonos
All around the picturesque settlements of Mykonos Greece you will find great Mykonos Hotels appealing to your taste and requirements. There are Mykonos spa and beach hotels for those who wish to take some wellness treatments during their vacations. There is also a good deal of Mykonos Hotels offering from honeymoon suites to roomy apartments, sophisticated studios for two, luxury villas and fully equipped hotel rooms for rent in Mykonos Greece for all tastes and budgets!
Visit & Stay
Whether you are travelling with friends, family or your significant other, 'Mykonos Hotels' aims to satisfy every discerning holidaymaker.