Mykonos Sightseeing
Most Popular Attractions in Mykonos
Experience the Best Mykonos Sightseeing sites, spots, and monuments
Discover Mykonos' rich history and culture with a visit to these must-see sightseeing spots.
The Church of Panagia Paraportiani: A beautiful, traditional church located in the heart of Mykonos Town.
The Little Venice of Mykonos: A charming neighborhood known for its picturesque, colorful buildings and romantic sunsets.
The Traditional Mykonos Windmills: Iconic landmarks that have become a symbol of the island.
The Maritime Museum: Learn about Mykonos' seafaring history and see an impressive collection of ships and maritime artifacts.
The Archaeological Museum: Explore ancient Greek culture through artifacts from the island's past.
The Folklore Museum: Discover the island's traditional customs and way of life through exhibits and interactive displays.
Delos Island: A UNESCO World Heritage Site, this nearby island is home to an ancient city and numerous historical sites.
If you truly want to get acquainted with the island, we recommend dedicating a day or two to a Mykonos sightseeing tour.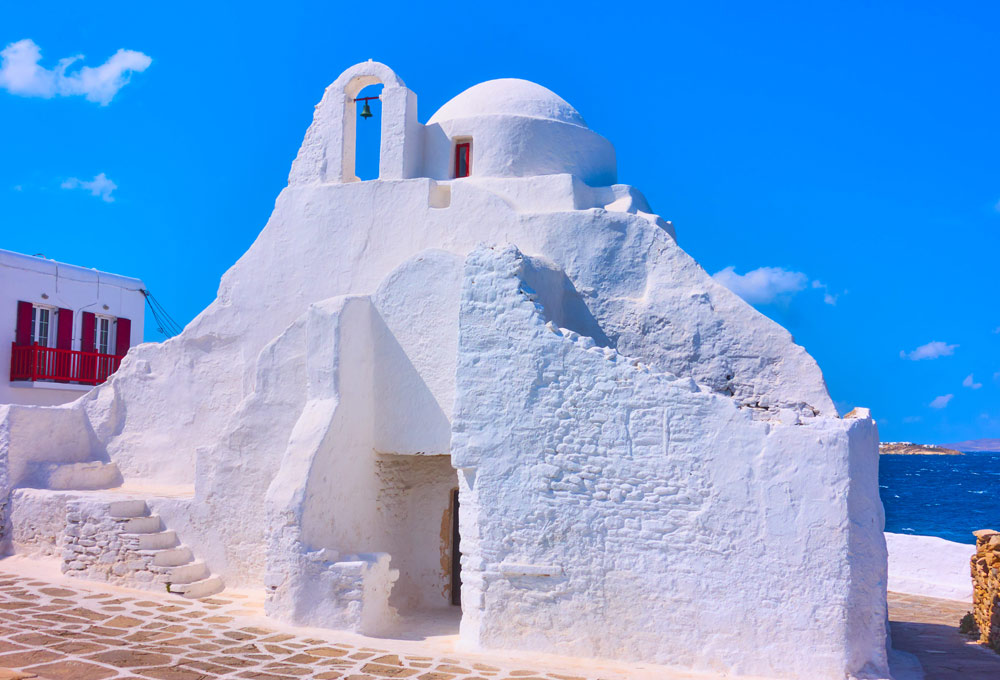 The Church of Panagia Paraportiani
Mykonos sightseeing must include a visit to the iconic Church of Panagia Paraportiani, located in the picturesque Kastro area of Mykonos Town. The church's name, meaning "Our Lady of the Side Gate," refers to its entrance being found in the side gate of the Kastro area.
This stunning church is a perfect example of Cycladic architecture and is classified as a national monument. Its unique shape, composed of four small churches at ground level and one above, was constructed between the 14th and 17th centuries.
Inside, the church is notable for its lack of external decoration and low, large dome that almost merges with the roof, giving the building a solid and timeless feel. Panagia Paraportiani is one of Mykonos Island's trademarks and a must-see for all visitors. Capture beautiful photographs of this iconic church and appreciate the island's rich history and culture.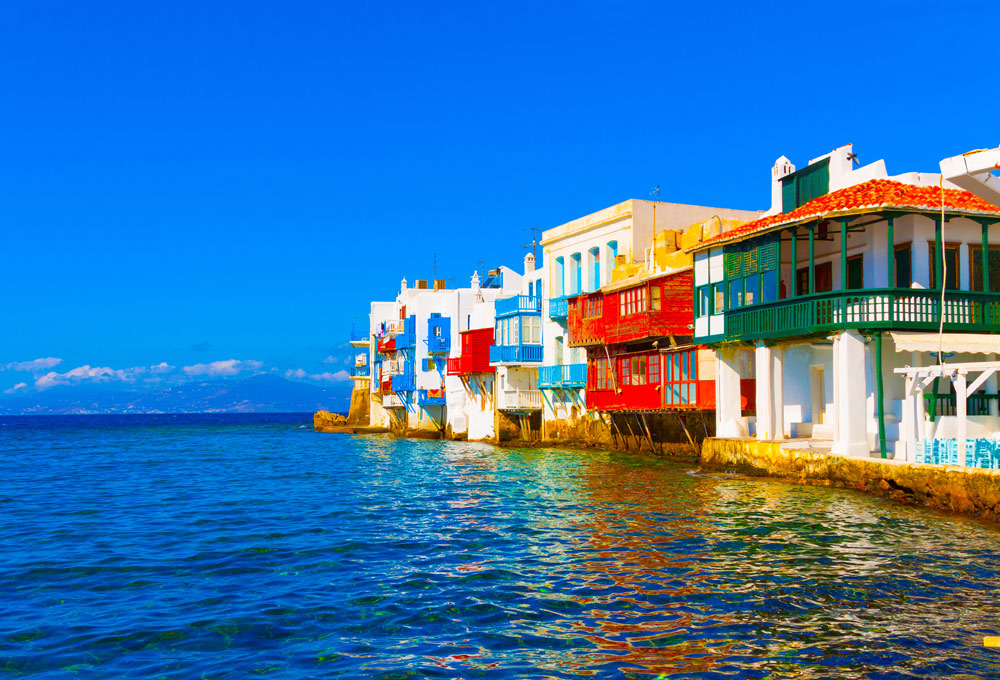 The Region of Alefkandra – the 'Little Venice' of Mykonos
Little Venice in Mykonos, Greece is a must-see destination. Located on the western edge of the island, it offers a stunning view of the Aegean Sea and traditional architecture. Pastel-colored buildings line cobblestone streets with sea-view balconies. Renovated to include seaside restaurants and cafes, Little Venice is perfect for a meal or coffee with a view. At night, it transforms into a lively spot for high-quality cocktails and bar-crawling.
Little Venice also offers some of the best sunsets on Mykonos Island Greece. Take a romantic stroll through century-old streets and enjoy fine dining while surrounded by nature and history. The view from Little Venice is breathtaking, with views of nearby islands and open sea. It's easy to see why it's popular among tourists. Whether for an afternoon stroll or a full day, Little Venice will leave you feeling refreshed and inspired.
Discover the Magical Little Venice of Mykonos Island, Greece!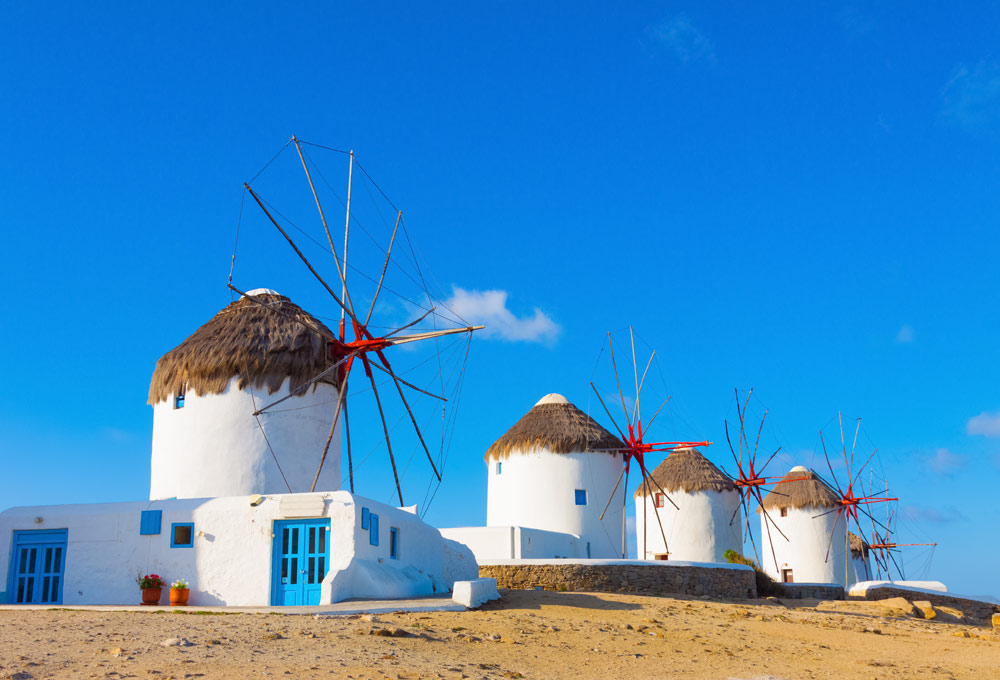 The Windmills
The Mykonos Windmills are an iconic symbol of this spectacular island, representing its rich history and the indomitable spirit of its people. Perched majestically on the hill of Mykonos town, these time-tested structures offer an awe-inspiring panorama of the Aegean Sea, boasting of one of the best sunset views that Greece has to offer.
These windmills, once the economic backbone of Mykonos, are now a testament to the island's enduring resilience and charm. Crafted with finesse and standing tall against the azure backdrop, the Mykonos Windmills are not just architectural marvels but also windows into the island's past.
The Maritime Museum
Another interesting museum is the Maritime Museum in Mykonos Town, where visitors can admire historical nautical instruments, maps, model ships, ancient coins and amphorae.
The Archaeological Museum
The Mykonos Archaeological Museum displays a wonderful collection or ancient objects from the Rineia Settlement digs, such as statues, bronzes, amphorae, idols, pottery and grave stones.
The Folklore Museum
The Folklore Museum provides visitors with the opportunity to see objects from the everyday life of the Mykonians, up close. The collection includes furniture, musical instruments, sculptures, photos, a library, and an archive of historical documents.
The Well of Giannaros
A large underground cistern made of granite stone, with a staircase that leads to its bottom. It dates back to ancient times.
The Three Hellenistic Towers
Situated in the area of 'Portes'. The towers date back to the Hellenistic Era and are believed to have been used as defensive structures against invaders.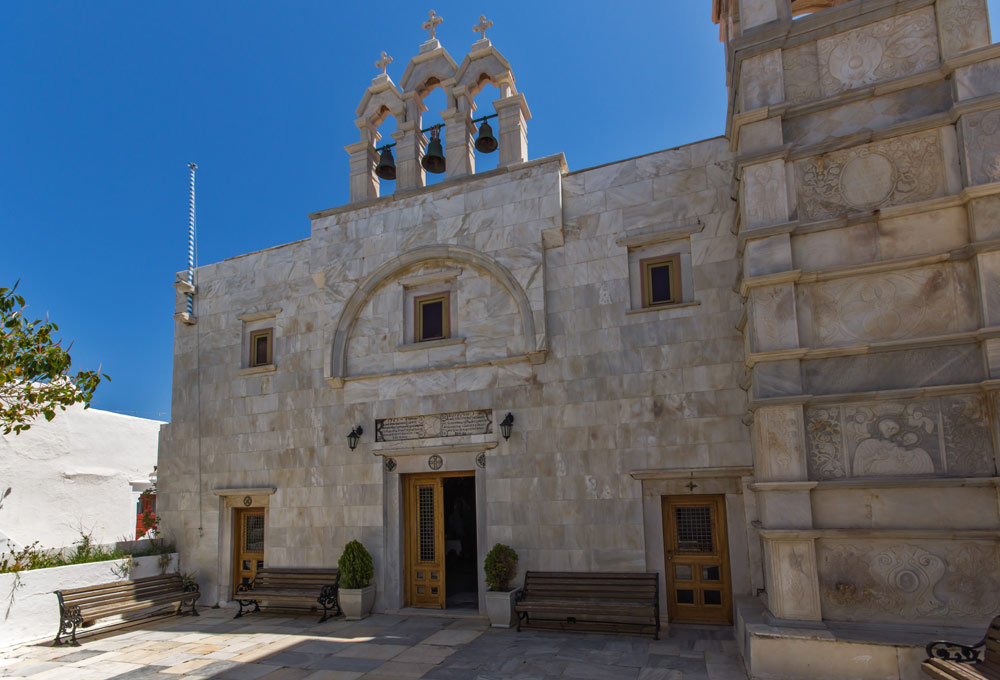 The Monastery of Panagia Tourliani
Celebrated for its exquisite artwork and craftsmanship, as well as its impressive architectural style. The monastery houses a beautiful wood-carved icon screen that was crafted in Florence Italy. The monastery houses a museum that displays icons from the Byzantine and Renaissance Eras, ecclesiastical objects and liturgical vestments.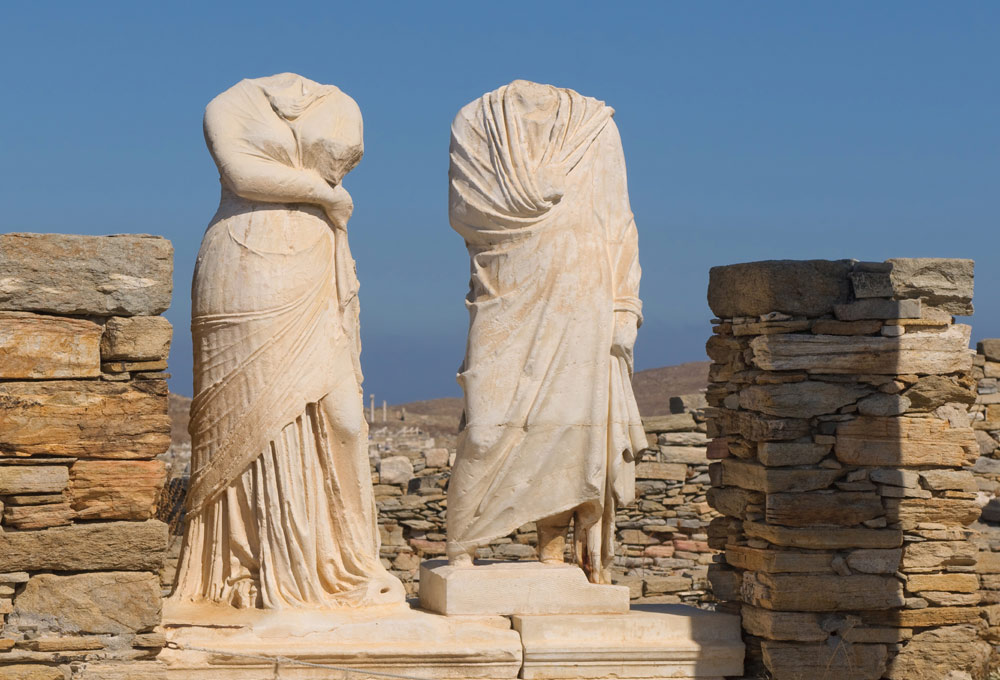 Discover Delos Island
A Mykonos sightseeing tour would never be complete without a trip to Delos Island, which is located opposite the western coast of Mykonos. In reality, Delos Island is an open-air museum and one of the finest archaeological sites in Greece.
According to mythology, Delos was the birthplace of the Olympian gods Apollo and Artemis. Ancient Delos was a very important religious center in the Aegean Sea region. On Delos Island, visitors have the unique opportunity to admire the breathtaking monuments that have been preserved through the ages.
The whole island is heavily guarded, overnight stays are forbidden and only licensed tour boats are permitted to transport visitors to Delos.
Apart from the outdoor sites, you can visit the Archaeological Museum of Delos, which has a magnificent collection of pottery, friezes, statues, mosaics, figurines, jewelry, and other small artifacts, which were found on the island, some of which date back to Prehistoric Times.
Where to stay in Mykonos
All around the picturesque settlements of Mykonos Greece you will find great Mykonos Hotels appealing to your taste and requirements. There are Mykonos spa and beach hotels for those who wish to take some wellness treatments during their vacations. There is also a good deal of Mykonos Hotels offering from honeymoon suites to roomy apartments, sophisticated studios for two, luxury villas and fully equipped hotel rooms for rent in Mykonos Greece for all tastes and budgets!
Visit & Stay
Whether you are travelling with friends, family or your significant other, 'Mykonos Hotels' aims to satisfy every discerning holidaymaker.