Platis Gialos Beach
Location: Southern Mykonos Greece
Platis Gialos Beach Mykonos | Mykonos Beaches
The radiant village of Platis Gialos basks in the sun, nestled in the south of Mykonos, just a mere 5 km from the lively Mykonos Town. Here, at this picturesque seaside settlement, visitors are enamored by the balance of breathtaking ocean vistas and craggy cliffs. Although a popular destination among tourists, the small village offers a wealth of experiences that lie beyond the beaten path.
One morning, you may embark on a tranquil hike from Platis Gialos beach, along a peaceful trail that winds towards the serene beach of Agia Anna. Alternatively, you may choose to lounge on a sunbed, lazily soaking up the sun, as you jump into the warm waters to cool off or grab an afternoon drink at a nearby café.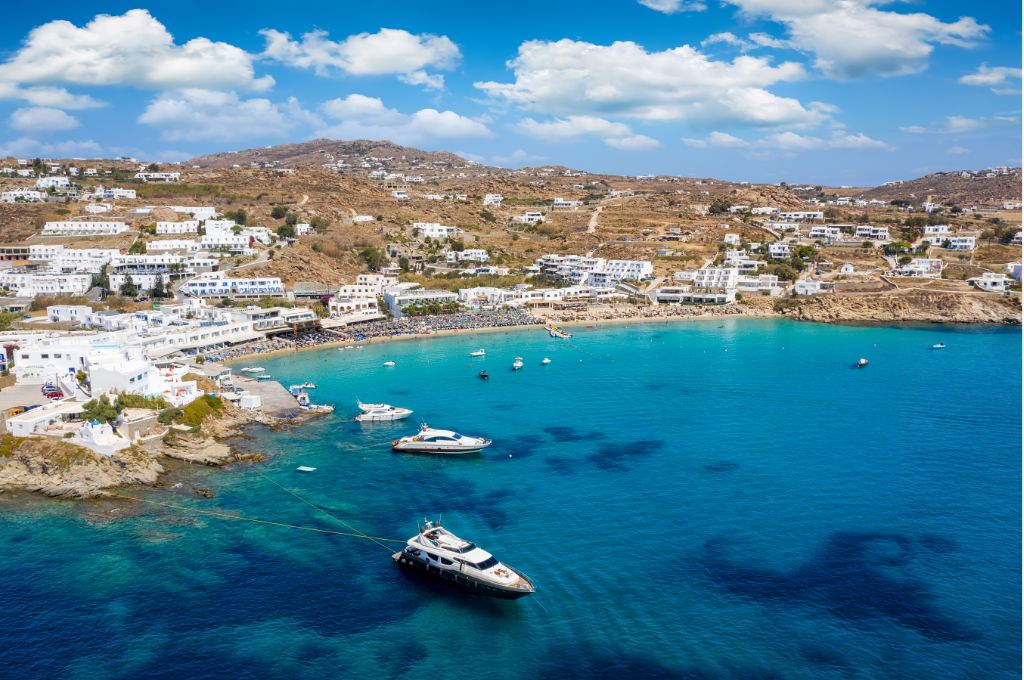 Escape to a stunning beach, where shallow, crystal-clear waters sparkle in the sun and hotels line the seafront. This gorgeous coastline boasts lounge chairs, umbrellas, water sports facilities, and plenty of cafes and restaurants.
Rejuvenate and refresh
Take an early morning swim along the length of the beach and soak up the peace and quiet before the crowds arrive. Recharge with a drink on the lounge chairs, watch your children play safely on the sandy, shallow shoreline, guarded by a lifeguard. A stroll along Platis Gialos beach will transport you to a world of delight, as you come across different landscapes and hidden beaches.
Top selection of hotels in Platis Gialos Beach, Mykonos
Feast like a local
With a bounty of cafes and restaurants dotting the coastline of Platis Gialos, choosing where to dine might seem daunting. But with a little insider knowledge, you'll be relishing in delicious food, with nothing but endless sea views to accompany your meal. Stroll and let the magic of Mykonos work its magic.
As the longest beach on the island, Platis Gialos boasts endless golden sand, crystal-clear waters, and an array of facilities that draw in water sports enthusiasts. From scuba diving to water skiing, there's something for everyone.
At Platis Gialos, comfort is key, with umbrellas, sun lounges, showers, beach bars, a lifeguard, and changing rooms, ensuring guests are well taken care of.
Considered one of the most family-friendly beaches on the island, Platis Gialos is easily accessible, with frequent bus services from Mykonos Town and top-notch services and facilities. Despite its size, the beach is covered with sun lounges, leaving little room for those who prefer lying on the sandy shore. However, during the summer months, the beach can become crowded, earning a reputation among locals.
An added bonus of Platis Gialos beach is the convenient departure point for ships operating as taxis, taking visitors to some of Mykonos' most breathtaking beaches, including Kalo Livadi, Elia, Paradise, and Super Paradise!
Where to stay in Mykonos
All around the picturesque settlements of Mykonos Greece you will find great Mykonos Hotels appealing to your taste and requirements. There are Mykonos spa and beach hotels for those who wish to take some wellness treatments during their vacations. There is also a good deal of Mykonos Hotels offering from honeymoon suites to roomy apartments, sophisticated studios for two, luxury villas and fully equipped hotel rooms for rent in Mykonos Greece for all tastes and budgets!
Visit & Stay
Whether you are travelling with friends, family or your significant other, 'Mykonos Hotels' aims to satisfy every discerning holidaymaker.