The Ultimate Guide to the Best 10 Luxury Hotels in Mykonos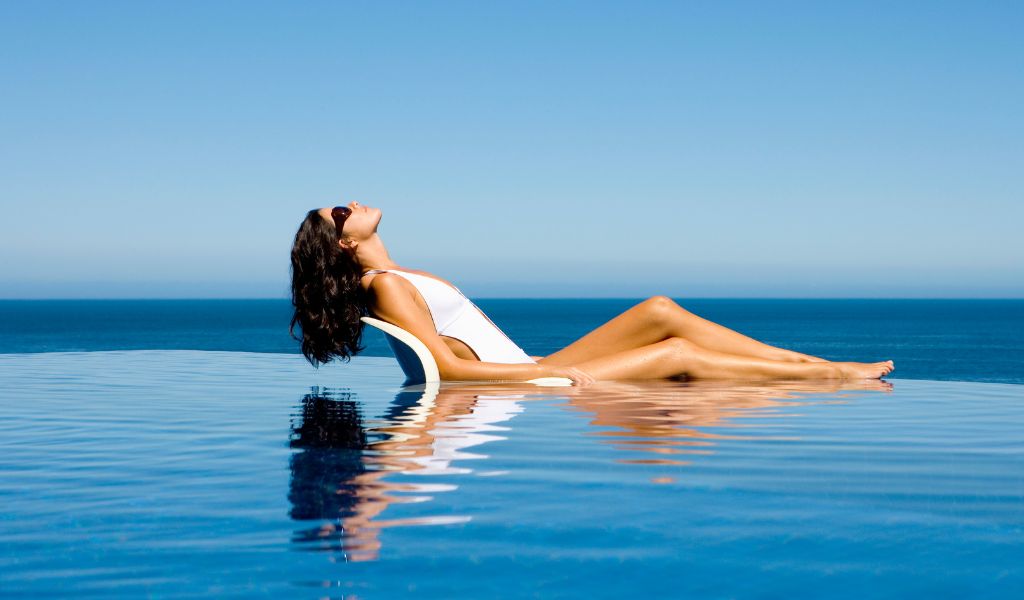 Let your holiday dreams come true with a stay at one of the best 10 luxury hotels in Mykonos.
From elegant rooms with breathtaking views to exquisite dining experiences and amenities, these hotels offer guests an unforgettable journey in luxury and style. Whether you're looking for a romantic getaway or a family vacation, each hotel on this list provides the perfect setting for an incredible experience that will leave you feeling pampered and spoiled.
Our Favorite Mykonos Luxury Hotels
Discover the best of Mykonos with our comprehensive guide to the best 10 luxury hotels – each one offering its own unique ambiance and amenities to make your holiday truly special.
Santa Marina Resort & Villas, Ornos, Mykonos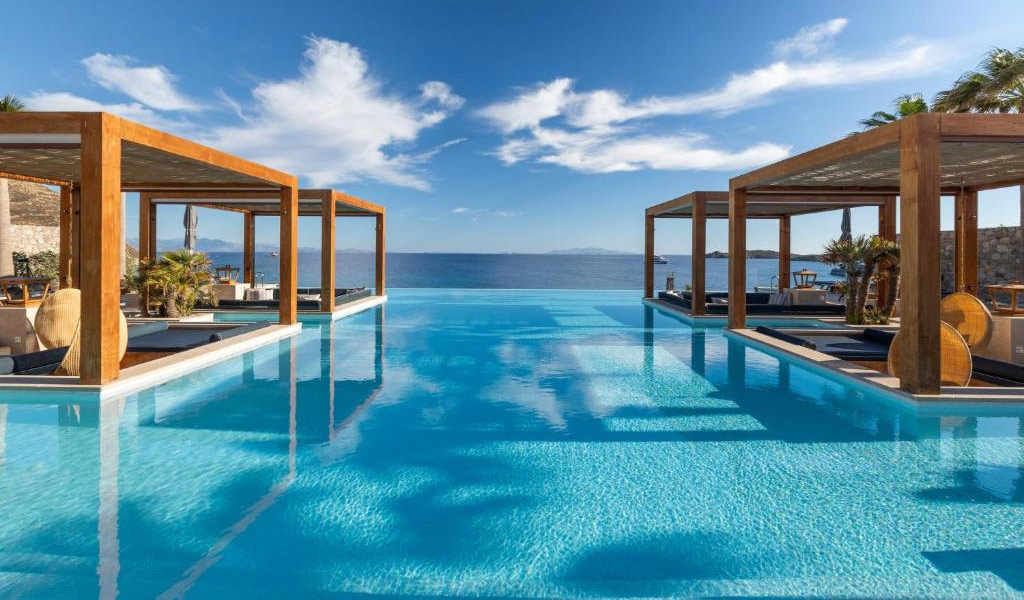 Santa Marina Resort & Villas, located in the picturesque Ornos Bay on the southern tip of Mykonos. Immerse yourself in the tranquility of a private community designed like a traditional Mykonian village, complete with its own private sandy beach and breathtaking views of the Aegean Sea. Relax in one of the resort's 101 rooms and suites, all designed with chic luxury in mind and surrounded by lush gardens.
Wake up to spectacular sea views from your balcony, lounge by one of the two stunning infinity pools, and take a moment for yourself at the Ginkgo Spa, salon, and gym. Savor the taste of Mykonos at the resort's beautifully designed bars and restaurants, with breathtaking views and delicious food to enjoy with family and friends. Whether you're looking for a romantic getaway or a family vacation, Santa Marina Resort & Villas promises to provide an unforgettable experience.
Myconian Ambassador Relais & Chateaux, Platis Gialos, Mykonos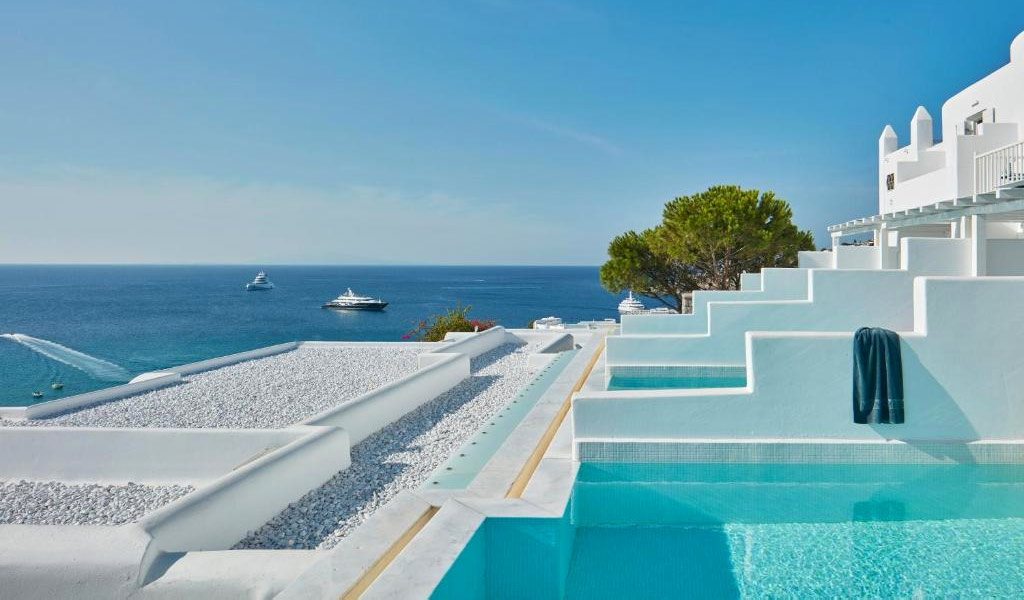 The Myconian Ambassador Relais & Chateaux is a premium hotel that embodies the essence of Mykonos, offering a unique blend of luxury and island living. Guests are treated to a truly special experience that goes beyond just a hotel stay. With a privileged location in Platis Gialos, guests can easily step away from the bustling island scene and enjoy peaceful moments, or just a short stroll to popular destinations like Psarou with its sophisticated atmosphere, or the lively local tavernas in Paraga.
The private launch service available to guests takes them on exciting excursions to the mysterious ruins of Delos or the hidden coves of Rhenia, while the vibrant Mykonos town is just a short drive away. The hotel's architecture is a harmonious blend of contemporary chic and local influences, creating an ambiance of relaxed elegance. Guests can enjoy breathtaking Aegean views from the comfort of their luxurious bedrooms and suites, or take in the stunning scenery while lounging by the pool.
The hotel staff, known for their personal touch and exceptional service, are dedicated to ensuring that guests have a truly unforgettable experience. From the expert therapists at the Thalasso Spa, to the attentive housekeepers, friendly waiters, and resourceful concierge, guests are in capable hands. With the Myconian Ambassador Relais & Chateaux, guests will escape to a world of luxury and indulgence, making memories that will last a lifetime.
Bill & Coo Suites & Lounge, Megali Ammos, Mykonos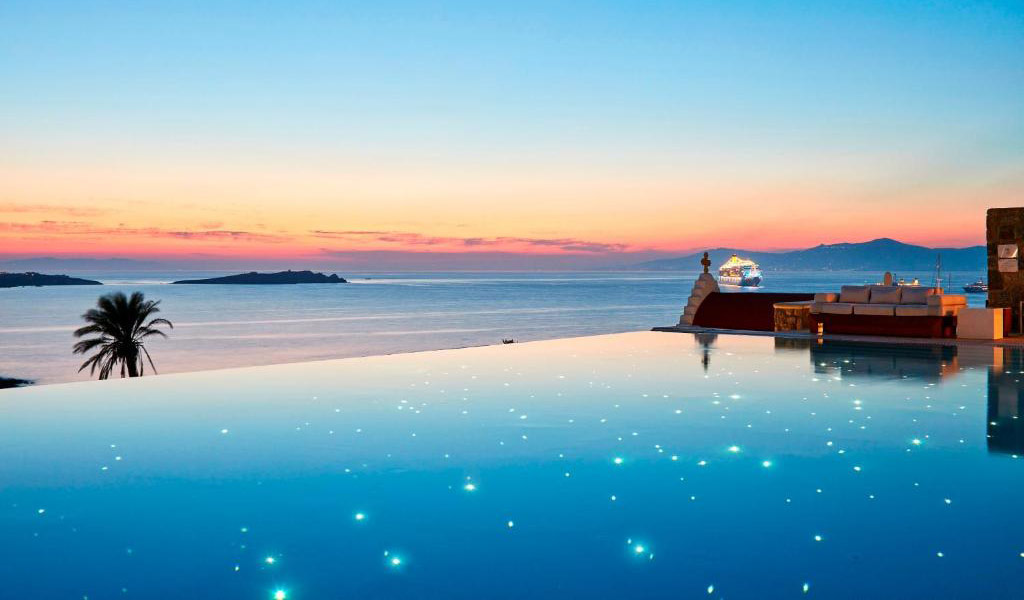 Bill & Coo Suites & Lounge is a luxurious and exclusive hotel located in the beautiful area of Megali Ammos in Mykonos. From its stunning views of the Aegean Sea to its unique style, this hotel is sure to provide you with a memorable and luxurious stay. The suites are modern and cozy, perfectly combining luxury with comfort.
You can relax on your private balcony while taking in breathtaking sunsets or enjoy the magnificent view of Megali Ammos beach from your suite window. From the infinity pool overlooking the sea to the spa offering exclusive treatments – there's something for everyone here! Enjoy al fresco dining at one of their many restaurants or explore nearby attractions such as Delos Island and Little Venice. With its unique atmosphere, Bill & Coo Suites & Lounge will offer you an unforgettable experience that will leave you wanting more!
Boheme Mykonos Hotel, Mykonos Town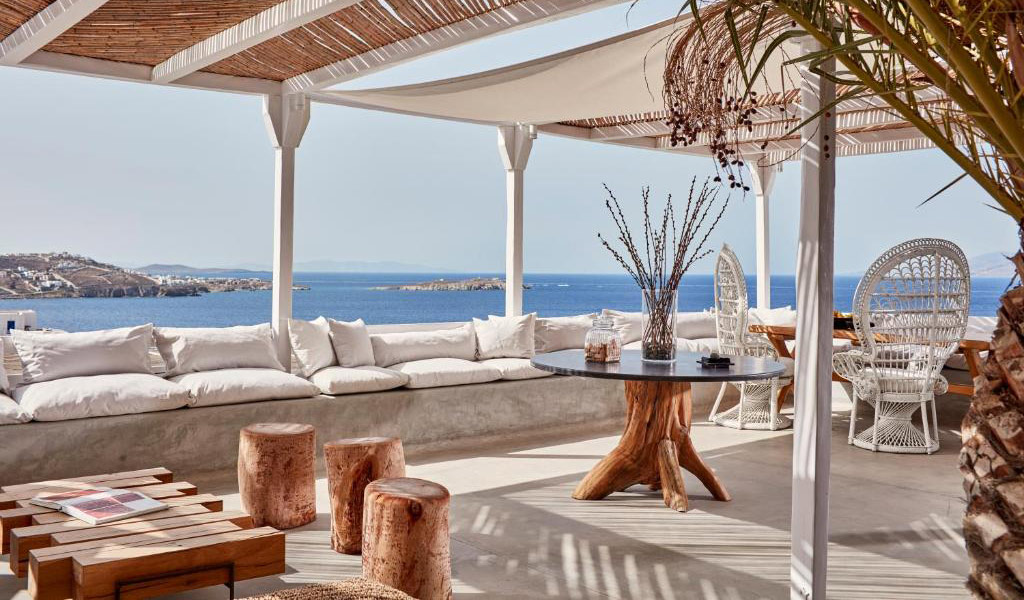 Boheme Mykonos Hotel in Mykonos Town is the perfect place to make unforgettable memories. Nestled in the heart of Chora, this luxurious hotel boasts stunning views of the Aegean Sea and a unique style that blends modern elegance with traditional Greek architecture. From its spacious rooms to its sun-drenched terrace, Boheme Mykonos Hotel will make your stay truly special.
Enjoy all that Mykonos has to offer with amenities like an outdoor pool and spa, the romantic Little Venice nearby, and delicious restaurants within walking distance. When you're looking for some fun, the heart of Mykonos town is a short stroll away, or enjoy lively nightlife venues right around the corner.
Grecotel Mykonos Blu, Psarou, Mykonos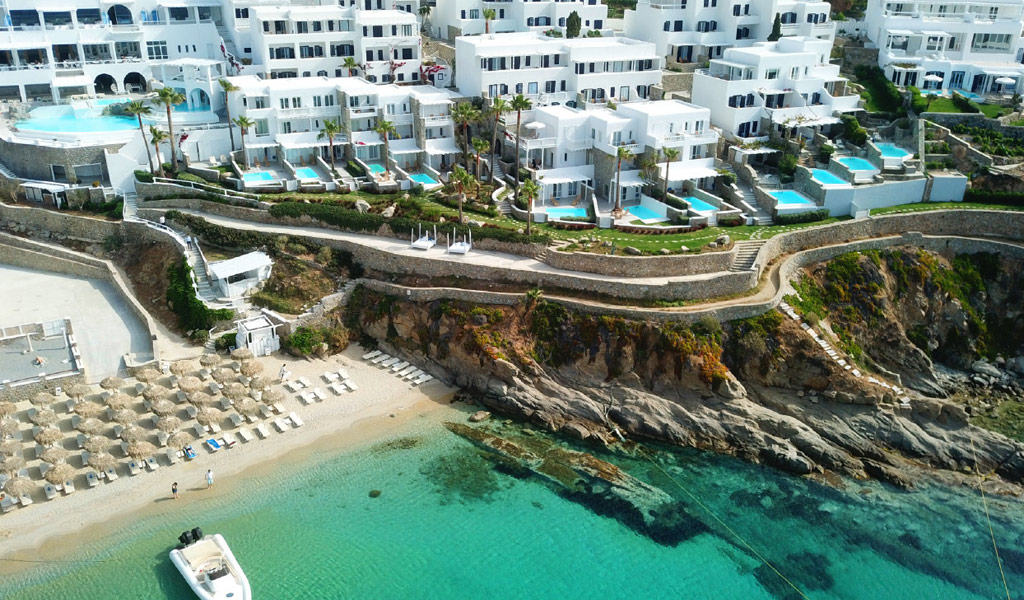 Grecotel Mykonos Blu – the epitome of luxury and simplicity. Perched atop Psarou Bay, this hotel boasts breathtaking views of the sparkling sea and offers guests a unique vacation experience. With its cult-like status and its association with the glitterati, Mykonos Blu is the ultimate destination for the beautiful and the damned. Indulge in food and drink service directly to your sunbed and relax under the Mykonian sky.
The hotel features an infinity pool created by nature and a total of 20 private pools, as well as 3 shared pools for designated rooms. Mykonos Blu offers luxurious sea-view accommodations, with options ranging from sophisticated bungalows to villas with private pools, indoor or outdoor hot bathtubs, and more.
At the resort's Elixir Fitness Gallery Spa, guests can indulge in a state-of-the-art fitness room, sauna, and beauty salon. The hotel also features a jewelry shop and the largest conference center in the Cyclades. Whether you're looking for relaxation or excitement, Grecotel Mykonos Blu has it all. Come experience the ultimate in luxury and sophistication in this trophy hotel.
Princess of Mykonos Hotel, Agios Stefanos, Mykonos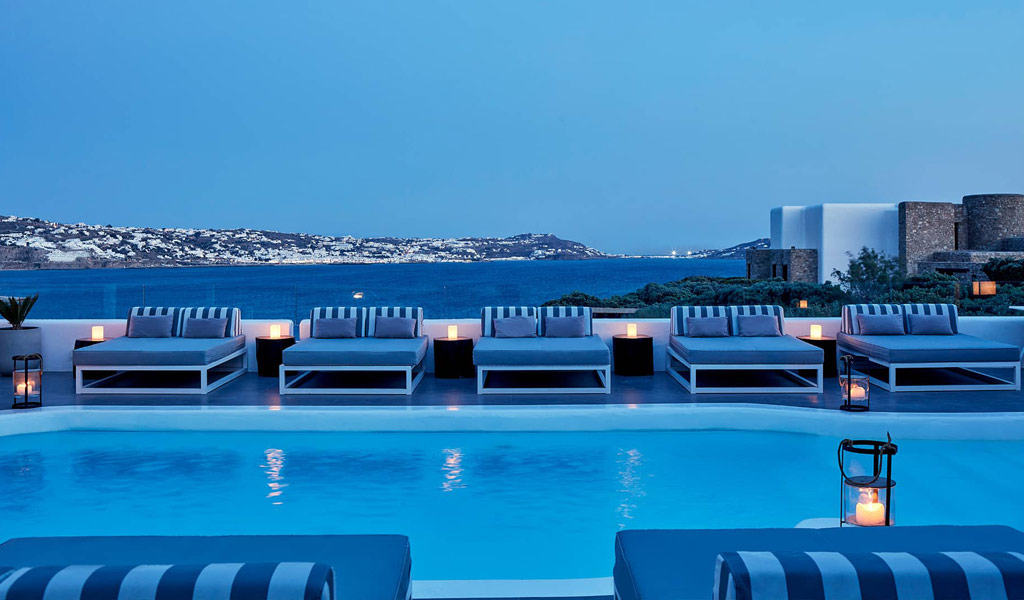 Princess of Mykonos Hotel is a luxurious oasis that offers breathtaking views, comfort, and a touch of traditional Greek charm. This sophisticated and luxury hotel is the ideal escape from the hustle and bustle of everyday life.
You can get to the wonderful beach of Agios Stefanos either by taking a five-minute walk or from the comfort of your car. Step into a world of minimalist design, where the beauty of the island is the centerpiece.
Enjoy a delicious breakfast in the comfort of your room or at the hotel's restaurant by the pool, surrounded by stunning views. Lounge by the pool and savor fresh fruit cocktails, cold drinks, and delectable snacks. The Kapari Restaurant is a highlight, where you can indulge in flavorful and authentic cuisine, making it one of the most sought-after restaurants in Mykonos.
Branco Mykonos Hotel, Platis Gialos, Mykonos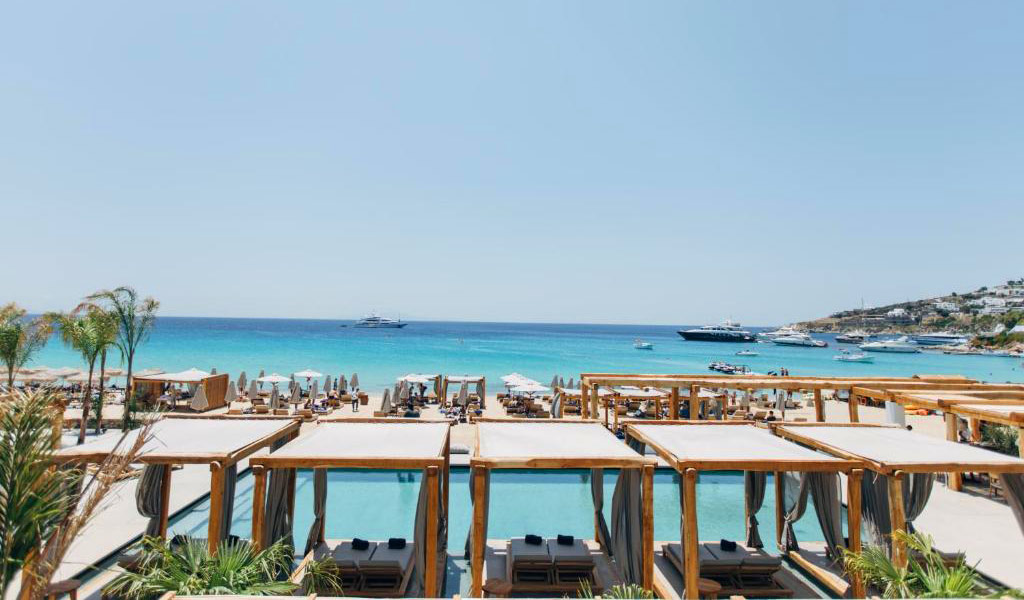 Branco Mykonos is a fusion of luxury and magic in the heart of the Mediterranean. With its prime beachfront location, breathtaking views, and top-notch amenities, this resort offers the ultimate vacation experience. From the stylish and cozy double sea view room to the spacious and luxurious jacuzzi sea view suite, there is something for everyone at Branco Mykonos Hotel.
Each accommodation is designed to blend modern comforts with the chic and sophisticated island atmosphere. Wake up to a delicious breakfast at Branco's Mykonos Garden Restaurant & Sushi Bar, where you can indulge in a delectable array of ala carte dishes made with the freshest ingredients. Whether you opt for a gluten-free, vegan, or vegetarian option, the restaurant caters to all your dietary needs. Dine in the garden surrounded by lush olive trees and vibrant bougainvillaeas or enjoy a unique interactive experience at the sushi bar.
Kivotos Hotel Mykonos, Ornos, Mykonos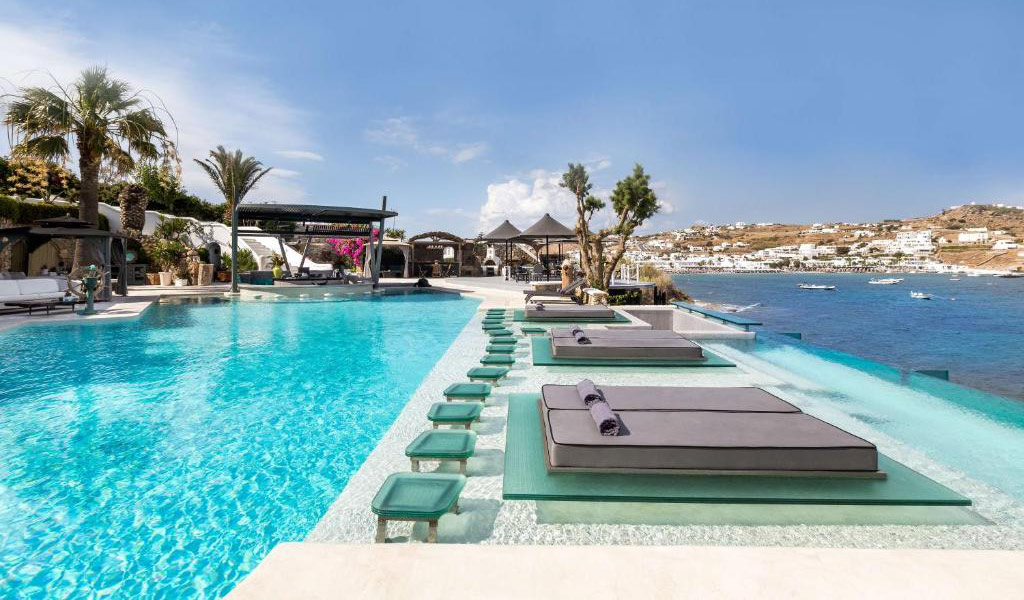 Kivotos Hotel Mykonos, a world-renowned venue in Ornos, Mykonos, welcomes travelers to indulge in the epitome of luxury and unparalleled service. Nestled against the shimmering Aegean Sea, the hotel boasts 40 opulent suites and villas, each offering a private slice of paradise amidst the tranquil beauty of nature.
With its timeless Cycladic design, soothing colors, and state-of-the-art amenities, each room promises to transport guests to a world of serenity and comfort. And, with breathtaking sea views, guests can bask in the beauty of the surrounding landscape.
Tharroe of Mykonos Hotel De Luxe, Mykonos Town, Mykonos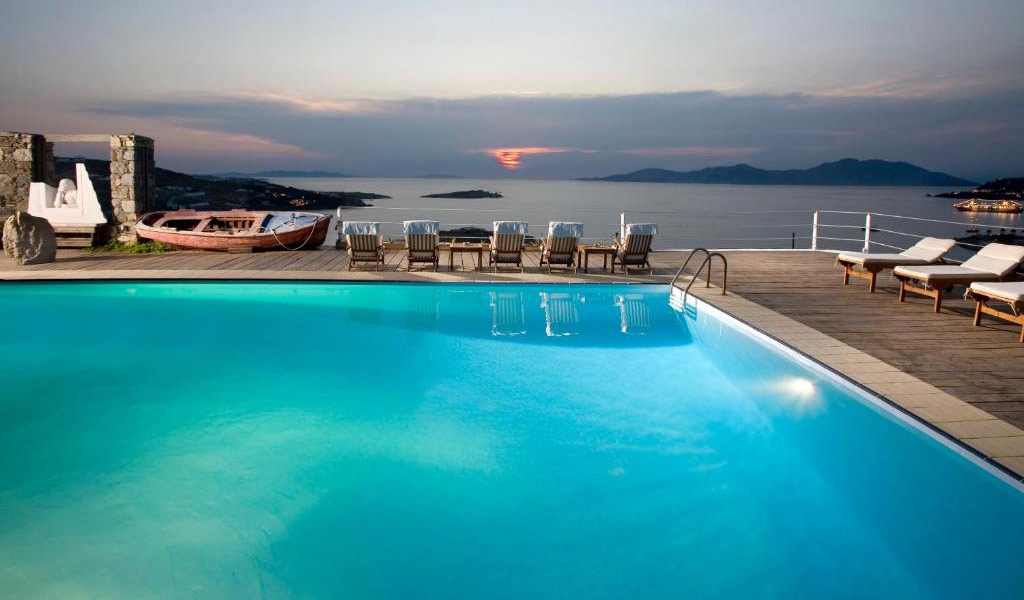 Tharroe of Mykonos Hotel De Luxe – perched on a small hilltop, offers a one-of-a-kind experience with breathtaking panoramic views of the Aegean Sea, the iconic Windmills, and Mykonos Old Town center. With its prime location, just 900 meters from the bustling town center yet secluded from the crowds, the hotel is a perfect haven for those seeking luxury, privacy, and tranquility.
The hotel's 27 rooms and suites are a brilliant blend of traditional Myconian architecture and modern sophistication, offering a unique style that is both elegant and inviting. The on-site Barbarossa restaurant, featuring the culinary expertise of its executive chef, showcases the best of local ingredients and flavors, blending Greek cuisine with the modern and healthy trend bustle of the city.
Anax Resort & Spa, Agios Ioannis, Mykonos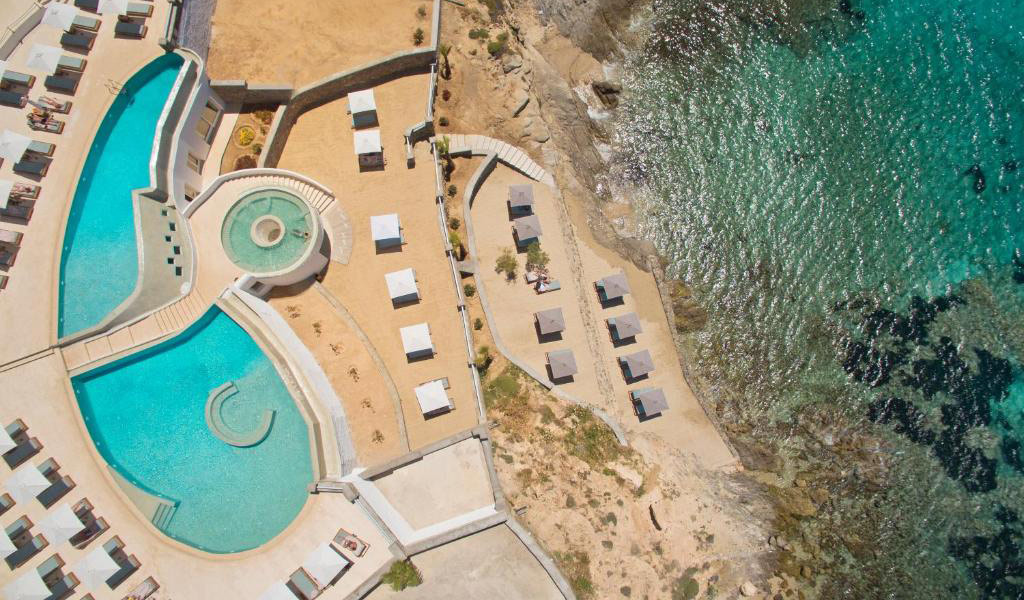 Anax Resort & Spa – a serene haven nestled by the seaside in Agios Ioannis Mykonos. The hotel embodies the perfect blend of traditional Cycladic architecture and modern amenities, inviting you to indulge in luxury and comfort. The spa center is the highlight of the hotel, offering a wide range of beauty treatments, an infinity pool, a hot tub, and a restaurant serving fine Mediterranean cuisine. Step into your stylish room or suite, each equipped with a balcony and patio offering breathtaking sea views. Some rooms boast a private pool, while all units feature a smart TV, Bluetooth access, air conditioning, and a stylish bathroom with a spa bath, shower, and free toiletries.
Indulge in the ultimate escape and treat yourself to a stay in one of the best luxury hotels in Mykonos. With its breathtaking views, impeccable service, and luxurious amenities, these hotels will transport you to a world of pure relaxation and indulgence.
Take in the mesmerizing sights of the beach or gaze at the city skyline as you unwind in style. Savor every moment as you immerse yourself in a world of sophistication, fine dining, and elegant surroundings. Let your worries melt away as you bask in the warm hospitality of this island paradise.
Book your stay and experience the bliss of Mykonos – a place where luxury and elegance come together to create memories that will last a lifetime.