Your Ultimate Mykonos Guide for 2024: Experiencing the Island's Dual Charm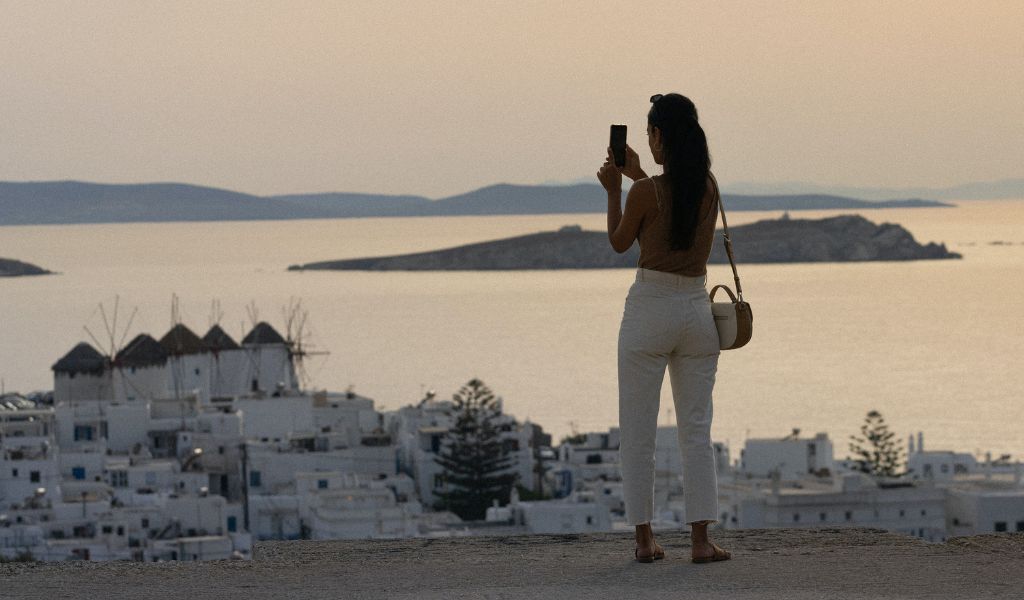 Whispered tales of an island where the sun kisses the Aegean and stars dance to the rhythm of the waves have drawn travelers to Mykonos for ages. Our Mykonos Travel Guide introduces you to an island where the golden sands beckon by day, and the allure of vibrant beats call out by night. Welcome to Mykonos, the jewel of the Cyclades, where every corner tells a story and every sunset promises a new adventure.
Where is Mykonos?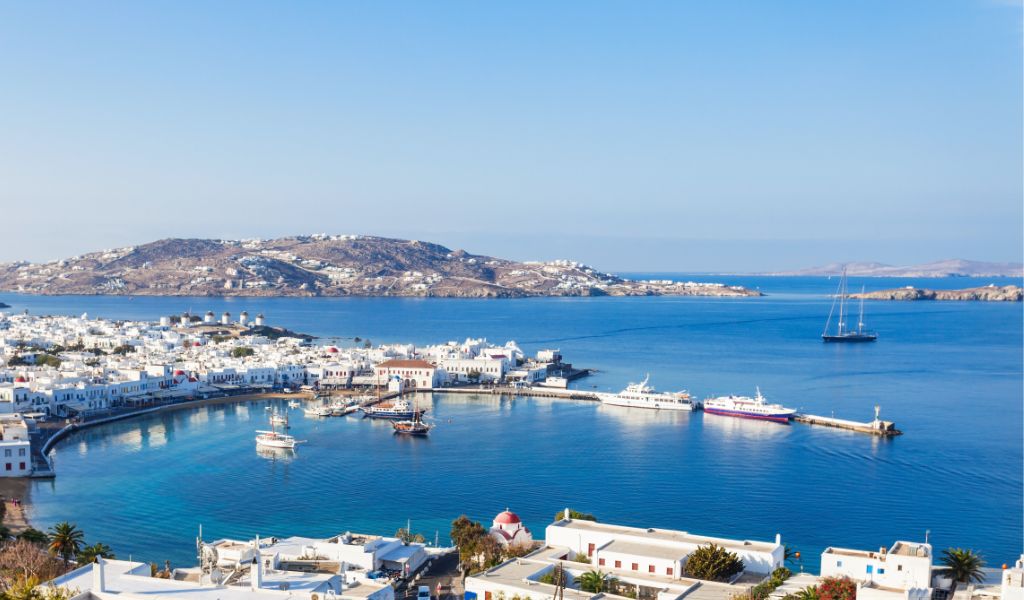 Dive into our Mykonos Travel Guide and uncover the secrets of this Aegean jewel. Mykonos, a shimmering gem in the Aegean Sea, is a proud member of Greece's Cycladic island group. Strategically positioned, it's approximately 150 km southeast of Athens, a stone's throw away (150 km to be precise) from the enchanting Santorini, and 230 km north of the historic Crete.
For the global traveler, reaching this island paradise is a breeze: a mere 4-hour flight from London, 3.25 hours from the romantic streets of Paris, a 2-hour journey from the historic heart of Rome, and a quick 40-minute hop from Athens.
Though modest in size, Mykonos stands tall in its reputation. It's not just an island; it's an experience. Renowned for its pulsating nightlife and robust tourism infrastructure, it's a beacon for those seeking vibrant adventures under the Grecian sun.
Diving deeper into its lore, Mykonos, occasionally penned as Mikonos, is a part of the eastern Cyclades ensemble. Legend whispers of its origin, suggesting it to be the very rock hurled by the mighty Heracles in his quest to vanquish the Giants.
This rugged granite haven, spanning about 33 square miles, finds itself nestled close to the sacred Delos island, flanked by Tínos to the northwest and the scenic duo of Naxos and Paros to the south. At its heart, on the western shores, lies Mykonos town, a pulsating epicenter of tourism, celebrated far and wide for its electrifying nightlife.
How to Get to Mykonos?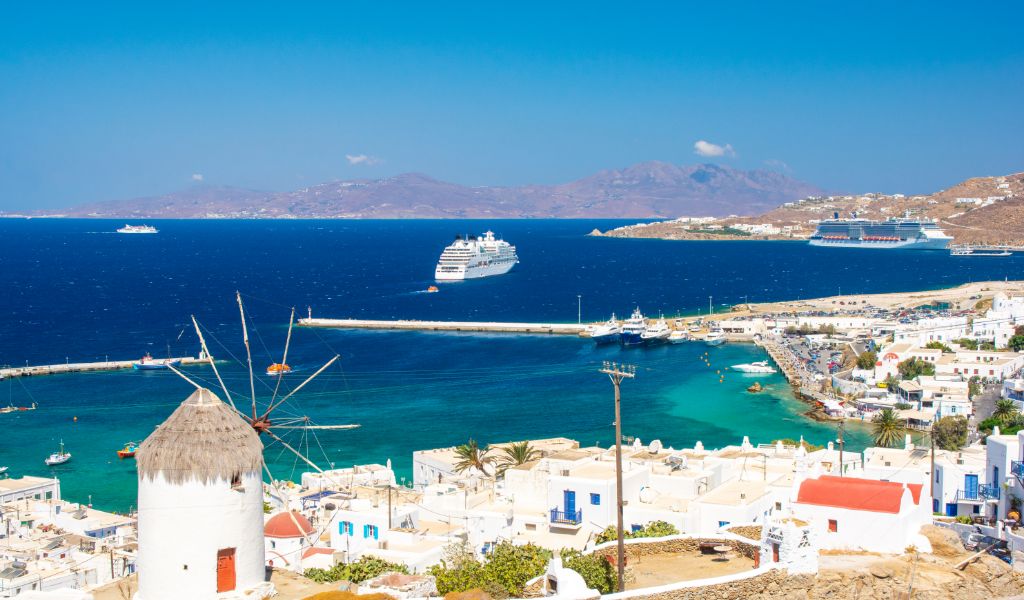 From International Destinations:
Navigating through our Mykonos Travel Guide, you'll find that reaching this Aegean paradise from international cities such as London, Paris, Lyon, Barcelona, Madrid, Amsterdam, Vienna, and Munich is straightforward. Travelers can opt to fly directly to the International Airport of Athens and then hop on a connecting flight to Mykonos. For those who relish the beauty of the sea, a ferry journey from Athens, departing from the Piraeus or Rafina ports, offers a scenic alternative.
From Athens:
Athens, the vibrant Greek capital, is a pivotal entry point to Mykonos. From here, you can either embark on a ferry journey from the city's renowned ports, Piraeus or Rafina, or choose a swift flight from the International Airport of Athens. Ferries, with their promise of azure sea views, operate daily, making them a popular choice throughout the year.
From Other Greek Islands:
Mykonos is seamlessly connected by ferry to a host of Cycladic islands. Whether you're on Santorini, Paros, Naxos, Syros, Andros, or Tinos, a ferry ride to Mykonos is within easy reach. Moreover, for those on islands like Lesvos, Chios, or even the mainland city of Kavala, ferry connections are readily available. And for travelers in Crete, direct routes from Heraklion present a convenient option.
For an elevated travel experience, consider a helicopter transfer from Santorini, offering unparalleled views of the Aegean.
A Quick Tip: Upon landing, it's worth noting that Mykonos Airport is a mere 4 km from Mykonos Town (Chora). Whether you're in the mood for a quick bus ride, a drive, or a taxi, reaching the heart of Mykonos is a breeze.
What are the main towns – villages in Mykonos?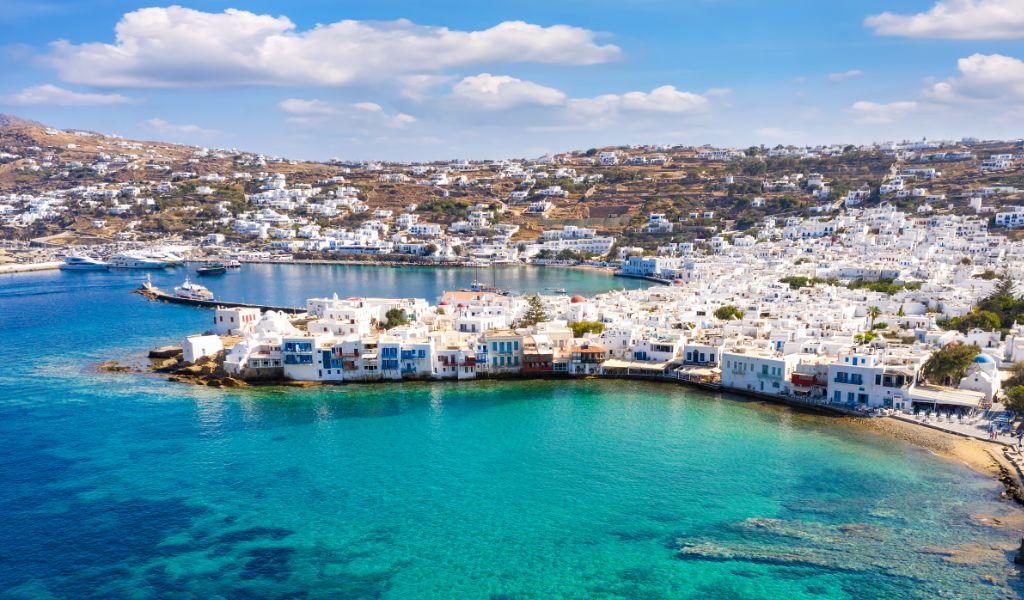 Our Favorite Mykonos Hotels
At the heart of Mykonos lies Mykonos Town, often referred to as Chora. A labyrinth of narrow streets, it's a hub for dining, nightlife, and shopping. The town's heartbeat is felt in areas like Little Venice, known for its dining and nightlife, and the iconic Mykonos Windmills (Known as Kato Mili). Overlooking the town, these windmills stand as silent witnesses to the island's vibrant history. And when the sun sets, the town transforms into a party haven, with its nightclubs and bars coming alive.
A stone's throw away from Mykonos Town are the family-friendly beaches of Ornos and Platis Gialos. These coastal havens are dotted with restaurants, beach clubs, and resorts, making them perfect for both relaxation and recreation. A water taxi route connects these beaches, offering a scenic way to hop between them.
Megali Ammos is the closest beach to Mykonos Town, offering a serene escape.
In the heart of the island lies Ano Mera, a village that exudes traditional charm. Centered around a bustling square, this village is home to a stunning 16th-century monastery and authentic tavernas. It offers a glimpse into the island's soul, away from the bustling tourist spots.
Ornos is where the beach meets traditional village charm. With activities ranging from kitesurfing to diving and a plethora of land-based attractions, Ornos is a blend of relaxation and adventure.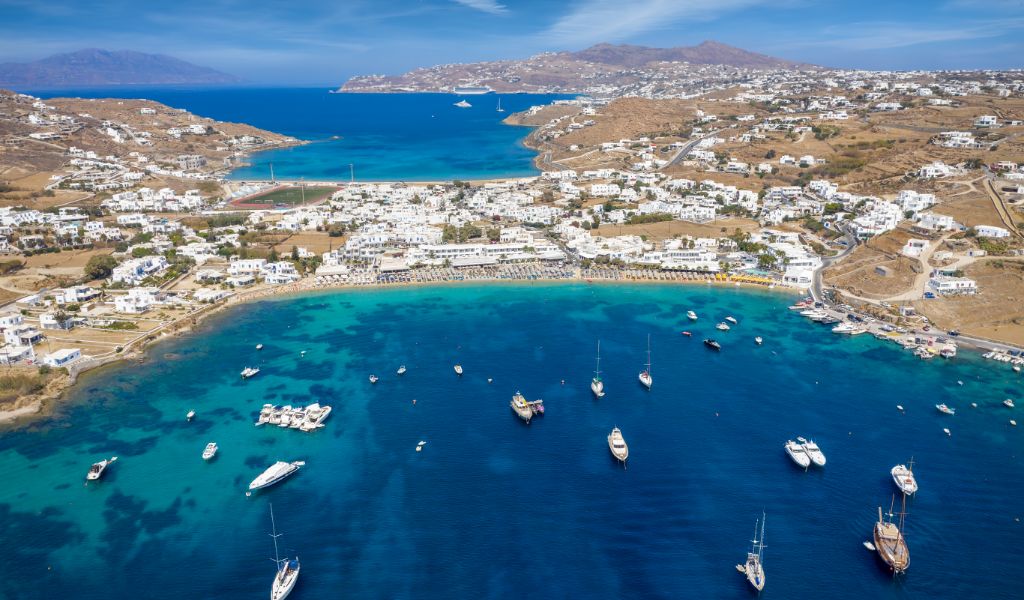 Kalafatis is a tranquil village, known for its family-friendly beach and water sports. Inland, you'll find a range of dining options, from seafood restaurants by the shore to traditional tavernas.
Tourlos, with its whitewashed houses and vibrant flowers, is a popular spot for cruise ships. It houses Mykonos New Port and offers a serene beach experience, making it perfect for families and couples.
Psarou is the celebrity magnet of Mykonos. With its luxurious amenities and a range of dining options, it's a hotspot during the peak season.
Platis Gialos is a beach lover's paradise. Apart from water sports, the village offers a range of dining and nightlife options, making it a must-visit.
Agios Stefanos offers a relaxed vibe, with its whitewashed buildings housing several bars and restaurants. It's perfect for those looking to escape the bustling nightlife of Mykonos Town.
Lastly, Agios Ioannis is famous for its cinematic beach, but it offers much more. It's perfect for families or couples looking for a serene escape, with ample dining and accommodation options.
Each village and town in Mykonos has its unique charm, offering a blend of tradition, luxury, and natural beauty. Whether you're looking for a party, relaxation, or a bit of both, Mykonos has something for everyone.
Why is Mykonos More Than Just a Party Island?
While Mykonos wears its title of the 'Greek party island' with pride, it's a canvas painted with more hues than just the vibrant nightlife. Imagine strolling through quaint alleyways, where the stories of the past are etched in the whitewashed walls of Cycladic houses. Envision the sun casting its golden glow on boutique shops, where treasures await the discerning traveler. And as the day fades, let the island's luxury hotels cradle you in opulence.
What are the best beaches in Mykonos?
Mykonos, with its sun-kissed shores and azure waters, is a beach lover's paradise. Among the myriad of beaches, our team's top picks are Ornos Beach and Platis Gialos Beach. These family-friendly havens are adorned with a plethora of restaurants, luxurious resorts, and lively beach clubs. While they're easily accessible from Mykonos Town via bus, they offer a serene escape for those wanting to sidestep the bustling nightlife of the town.
Venturing further, Megali Ammos stands out for its proximity to Mykonos Town, making it a convenient beach getaway. Other must-visit beaches include the picturesque Agios Stefanos, the celebrity-favorite Psarou, the expansive Elia, the vibrant duo of Paradise and Super Paradise, the tranquil Paraga, the scenic Agios Ioannis, the serene Kalo Livadi, the peaceful Kalafatis, the secluded Panormos, and the untouched beauty of Agios Sostis.
For those looking to beach-hop, there's a water taxi service that sails from Agia Ioannis Beach to Elia Beach, pausing at most of the southern beaches, offering a scenic and convenient way to explore multiple shores.
It's worth noting that the southern coast of Mykonos cradles the best beaches, shielded from the occasionally strong northern winds. While the northern beaches are picturesque, they can be wind-swept, especially during July and August. However, their charm lies in their tranquility. On a calm day, these northern beaches promise a serene escape, often giving you the luxury of having vast stretches of sand almost entirely to yourself.
Is There a Quieter, More Traditional Side to Mykonos?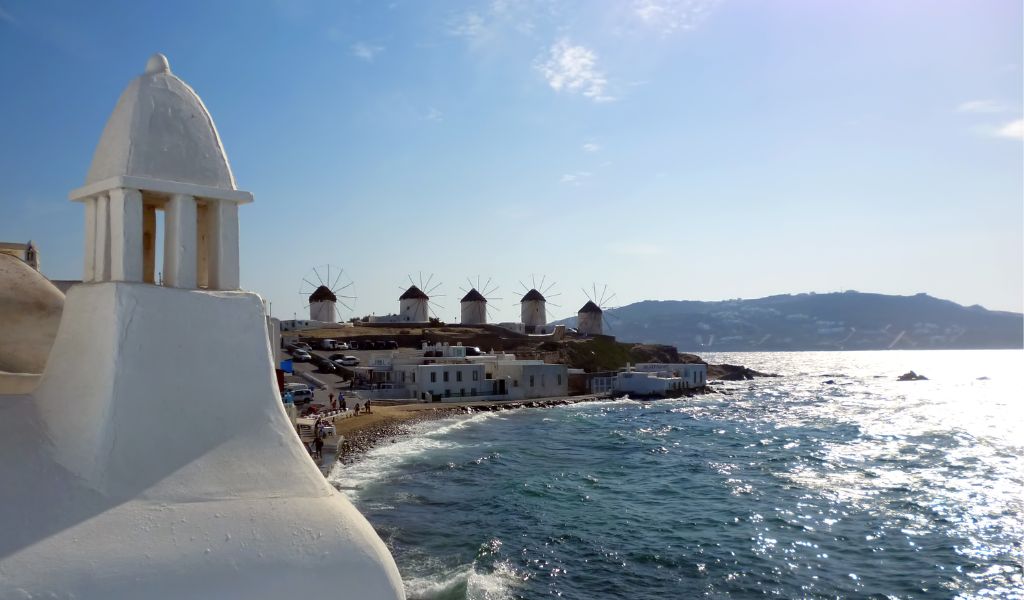 Absolutely. Beyond the shimmer and shine of its cosmopolitan façade, Mykonos reveals a serene heart. Stone-paved paths lead to windmills that have stood the test of time, and country chapels promise solace to the weary soul. Dive deep into the island's traditions in its picturesque villages, where time seems to slow and the world fades away.
What About Culture and History?
Chora, the island's heart, is a Cycladic masterpiece. Here, luxury meets tradition, with top-tier resorts standing proudly beside goldsmith boutiques and art galleries. And for those who hear the siren call of history, the nearby Delos Island awaits, holding the secrets of ages past.
In 2024, Mykonos promises an experience that's both timeless and ever-evolving. Whether you're a first-time visitor or a seasoned traveler, let this guide be your compass to an island that never ceases to amaze. Welcome to Mykonos, where every journey is a story waiting to be written.
Do I need a car in Mykonos?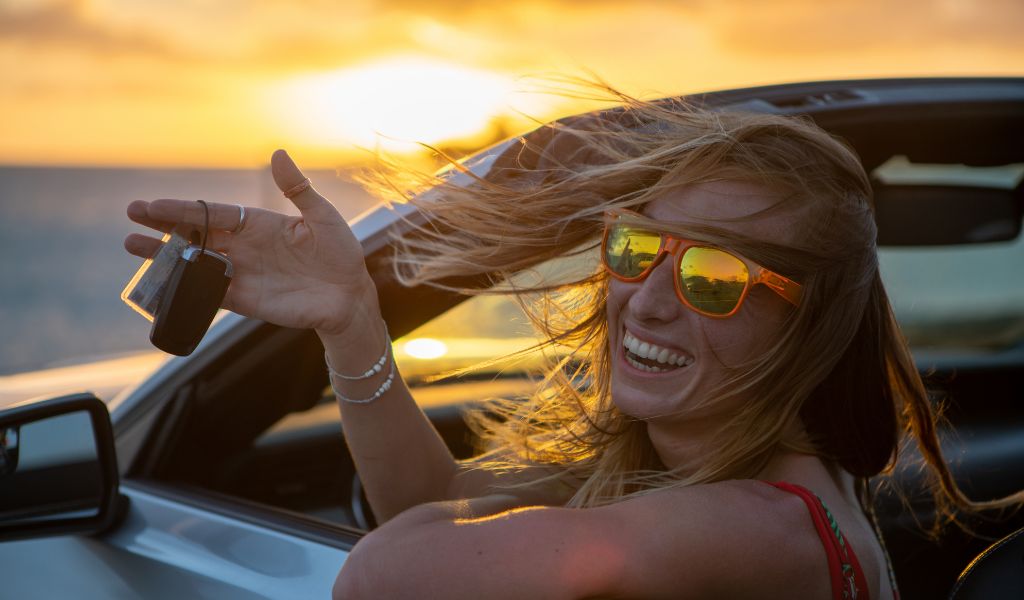 Navigating the picturesque lanes of Mykonos often raises the question: to drive or not to drive? While having a car at your disposal can offer the convenience of setting your own pace, it's not an absolute necessity. Mykonos boasts a commendable public bus service that's not only cost-effective but also punctual. With Mykonos Town acting as the central hub, these buses efficiently connect you to the island's prominent beaches, especially during the bustling summer months.
However, if the call of the island's hidden nooks and crannies beckons you, renting a car might be a good idea. This gives you the liberty to delve deeper into the island's secrets at your own rhythm. If you're leaning towards this option, it's advisable to collect your rental from the airport, even if your journey to Mykonos is via ferry. For those coming from foreign shores, don't forget that Greece mandates an International Drivers Permit.
Given that Mykonos houses a limited number of taxis and lacks services like Uber, planning your private transport in advance is a wise move. This can be seamlessly arranged either through your accommodation or transfer service, ensuring a smooth transition from the airport or ferry port to your destination.
Where should I stay in Mykonos?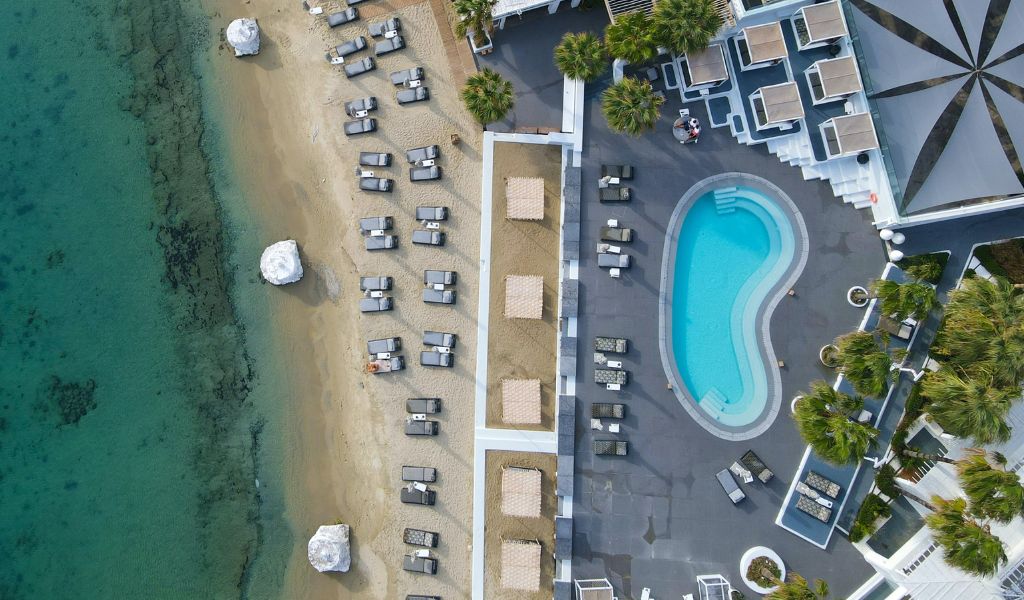 OUR FAVORITE MYKONOS HOTELS – WHERE TO STAY IN MYKONOS
Choosing the perfect spot to stay in Mykonos depends largely on what you're seeking from this sun-drenched paradise.
Mykonos Town & Old Port: Ideal for first-time visitors, this area is the heart of Mykonos. It offers a plethora of attractions, shopping avenues, diverse accommodation options, and a vibrant nightlife. The town is also renowned for its restaurants and breathtaking sunsets. Everything you need is within arm's reach, making it a convenient choice.
Ano Mera: If you're looking to immerse yourself in history and experience a more traditional side of Mykonos, Ano Mera is the place to be. It offers a genuine local vibe, away from the bustling tourist spots.
Ornos: Perfect for those on a budget, Ornos is family-friendly and a haven for beach enthusiasts. With its proximity to the sea, it's a great spot for those looking to soak up the sun and indulge in beach activities.
Platis Gialos: Another family-friendly option, Platis Gialos is known for its water sports and a variety of restaurants. It's a blend of relaxation and adventure, making it suitable for both thrill-seekers and those looking to unwind.
Elia: For those seeking luxury and seclusion, Elia is the perfect retreat. Often chosen by honeymooners, it offers an intimate experience, away from the crowds.
Kalafatis: Another hotspot for honeymooners, Kalafatis is synonymous with seclusion. It's also a hub for water sports, offering a mix of relaxation and adventure.
For party enthusiasts, the beaches of Paradise, Super Paradise, and Paraga are the places to be. They're known for their electrifying beach parties that go on till the wee hours.
On the other hand, if tranquility is what you're after, consider the serene beaches of Agios Ioannis, Agios Sostis, Psarou, or Kalo Livadi. These spots offer a peaceful escape, away from the hustle and bustle.
In essence, whether you're looking for vibrant nightlife, serene beaches, or a mix of both, Mykonos has a spot that's just right for you.
What are the best things to do in Mykonos?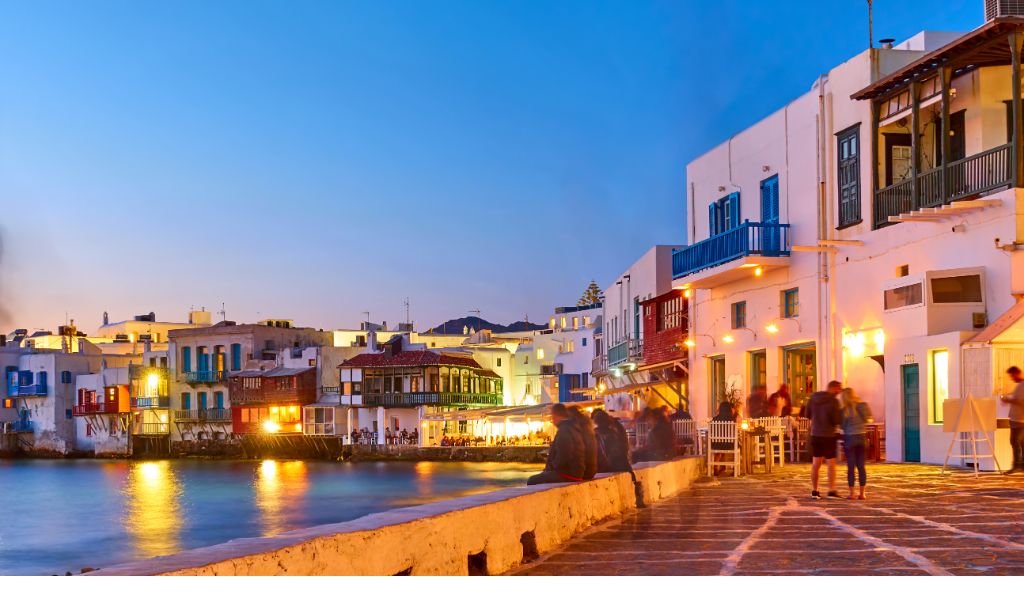 Mykonos, a Grecian jewel, is a blend of cosmopolitan charm and timeless tradition. Here's a curated list of must-dos to make your visit unforgettable:
Dine, Shop, and Revel in Mykonos Town: The heart of the island offers a plethora of dining options, boutique shopping experiences, and vibrant nightlife. Whether you're sipping a cocktail or dancing the night away, the town's energy is infectious.
Bask on Iconic Beaches: The sun-kissed shores of Paradise Beach, Super Paradise Beach, and Elia Beach are perfect for sunbathing, swimming, and soaking in the Aegean beauty.
Delve into Delos: A short boat ride away, the archaeological wonders of Delos Island This UNESCO World Heritage site is a window into ancient Greece.
Ano Mera's Traditional Charm: Experience authentic Greek culture in the quaint village of Ano Mera. Its serene ambiance offers a stark contrast to the bustling town.
Sunset Spots: The island is dotted with vantage points for mesmerizing sunsets. Whether it's from Armenistis Lighthouse, Boni's Windmill, the romantic quarters of Little Venice, or the bluffs overlooking the Old Port, each spot offers a unique hue of the setting sun.
Iconic Windmills (Kato Mili): These historic windmills, standing tall at the southern end of Mykonos Town, are a must-visit. They're not just landmarks; they're a testament to the island's rich history.
Venetian Castle Views: Perched in Mykonos Town, the Venetian Castle offers panoramic views of the island and the surrounding seascape.
Little Venice's Labyrinth: Meander through the narrow, winding streets of Little Venice, where every corner holds a story and every alleyway a secret.
Sail the Aegean: Embark on a boat tour to explore the island's maritime wonders. From hidden coves to picturesque fishing villages, the sea offers a different perspective of Mykonos.
Shop till You Drop: Mykonos Town's vibrant boutiques offer a range of unique souvenirs, handcrafted jewelry, and trendy clothing. It's a shopper's paradise, ensuring you take a piece of Mykonos back home.
In essence, Mykonos is a tapestry of experiences, from its bustling streets to its tranquil shores. Every moment on this island promises a memory etched in time.
How many days should I spend in Mykonos?
Mykonos, with its sun-kissed beaches, historic landmarks, and vibrant nightlife, is a destination that can be both a quick escape or a leisurely retreat. For those short on time, a minimum of 2 nights and 1 full day can offer a glimpse into the island's charm. This allows you to soak in the sun at the beaches, take a quick tour of Delos Island, and capture memories at the iconic Mykonos Town windmills, also known as Kato Mili.
However, to truly immerse yourself in the Mykonian experience, consider spending 4 to 5 days. This gives you the luxury of time to beach-hop via water taxi, revel in the mesmerizing sunset at Armenistis Lighthouse, and lose yourself in the labyrinthine alleys of Mykonos Town. Chora beckons with its shopping and dining delights, while the Old Port promises serene strolls. And as night falls, the pulsating beats of Little Venice invite you to dance the night away.
For those with 4 to 5 days at their disposal, the seas around Mykonos offer a fresh perspective. Embark on a half-day cruise to appreciate the island's shimmering shores, hidden coves, and the gleam of its whitewashed towns from the azure waters. This maritime journey can be enriched with a visit to Delos and a detour to Rhenia. The latter, a serene counterpart to bustling Mykonos, boasts pristine beaches that promise tranquility.
Lastly, Mykonos's nightlife is legendary. With ample time, you can dive deep into its club scene, experiencing the island's electrifying energy. Just remember to reserve the next morning for some well-deserved relaxation.
In essence, whether you're on a whirlwind tour or a languid holiday, Mykonos has the magic to make every moment count.
Is Mykonos expensive?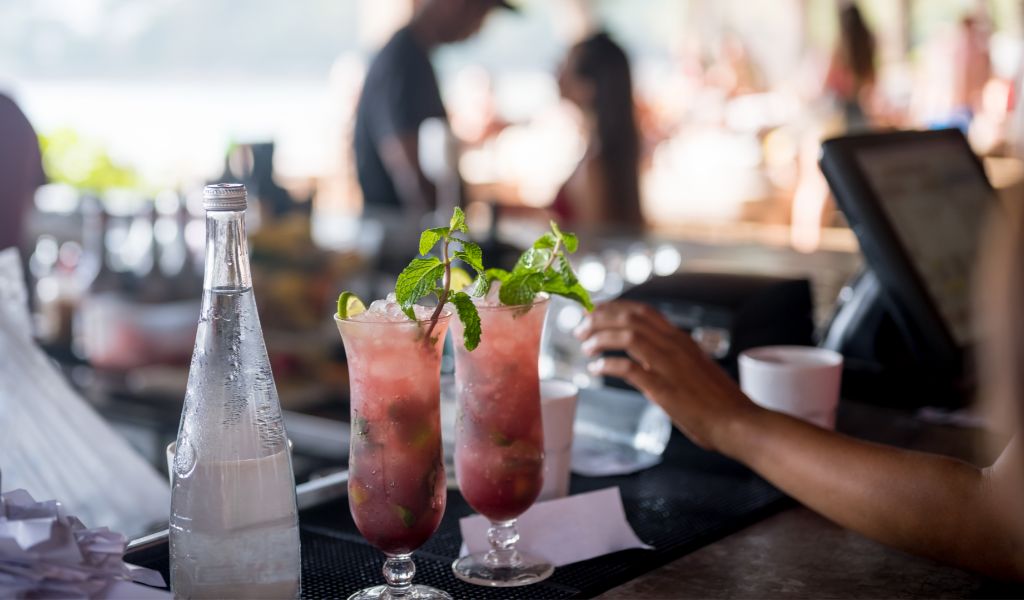 While Mykonos has garnered a reputation for its opulent hotels, elite beach clubs, high-end boutiques, and premium cocktails, it's a misconception that the island is exclusively for the affluent. Indeed, Mykonos can cater to lavish tastes, but it's entirely feasible to experience its charm on a tighter budget.
The island doesn't offer all-inclusive resorts or vacation packages, which means travelers have the flexibility to tailor their expenses. A simple strategy to economize is to opt for accommodations and eateries set a little away from the waterfront. The allure of Mykonos doesn't diminish as you move inland; in fact, you might discover hidden gems and authentic experiences.
Another advantage is that all the beaches on the island are public and free of charge. So, you can bask in the sun, swim in the azure waters, and enjoy the beach vibes without spending a dime. Additionally, the island's public transportation, including buses and water taxis, is reasonably priced, making it easy to explore different parts without breaking the bank. And for those willing to search, affordable yet comfortable hotels are sprinkled across the island, ensuring you get value for your money.
In essence, Mykonos island Greece  can be as extravagant or as economical as you want it to be. With a bit of planning and savvy choices, the island's magic is accessible to everyone.
What currency is used in Mykonos?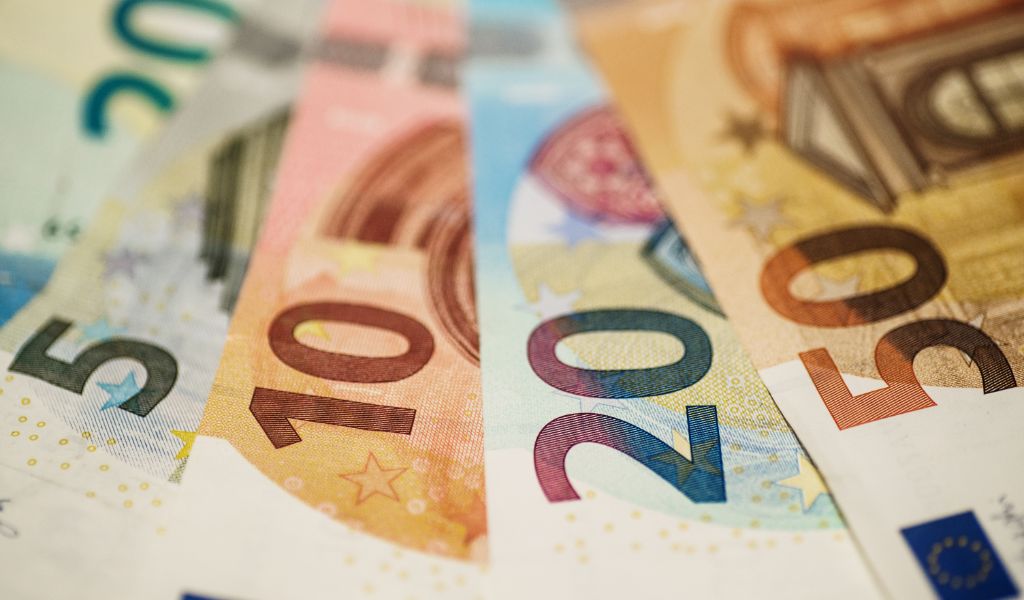 Mykonos, being a part of Greece which is a member of the European Union, operates with the Euro (€) as its official currency. While the island's major establishments like restaurants and shops readily accept credit cards, it's always wise to keep a stash of cash for those smaller, everyday expenses. Think bus fares, quick snacks, bottled water, taxi rides, and tipping. Fortunately, ATMs are conveniently located throughout Mykonos Town and the prominent beach areas, ensuring you're never too far from accessing cash.
Where can I exchange foreign currency?
For those looking to exchange foreign currency, Western Union in Mykonos is a reliable option:
Western Union Mykonos
Address: Argirena, Mykonos
Phone: +30 2289 078903
Additionally, several bank branches are available for banking services::
Alpha Bank I
Address: 41 Matogianni str.
Phone: +30 2289 023400
Alpha Bank II
Address: Dimotiki Odos
Phone: +30 2289 025903
Eurobank
Address: Peripheriaki Odos
Phone: +30 2289 079130
Piraeus Bank I
Address: Agias Kiriakis
Phone: +30 2289 306800
Piraeus Bank II
Address: Nea Peripheriaki Odos
Phone: +30 2289 029304
National Bank of Greece
Address: 6 Aksioti str.
Phone: +30 2289 077011
It's always a good practice to check the exchange rates and any associated fees before making a transaction.