Indulge in the Spectacular Symphony of Waves at Best Beach Clubs in Mykonos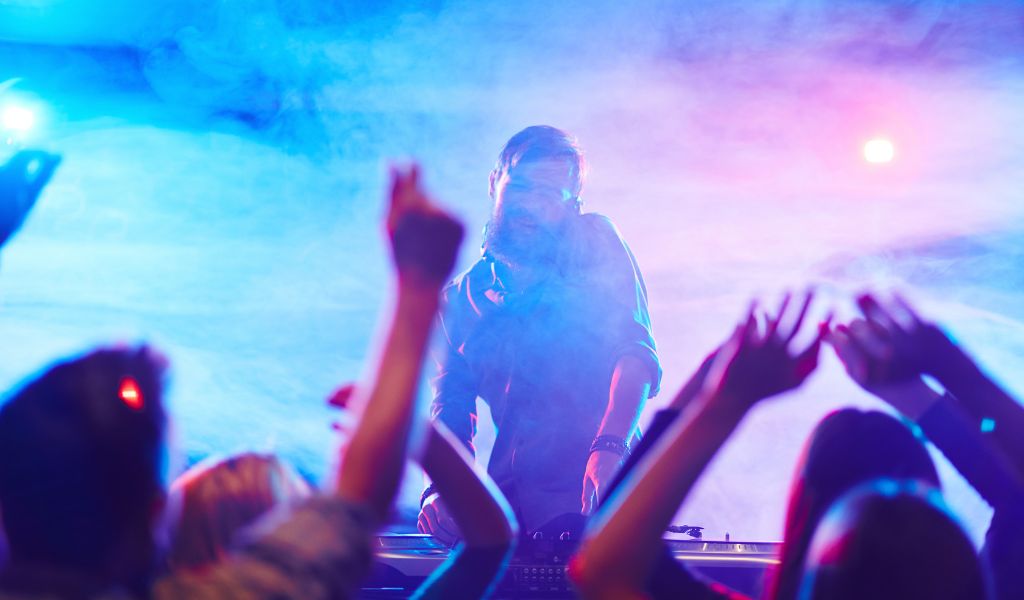 Experience the gentle pulse of the Mediterranean Sea as it caresses your toes and watch as the sun crafts a tapestry of delicate colors across the vast sky. Welcome to Mykonos island Greece, a haven of beauty where the azure waves narrate captivating stories to the golden shores. This is a realm where the irresistible charm of the island's premier beach clubs calls out to you.
On this picturesque island, cradled by the stunning beaches, thrive the grandest beach clubs, each more captivating than the last. These dazzling retreats embody the quintessence of beachside opulence. The beach clubs of Mykonos do not merely offer an escape, they grant you a privileged encounter with the island's mesmerizing allure.
Here, you can surrender to the rhythm of celebrated DJs as the summer moon climbs high, and savor gastronomic delights that celebrate the region's rich culinary tradition. As the sun drowns into the cerulean abyss, a night of fervor and ecstasy begins, and it won't conclude until dawn paints the horizon with fresh light.
Below, we invite you to explore the crème de la crème of Mykonos' beach clubs, sanctuaries of pleasure that you ought to discover on your Greek odyssey.
Best Beach Clubs in Paraga Beach Mykonos
1. Scorpios – Paraga Beach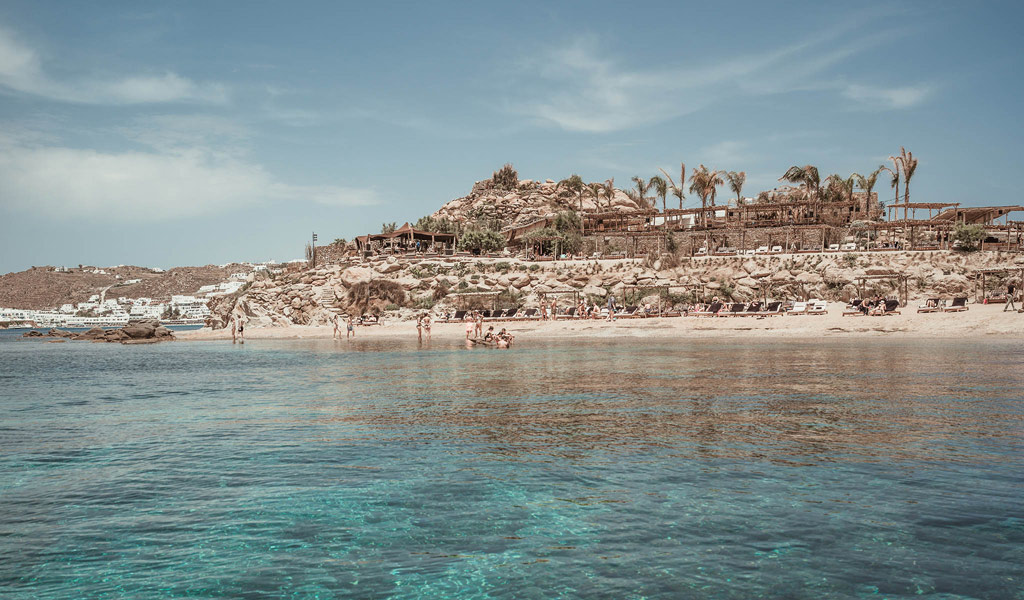 Photo copyright © Scorpios Mykonos
Scorpios, the crown jewel among the best beach clubs in Mykonos, is a vibrant rendezvous nestled in the heart of Paraga Beach.
The club offers a tapestry of seating arrangements strewn like gems along the water's edge, all available to be claimed as your throne in this paradise prior to your arrival.
The added allure of a private boat dock and intriguing sculptures crafted from nature's own materials punctuate the surroundings with a sense of the extraordinary. The unique centerpiece of this spectacular domain is a grand amphitheater, a performance space with a roaring fire pit at its heart.
Scorpios unfurls its charm as a modern tribute to the ancient Greek agora, transforming into a pulsating hub that stirs the artistic, spiritual, and social cosmos of its patrons.
The pulsating rhythm of Scorpios beats in time with a diverse display of talents from every corner of the globe, nurturing a spirit of trans-cultural exploration. It is a realm where underground minstrels share their stage with celebrated maestros, orchestrating symphonies of unlikely collaborations.
Nestled in the very heart of Mykonos, Scorpios holds court over one of the few beachfront locations offering an unspoiled panorama of the boundless sea. It's a tableau where cerulean horizons bleed into strokes of golds, yellows, and pinks, an artist's canvas kissed by the generous Cycladic sun.
Whether you yearn for a chilled communion of companionship or a reflective day of creative solitude, Scorpios offers a sanctuary that is sublime in its offering. A smattering of elegant wooden cabanas and sunbeds, a testament to the grace of minimalism, nestle seamlessly within their natural habitat. Here, privacy is a sovereign until the Sunset Rituals awaken at 18:30 each day, ushering in the vibrant, nocturnal life-force of Scorpios Beach.
Taste the essence of Mykonos in Scorpios' locally inspired cuisine, a culinary experience that echoes the island's spirit and strikes a deep chord with the ethos of Scorpios as a communal haven. With large communal tables set against the backdrop of the beachfront, the open-air, open-plan restaurant is a symphony of design that embodies and enhances the core principles of Scorpios.
Feast in this gastronomical paradise with kitchen hours from 1:30pm to 11:00pm.
2. SantAnna – Paraga Beach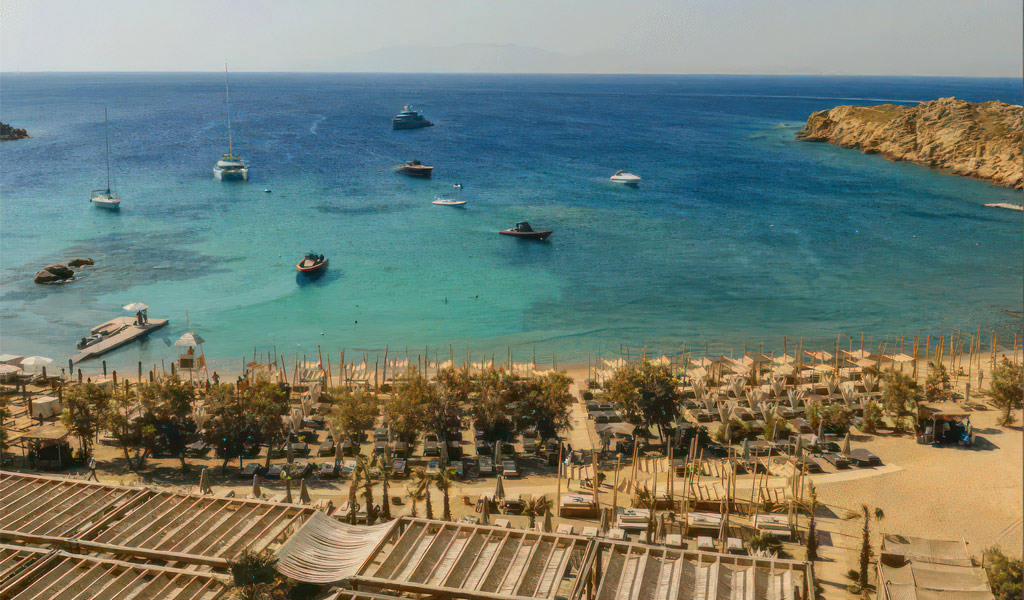 Photo copyright © SantAnna Mykonos
The Heartbeat of Mykonos
Immerse yourself in the enchanting realm of SantAnna, a jewel among the Best Beach Clubs in Mykonos. Here, the expansive seawater swimming pool, known as the largest in the Mediterranean, becomes your stage for countless tales of adventure, laughter, and dance. No matter where you are – lounging by the pool, immersing in the beach's warmth, or swaying to the hypnotic beats spun by SantAnna's world-class DJs – you remain at the epicenter of this dynamic, sun-kissed world.
The SantAnna Pool – Your Personal Oasis
The central gem of SantAnna is a magnificent saltwater swimming pool, the water shimmering under the sun like a lagoon mirage. This social oasis invites guests to unwind, revel, and bask in the radiant glow of the Cycladic sun. It's more than just a pool; it's a hub of excitement adjacent to the heart of SantAnna's vibrant community, where a kaleidoscope of boutiques, bars, restaurants, and soothing spa facilities eagerly awaits you.
Your place in the sun is here, among premium lounges, sunbeds, and private spaces designed to envelop you in pure bliss.
Private Events – Your Dream, SantAnna's Canvas
SantAnna is not just about enjoying the laid-back beach lifestyle, it is a realm where every event becomes a canvas for unforgettable memories. Be it a dreamy beach wedding adorned with romance or a high-energy bachelor party destined to shake the sands of Mykonos, SantAnna's Events Team is your personal concierge, guiding you on a journey to create the perfect celebration.
Private Parties – Where Every Moment Sparkles
At SantAnna, a simple visit can morph into a champagne-sparkled dance party that thrums with life well into the afternoon. Whether you're a careful planner or an impulsive adventurer, SantAnna's dedicated team of hosts and butlers will shape your wildest party fantasies into a vibrant reality.
No request is too special, no surprise act too extravagant, and no transportation mode – even helicopter transfers – too audacious. SantAnna thrives on turning special occasions into a blend of wonder and joy, crafting unforgettable experiences that dance on the edge of dreams.
3. Kalua Beach Club – Paraga Beach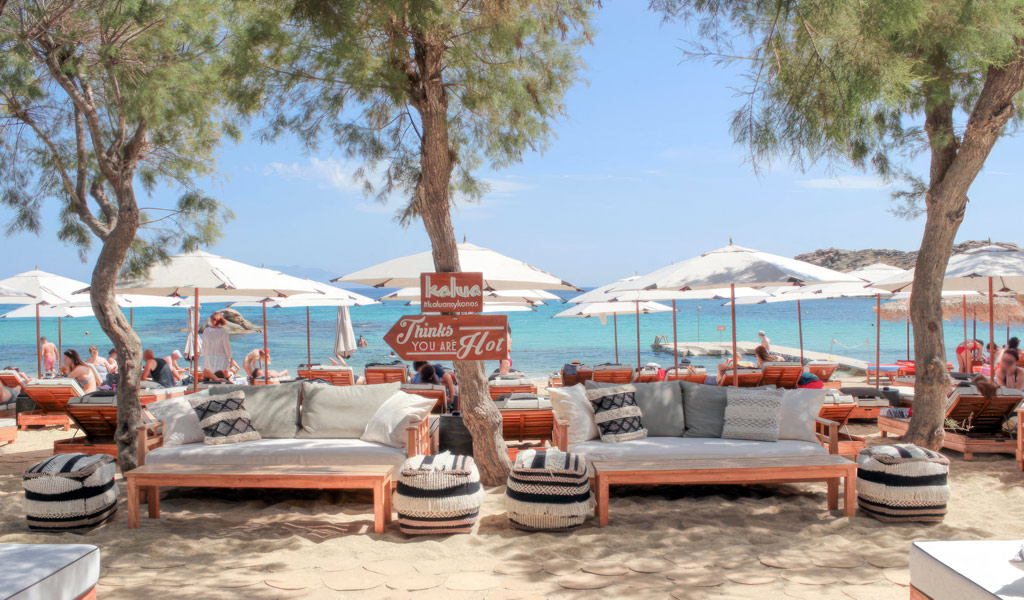 Photo copyright © Kalua Beach Club Mykonos
Imagine a secret hideaway nestled in the bosom of the beautiful and unspoiled Paraga Bay, a place where epicurean dreams and the joyous rhythms of beach life blend in perfect harmony. Welcome to Kalua, your slice of Elysium in the enchanting island of Mykonos.
Indulge Your Palate
Feed your soul with a gastronomic journey unlike any other. At Kalua, our kitchen maestro weaves culinary magic with the freshest offerings of land and sea, creating a mesmerizing fusion of Mediterranean and Japanese flavors. Our dishes are not just meals – they're edible art that tantalizes your taste buds and sends your senses into overdrive.
Quench your thirst and set your spirit free with our thoughtfully composed libations. Our extensive menu of bottled spirits, hand-mixed cocktails, and a discerning collection of wines promise an intoxicating journey, satisfying even the most refined of wine and cocktail connoisseurs.
Bask in the Sun
As the sun sets, Kalua's beach transforms into an alfresco dance floor. Embrace the laid-back luxury of lounging by the sea, sipping on your favorite drink and savoring the aromatic allure of shisha. Feel the pulsating beats of music played by Kalua's resident DJs and live musicians, creating the perfect soundtrack to your seaside reverie.
Unleash Your Inner Party Animal
Every day is a fiesta at Kalua. Why wait for the weekend when you can dance away your troubles any day of the week? Let the music's rhythm flow through you as the salty sea air caresses your skin, melting your worries into the gentle summer breeze. With live performances from our charismatic artists, Shaya and Tiago, and the rhythmic groove of our resident DJ's signature style, Kalua provides a daily dose of euphoria, a perfect symphony of sun, sea, and song. This is not just a beach party – it's the Kalua experience.
Best Beach Clubs in Paradise Beach Mykonos
1. Cavo Paradiso – Paradise Beach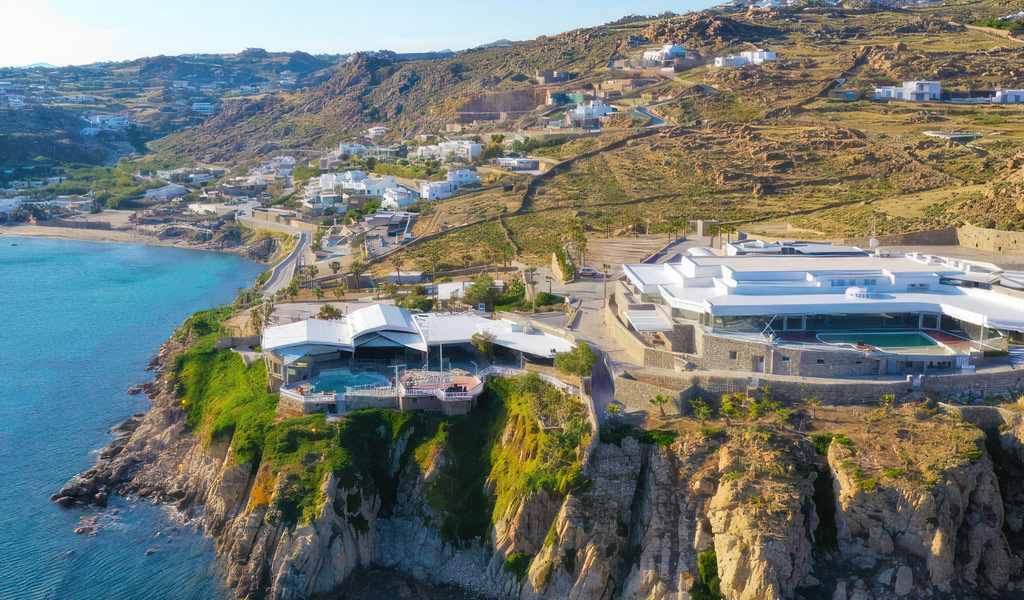 Photo copyright © Cavo Paradiso Mykonos
Dancing on the pulse of Greece's vibrant nightlife, Cavo Paradiso radiates the timeless charm of the Mediterranean's pulsating party heartbeat. Born from the Mykonian soil in the early '90s, what was once a mere pebble in the clubbing landscape, rapidly metamorphosed into a dazzling diamond in the international DJ scene.
Having celebrated three decades of euphoria, Cavo Paradiso is now an undisputed titan among the Best Beach Clubs in Mykonos. Its magnetic allure draws in the planet's top DJ talents like the sun lures sunbathers to the beach. The legendary names of Nina Kraviz, Martin Garrix, and Afrojack adorn the year-round roster, their beats echoing across the Aegean Sea.
Balancing on the edge of a breathtaking cliff, Cavo Paradiso is a panorama of pulsating rhythms and mesmerizing views. By day, it's an oasis of relaxation where you can lounge by the massive pool, cocktail in hand. As the golden sun melts into the horizon, the venue metamorphoses into a nocturnal haven, stirring up the Aegean air with the thrilling beats.
Renowned as the phoenix of Mykonos' clubs, Cavo Paradiso flourishes when others retreat. From the moment the city's lights dim, its open-air dance floor swells with party pilgrims, swaying under the starlit canvas until dawn breaks. To secure your spot among the stars like Oliver Heldens, Nicky Romero, and Ingrosso, booking ahead is not merely recommended—it's an unwritten commandment of the Mykonos party decree.
Location
Commanding a majestic view from a 100 ft cliff, Cavo Paradiso has been repeatedly lauded as the jewel of Mykonian nightlife. Its awe-inspiring location has drawn raves from global music and lifestyle publications, making it a magnet for party aficionados from around the globe.
Bathing in the Aegean's clean turquoise embrace, this cliffside spectacle embodies the signature panorama of Greek islands—the pristine waters melting into the summer sky's infinite blue canvas.
As an open-air amphitheater sculpted from locally-sourced materials, Cavo Paradiso personifies harmony with nature. In deference to the surrounding ecosystem, the club employs an eco-conscious ethos, adopting recycled and biodegradable products that respect the delicate Aegean environment.
The club boasts a lavishly designed VIP section, offering an eagle's eye view of the electrifying dance floor and stage. Here, the VIP experience takes flight, competing with the best in Europe!
Cavo Paradiso – Sushi Bar
Cavo Paradiso's allure extends beyond the dance floor, with a novel culinary chapter that makes every visit a feast for the senses. The club's premium tasting menu features such tantalizing creations as the CavoParadiso roll, the Ebi King Crab roll, and the Aburi Sea Bass & Aji Tataki Sashimi. Vegans and vegetarians are not forgotten, with a variety of sumptuous options to choose from. The cuisine at Cavo Paradiso is a gourmet journey that rivals its auditory and visual feasts.
2. Paradise Beach Club – Paradise Beach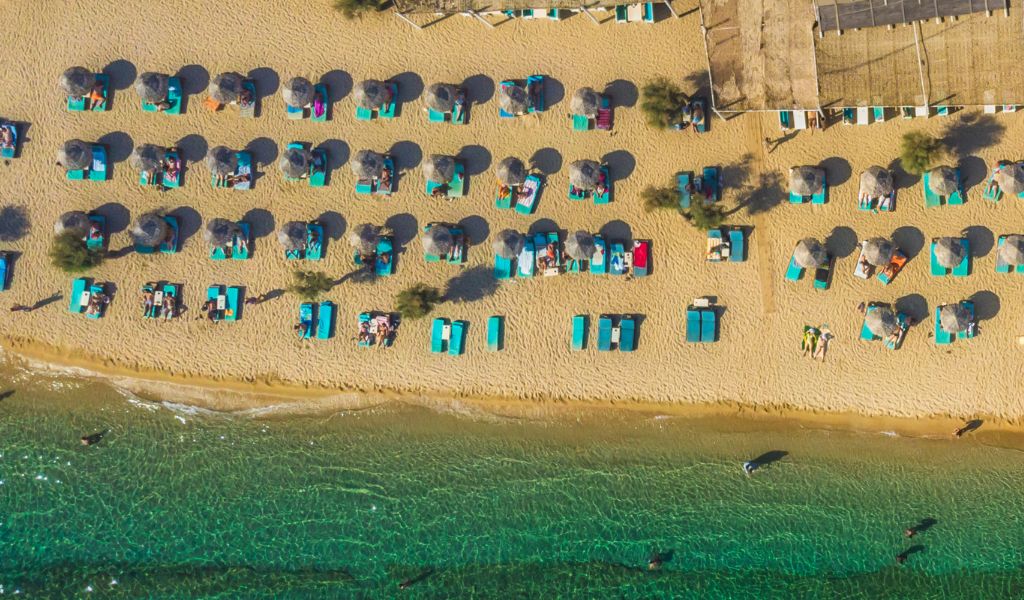 As the sun dips its fiery globe into the glittering Mediterranean, Paradise Beach Club emerges like a celestial entity, adorning the scintillating shores of Mykonos' renowned Paradise Beach. It is a legendary oasis by day, exuding an aura of tranquility, only to shed its chrysalis after midnight and emerge as a pulsating heartbeat in the vast body of Mykonos' electrifying nightlife.
Imagine a palette brushed in white, accented with lights pulsating to the rhythm of hypnotic DJ sets that wrap around the beach like a musical tidal wave. This is where the world's illustrious DJs, including the likes of Marlo, Helena Legend, Tiesto, and Nervo, command the night with their beats, drawing passionate night owls from across the globe. They don't just visit Mykonos, they voyage to experience the rhythmic symphony of Paradise.
Paradise Beach Club is more than an institution; it's the pulsating heart of Mykonos' nightlife, etching its presence into the soul of Super Paradise Beach. As the afternoon lazily unfurls into evening, the beach club springs to life at 4 pm, while the real magic unveils at 10 pm, with the best savored after midnight when the club metamorphoses into an epicenter of exhilarating nightlife.
The club harmoniously melds the breezy beach atmosphere with vivacious nightlife. Beach beds tastefully scattered along the water's edge offer a front-row view of the vibrant turquoise sea, while a selection of food court style dining options caters to every taste bud. A generously sized pool is a cool oasis amidst the club's lively ambiance, and on-site accommodation ensures the party never has to end.
In terms of connectivity, the club is served by regular shuttles from Mykonos Town, along with the convenience of a water taxi, creating a dynamic lifeline between the most beloved beaches sprinkled along this enchanting coast. Paradise Beach Club, a name synonymous with rapturous nights under the Grecian sky, awaits your arrival.
3. Tropicana Beach Bar & Restaurant – Paradise Beach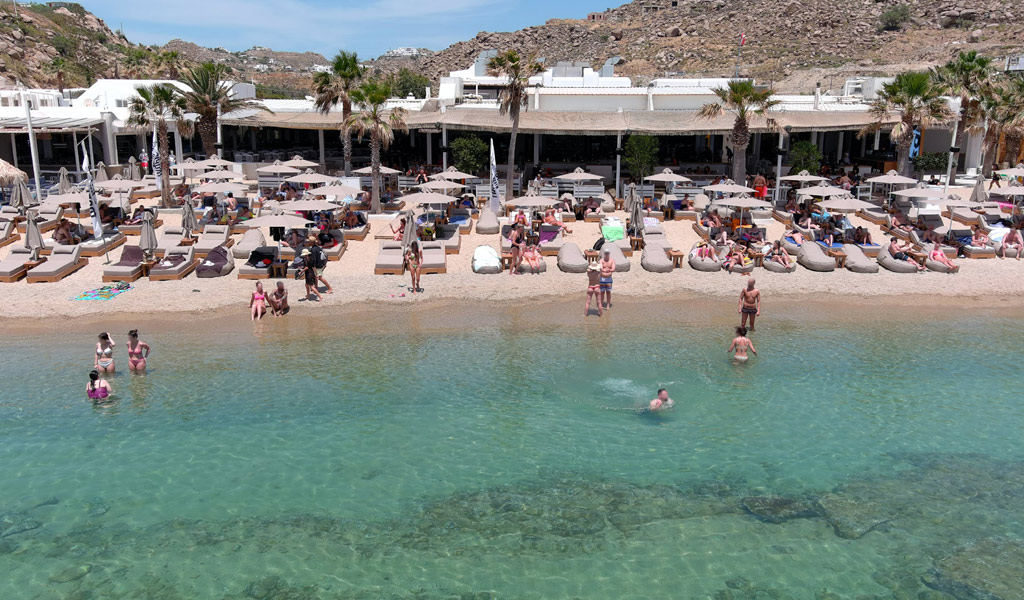 Photo copyright © Tropicana Beach Bar & Restaurant Mykonos
Prepare to experience a tantalizing fusion of natural beauty and electrifying rhythms at Tropicana Club Mykonos, a legendary haunt that has graced the lists of the world's most provocative beach bars. Garnering recognition in both 2009 and 2011, it truly stands as a premier destination among the best beach clubs in Mykonos.
On the sands of Paradise Beach, Tropicana serves as a sizzling hot spot where the DJ's sultry beats craft an atmosphere that's nothing short of extraordinary. Imagine a sea of swaying bodies, fueled by rhythmic ecstasy and the intoxicating Mediterranean sun, creating an irresistible magnetism that entices party-lovers from every corner of the globe.
As the day matures, the music takes a commanding presence. At half past four, the DJ's & MC's stir the crowd into an exhilarating frenzy, launching a dance fest that roars on into the late-night hours. Elements of intrigue – sensual dance performances, captivating speakers, and alluring swimwear all stir up an intoxicating cocktail of pleasure. Enriched by refreshing drinks, the spirit of Tropicana is a masterful blend of carefree vibes and sizzling energy.
Alongside the high-octane revelry, Tropicana Beach Bar offers a serene retreat to relax under the provided umbrellas and deck chairs and indulge in the pristine blue waters of Mykonos. Their eclectic assortment of cool drinks, refreshing juices, imaginative cocktails, and a myriad of coffee selections offer the perfect accompaniment to your beachfront repose.
Nestled on the picturesque shores of Paradise Beach, Tropicana stands as an unrivaled gem among the beach clubs of Mykonos Island.
Music / DJs
Unleashing a tsunami of vibrant summer beats, Tropicana Mykonos redefines your summer soundtrack with the pulsating DJ sets from our resident maestros, Argy & Terry. This dynamic duo ignites the dance floor daily, keeping the energy high with their infectious dance grooves and sets. We further fuel the party by hosting phenomenal events featuring globally acclaimed DJs, who keep the beats pounding and the crowd partying from dawn to dusk at Tropicana Mykonos!
Best Beach Clubs in Super Paradise Beach in Mykonos
1. Super Paradise Beach Club – Super Paradise Beach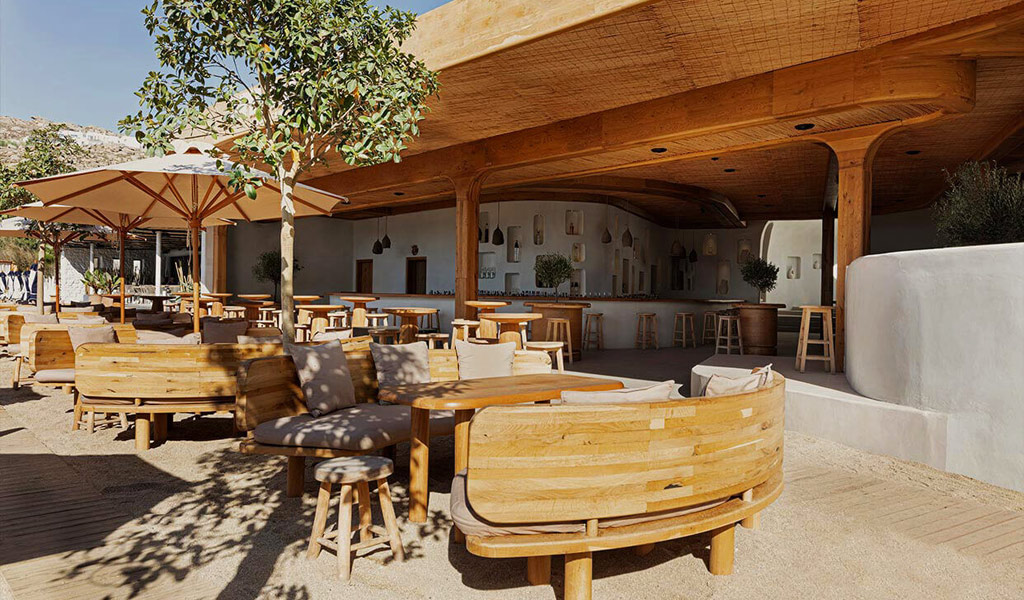 Photo copyright © Super Paradise Beach Club Mykonos
Step into the pulsating heart of Mykonos nightlife at Super Paradise Beach Club, the undisputed star among the Best Beach Clubs in Mykonos. A throbbing mecca of revelry and indulgence, this beach club is a magnet for celebrities, models, and die-hard party enthusiasts, orchestrating a symphony of hypnotic DJ sets as night cloaks the island.
By day, it morphs into an idyllic oasis of laid-back relaxation, perfect for soaking up the sun on the soft, golden sands, a tantalizing cocktail clutched in your hand. The rhythm of music crescendos by afternoon, but spontaneous, electrifying parties could ignite the atmosphere at any given moment. Efficient shuttle services to and from Mykonos town add another feather to Super Paradise's cap.
In its reincarnation, Super Paradise embraces a new epoch of celebration, connection, and joie de vivre, infused with the effervescent energy that this iconic Mykonos beach has been emitting for over half a century. Here, global guests morph into fellow voyagers on an exhilarating journey through authentic, avant-garde bohemian revelry, serene relaxation, and culinary delights. Expect an explosion of flavors from an array of delectable food options, complemented by exquisite wines and inventive cocktails.
Yearning for an extra touch of exclusivity? Prepare to be pampered in the uniquely designed VIP zone, nestled near the DJ booth. With its commanding view of the bar, private facilities, and premier amenities, your ultimate VIP experience commences here.
Super Paradise Beach Club redefines beach life, while keeping its globally renowned unique vibe intact. Wrapped in a sleek, boho-chic style, this legendary beach's warm sands seem to hum with an uncanny energy. Surrender to the harmonious blend of curated sounds and mesmerizing beach views, as Super Paradise transports you into a world where ordinary morphs into extraordinary.
2. Jackie O' Beach Club – Super Paradise Beach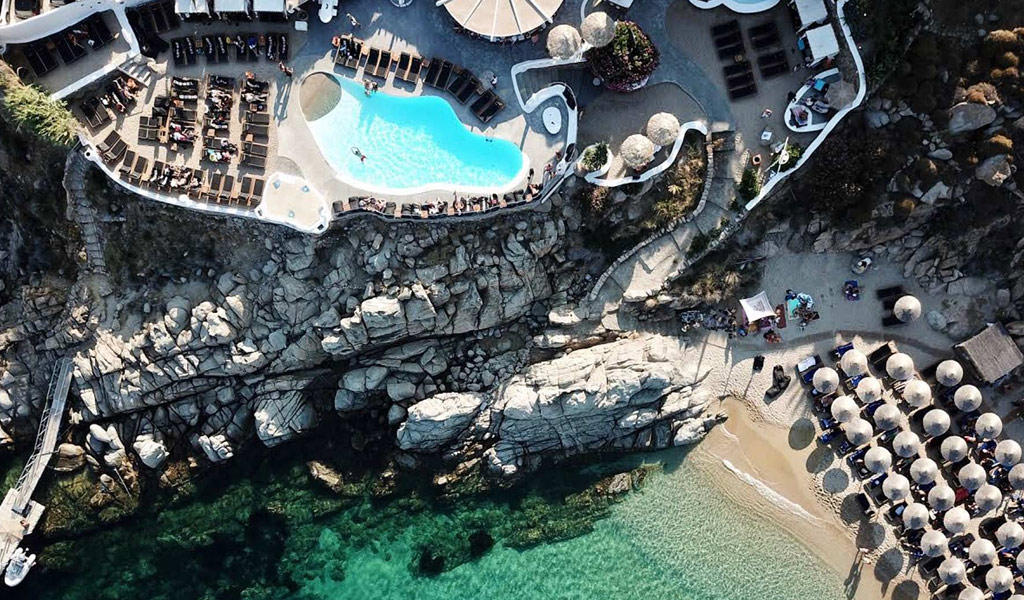 Photo copyright © Jackie O' Beach Club MykonosBehold the epitome of opulence, Jackie O' Beach Club, nestled alongside the shimmering azure canvas of Super Paradise Beach. Radiating an aura of luxe casualness, this unparalleled gay beach club is a symphony of extraordinary experiences.
Offering an enticing palette of day-time indulgences that include lounging by a refreshing pool, immersing in the bubbling embrace of a jacuzzi, or letting the sun, sea, and sand script your story at the serviced beach.
For those with an adventurous streak, the club bestows an exclusive, traditional Greek fishing boat, ready to whisk you away on day cruises that will paint your memory with the hues of the Mediterranean.
Fuel your day with the club's delectable gastronomic offerings – a culinary journey through Mediterranean cuisine. From succulent seafood that whispers tales of the deep blue to signature cocktails crafted to perfection. Whether you choose the vibrant beach or the serene poolside, top-notch service accompanies you, making every meal an unforgettable experience.
The club's charm intensifies as the sun bows out, paving the way for nightly shows that ignite the skies around 7 or 8 in the evening. Engage in this mesmerizing spectacle until the clock strikes one, marking the end of yet another enchanted day.
Jackie O' Beach Club is not just a destination, it's an elevated beachside experience, perched atop the breathtaking panorama of Super Paradise Bay. Here, every moment is a celebration of the senses. Lose yourself in the rhythm of the waves, let the sun's warm kiss on your skin be your comfort, and the attentive staff your companions in this day-long soiree.
Immerse yourself in the 360º Open Bar experience, a cocktail lover's paradise. Here, every sip is a sensory delight, a testament to the maestros of mixology. As the sun dips, allow the charismatic Αthena Dion to captivate you, orchestrating an evening brimming with enchantment. At Jackie O' Beach Club, every dawn brings with it the promise of a day dipped in the colors of joy, and every dusk echoes with the melodies of a day well spent.
Best Beach Clubs in Agios Ioannis Beach Mykonos
1. Hippie Fish – Agios Ioannis Beach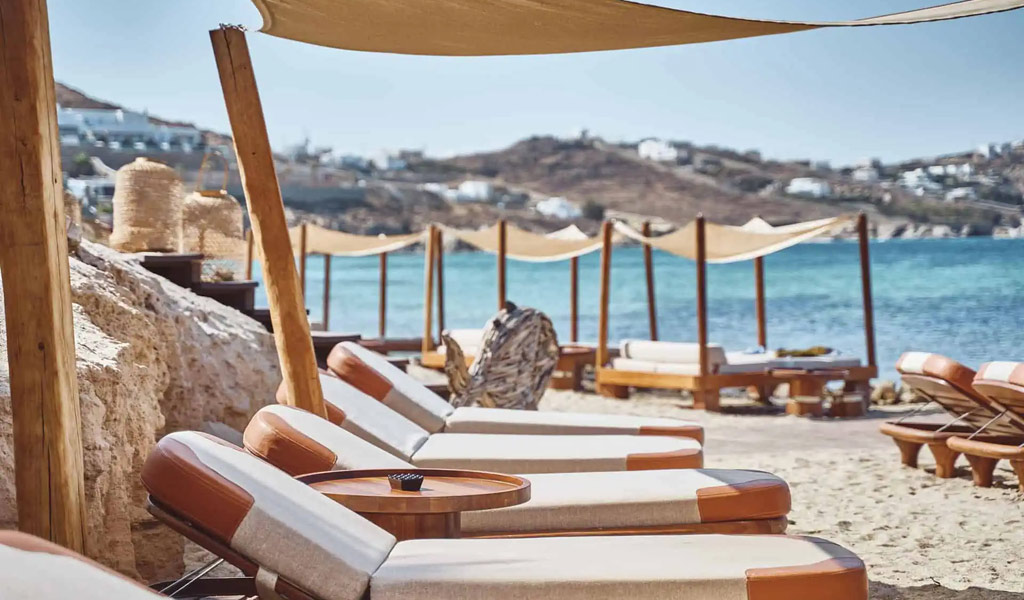 Photo copyright © Hippie Fish Mykonos
Embarking on an ambitious endeavor to redefine gastronomy in Mykonos, Hippie Fish Restaurant & Beach Club was born. A beacon of bohemian luxury, it is not just another spot on the map, but a true embodiment of a "hippie" lifestyle, breathing life into the traditional Greek and Mediterranean cuisine in a way you've never tasted before.
Amid the best beach clubs in Mykonos, it's a place where divine flavors meet a captivating ambiance, as you dance to the rhythm of live DJs and artists, with the azure spectacle of Agios Giannis serving as an enchanting backdrop.
The Hippie Fish Doctrine
Feeling and tasting fuse together at Hippie Fish Restaurant, crafting an extraordinary epicurean journey. You're not just eating & drinking; you're embarking on a gastronomical voyage painted with love and passion.
This Mykonian jewel, a shining star in the constellation of the best beach clubs in Mykonos, takes you on an awe-inspiring voyage, a step beyond the usual, under the radiant Mykonian sun. Hippie Fish Mykonos is a beach club like no other, weaving together the purity of nature, a luxurious palette of services, and a soothing atmosphere. The location is ideal for sun-worshippers; the tranquil Agios Ioannis beach, promising a sun-kissed summer experience that whispers relaxation in your ears. Expect top-tier sunbeds and umbrellas, indulgent massage services, and a delectable menu to be savored right on the sandy shores.
Unforgettable Revelries
There's never a wrong time to raise a toast at Hippie Fish.
Each tick of the clock at Hippie Fish becomes an occasion, a chance to revel in the finest gastronomical artistry, choice beverages, and innovative cocktails, all pulsating with the beats of the best music. Hippie Fish parties will etch unforgettable moments into your memory, whether you're marking birthdays, anniversaries, bachelor and bachelorette parties, promotions, significant triumphs, or simply celebrating life itself!
Best Beach Clubs in Ornos Beach Mykonos
1. Buddha-Bar Beach – Ornos Beach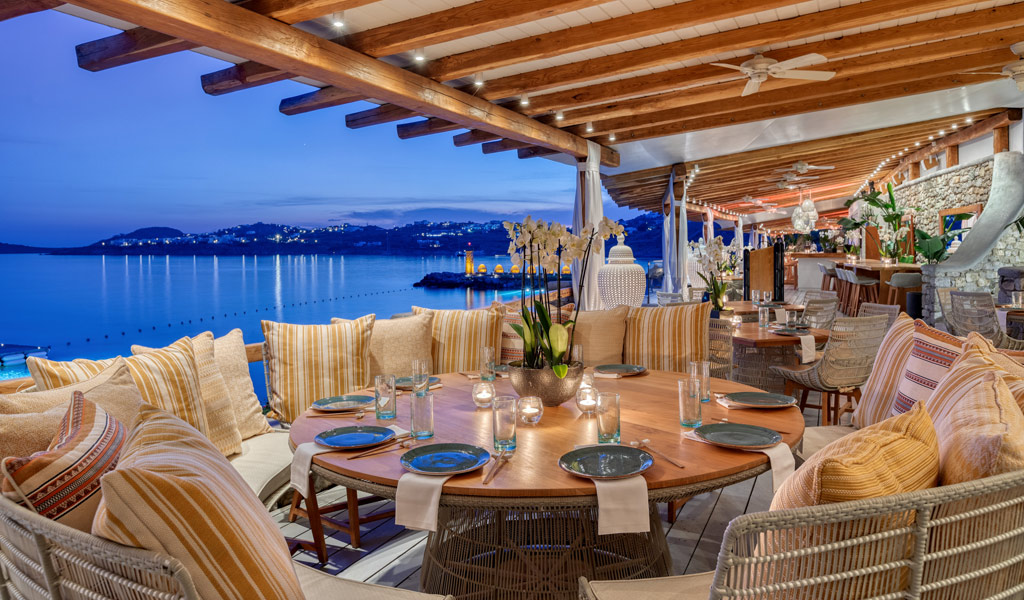 Photo copyright © Buddha-Bar Mykonos
Journey to Nirvana at Buddha-Bar Beach, Santa Marina's Epicurean Adventure and Sensory Spectacle
Buddha-Bar Beach, the pioneering extension of the globally renowned Buddha-Bar sensation, marked its grand inception in 2015. Nestled amidst the pristine surroundings of Santa Marina Resort & Villas, a beacon of opulence in Mykonos, this avant-garde beach club readied itself for the dazzling summer festivities.
Perched on the elevated contours of Santa Marina's private coastline, Buddha-Bar Beach is our Aegean-inspired rendition of the iconic Buddha-Bar lifestyle extravaganza. Imagine a milieu soaked in exotic allure, pulsating to the rhythm of soothing melodies, enhanced by a tapestry of refreshing cocktails and elite culinary delights.
The menu unveils a delectable medley of fusion cuisine, infusing Mediterranean and Greek flairs, harmoniously intertwined with signature Buddha-Bar staples such as the Buddha-Bar Beach Sushi Rolls, crispy calamari, and the succulent Wagyu beef fillet.
At Buddha-Bar Beach, there's an unmistakable vibe, an energy that permeates the air from dawn till dusk. As the sun dips beneath the horizon, this pulsating rhythm reaches a crescendo, with globally celebrated DJs spinning intoxicating tunes into the wee hours.
Given its reputation as a favored roost for sunset admirers, securing a spot through an early reservation is highly recommended. Relish the vibrant nightlife, the breathtaking sunsets, and the unforgettable experiences that only Buddha-Bar Beach at Santa Marina can provide.
Best Beach Clubs in Psarou Beach Mykonos
1. Nammos Mykonos Beach Club – Psarou Beach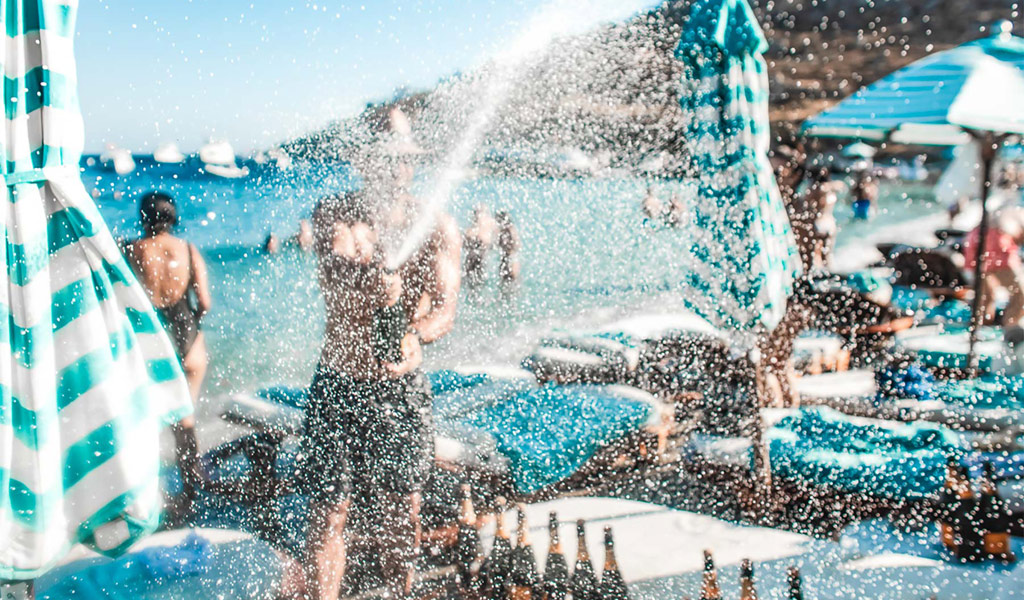 Photo copyright © Nammos Beach Club Mykonos
Imagine, if you will, the globe as a lustrous pearl, its finest luster shining brightly from Nammos Mykonos. Transforming Psarou beach into the Mediterranean's most sought-after utopia, Nammos guarantees an unparalleled beach experience teeming with radiance, decadence, and spirited energy. Delight in an elevated lifestyle garnished with effervescent celebrations, exotic cocktails, and an intoxicating dance of shisha aromas.
Beach Bar
The allure of Nammos Mykonos lies not just in its golden beaches, but in the promise of a yachting adventure, stationed firmly on the sun-kissed sand. A place of elegance and leisure, it suggests the ultimate form of relaxation under the sun's caress, sweetened by the enticing tingle of champagne and the tantalizing tastes of summer.
Heed the call of the horizon – where there's a coastal paradise with life as exquisite as its fine-grained sand. Let the rhythm of the season guide you to the heartbeat of Nammos Mykonos.
Champagne & Cocktails
At Nammos Mykonos, the thrill of beach-party life takes on a bubbly new guise each day. A top-of-the-line champagne and cocktail menu offers not just your preferred choices, but an extraordinary collection of unique and rare champagnes, spirits, and wines. Add an extra splash of glamour to your festive moments and let the electric vibe of Nammos' beach life envelop you.
Shisha Lounge
Nammos Mykonos introduces a remarkable array of shisha flavors, each offering a twist of intrigue, a breath of vivid smoke, and an extra dash of luxury to the club's sparkling lifestyle. Shisha enthusiasts can anticipate a generous indulgence – a tranquil, seaside shisha experience. Enjoy the symphony of indulgence, one puff at a time, in the shisha lounge of Nammos Mykonos!
Read Also:
Find Your Perfect Accommodation: Where to Stay in Mykonos
The best time to visit Mykonos based on your dream Mykonos holidays
The Ultimate Guide to the Best 10 Luxury Hotels in Mykonos
Discover Enchantment Afloat: Unrivaled Boat Tours in Mykonos for the Ultimate Island Experience