Shop Like a Local: Best Shopping Spots in Mykonos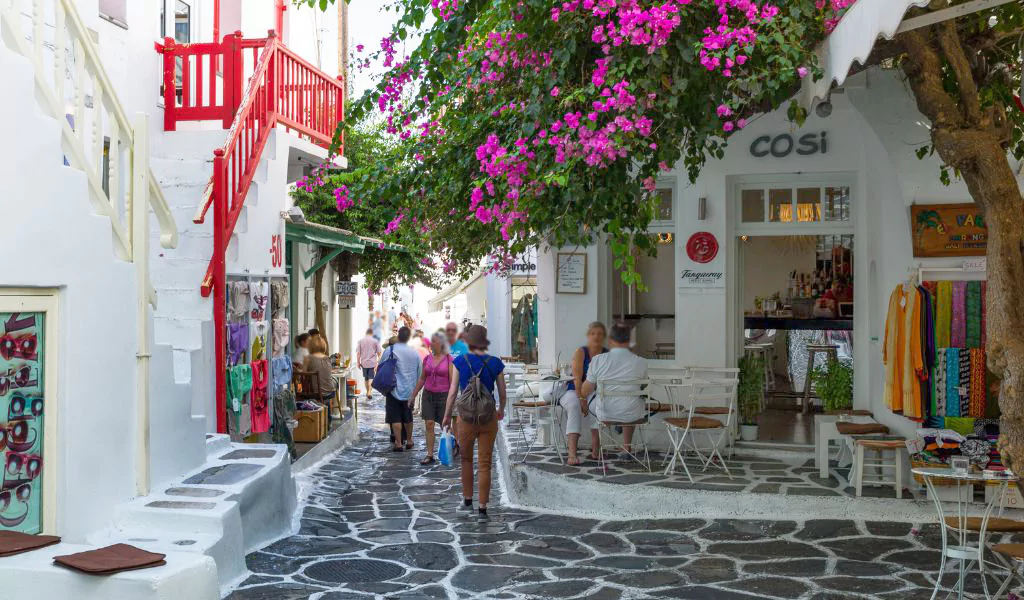 Delve into the vibrant and stylish world of shopping in Mykonos. Let the cobblestone paths of Mykonos Town, with its pristine white buildings, guide you on a journey of discovery, abounding in unique finds not found anywhere else.
As you wander through the narrow alleys, you'll discover a wealth of colorful boutiques and stores that come alive with vibrancy and personality. From exquisite jewelry stores offering exquisite pieces inspired by ancient Greek relics to high-end designer apparel shops, art galleries, and fashionable shoe boutiques – there's something for everyone in Mykonos.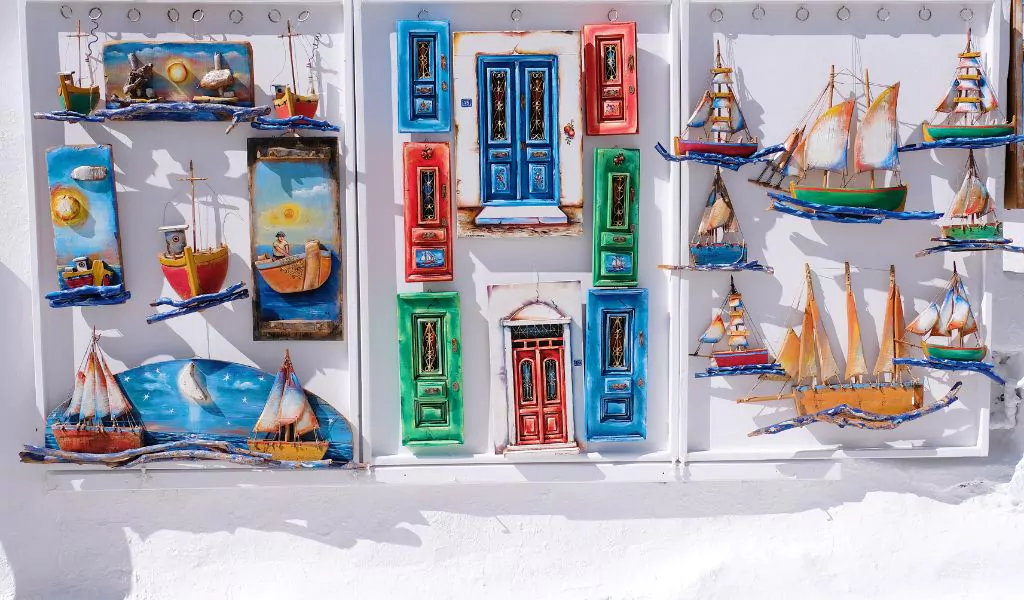 The island's upscale clientele has created a demand for luxurious shopping, and Mykonos has delivered. With stores that boast merchandise from top-notch luxury brands, you can indulge in some sopping therapy. Whether you're seeking the latest trends or looking to take home a piece of the island – Mykonos has it all!
With shops open from morning to nightfall, enjoy an endless shopping experience. Explore the best shopping in Mykonos where the atmosphere is cosmopolitan, yet relaxed sophistication prevails. From renowned boutiques to family businesses – feel like royalty as you browse through shelves unearthing something new and exciting around every corner.
Picture yourself walking down the Matogianni street, listed among the most beautiful streets in the world. Here, the sound of clicking heels on cobblestone pavements mingles with the cheerful chatter of locals and tourists alike. The boutiques and designer stores are like a treasure trove of the world's most exquisite and high-end fashion and jewelry, frequented by international celebrities.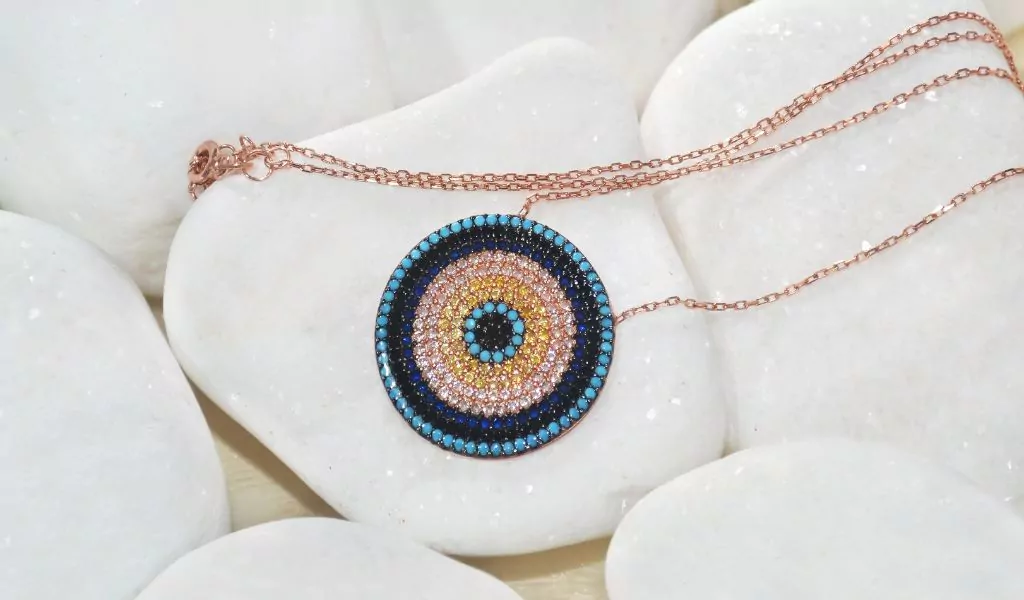 On the other hand, Polykandrioti Street is a heaven for those who love shopping for jewelry. Here, you will find LALAoUNIS's celebrated jewelry store, known for its ancient and traditional styles of Greek jewelry. And for those with a sweet tooth, Attica Bakeries is a must-visit, offering delectable treats that are perfect for indulging in.
Enoplon Dinameon Street is another place of note for luxury clothing and accessories. The boutique Enny Monaco is a shopper's paradise, housing some of the top fashion brands around the world, including Gucci, Thierry Colson, and Victoria Beckham. Meanwhile, Little Venice in Mykonos is widely considered the most romantic and elegant neighbourhood on the island and is not only famous for its gorgeous views, fancy restaurants, bars, and clubs, but also for its collection of boutiques and gift shops that offer unique products.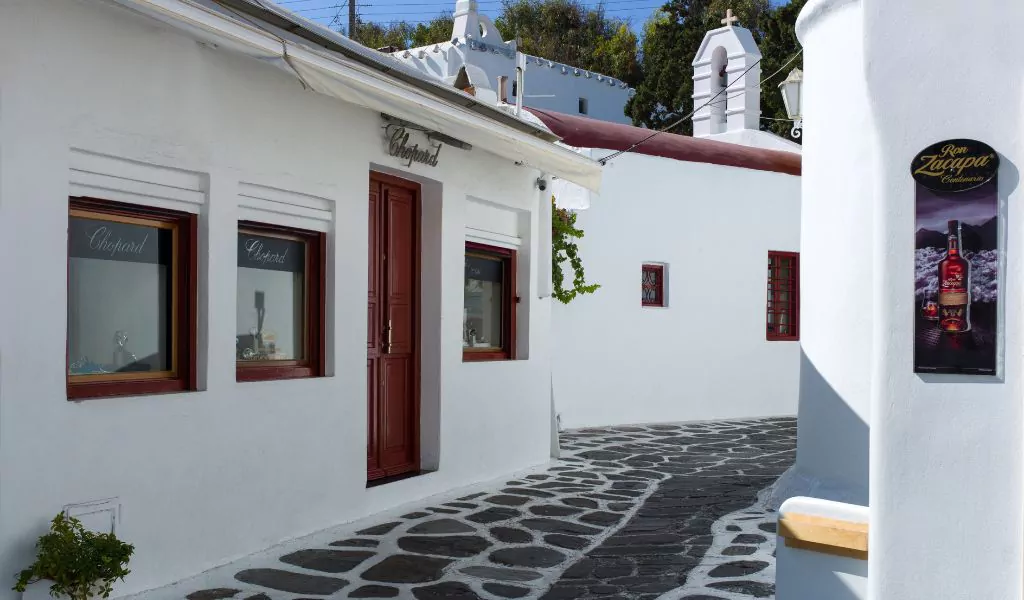 Lastly, Andronikou Street is a premium shopping destination hosting shops of some of the top international fashion, apparel, and accessories brands, including Nike and Lacoste. And if you're a fan of watches, Andronikou is also famous for its watch shops, including Rousounelos, known for its glamorous jewellery and watches.
Shoppers' paradise, MyMall, Seagull, Hondos Center, and Nammos Village offer a wide variety of products. From designer labels to the latest fashion trends, these malls have it all. At Nammos Village, the plush open-air setting will make you feel like royalty while browsing Gucci, Burberry, Prada, Rolex, Saint Laurent, and Versace. Located on the Psarou beach, it's the ideal destination for those seeking an upscale shopping experience.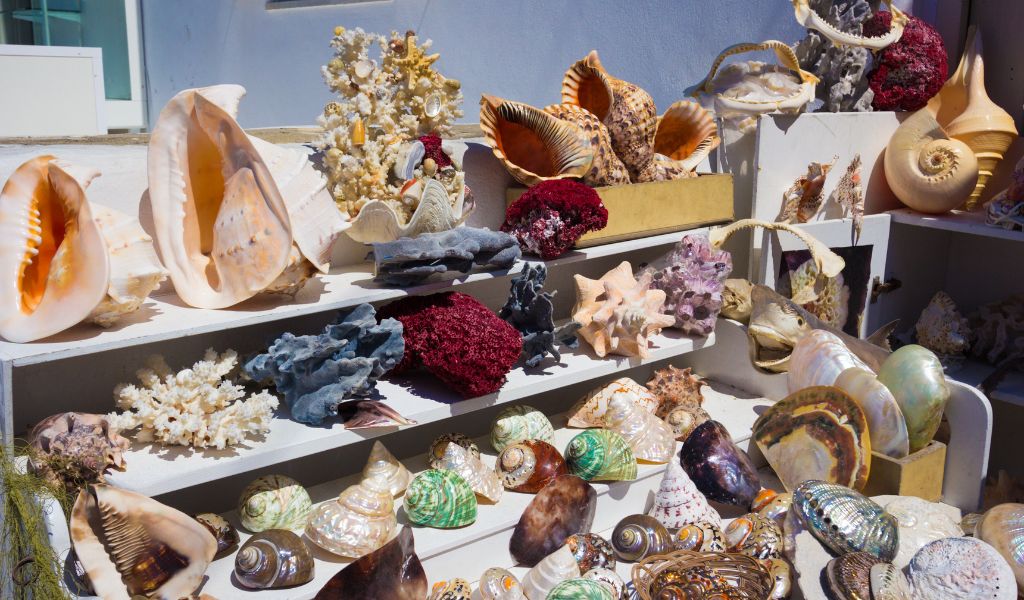 For a more traditional experience head to Zouganeli street known for its artworks, souvenirs and furniture stores with handmade wood and rope art pieces plus lighting fixtures for decorating your home. Also find fashion boutiques and clothing stores like Lara Modamare, Casper and Ergon Mykonos with original Greek-inspired clothes.
Step into the world of handcrafted, leather elegance and immerse yourself in the bliss of shopping for the perfect pair of sandals in Mykonos.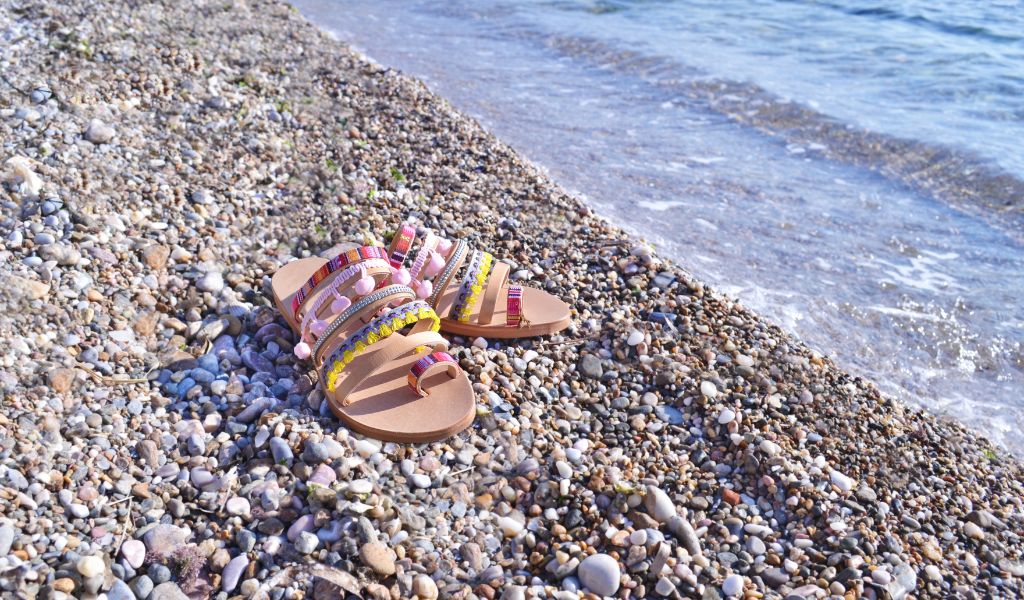 1) Mykonos Sandals:
Stepping into the Mykonos Sandals store is akin to journeying back in time. The aroma of leather is palpable as soon as you enter and you can find a plethora of handmade leather sandals of all sizes and hues. From plain and subtle designs to vibrant and adorned styles, there's something for everyone.
What makes this shop stand out is its emphasis on detail and individualized touch. The shopkeeper is an expert in sandal-making, taking immense pride in each pair she sells. Her amiable attitude makes it feel like you are shopping with a companion rather than just a vendor.
2) Scalini Sandals:
On the picturesque Matogianni Street, Scalini Sandals is a paradise for shoe aficionados and fashion devotees. As soon as you enter the small and enchanting shop, you'll be taken to an environment of beautiful sandals and peerless style. Rania's distinctive designs are sought after by stylish women from around the globe, and each pair of sandals is truly a work of art.
What sets Scalini Sandals apart, however, is their bespoke service. In the workshop, which is located very close to the store, you can have a special order made for your ideal pair of sandals, tailored to your exact requirements. Select the design, color and decorations, and within a few days your one-of-a-kind creation will be yours to wear with pride and poise.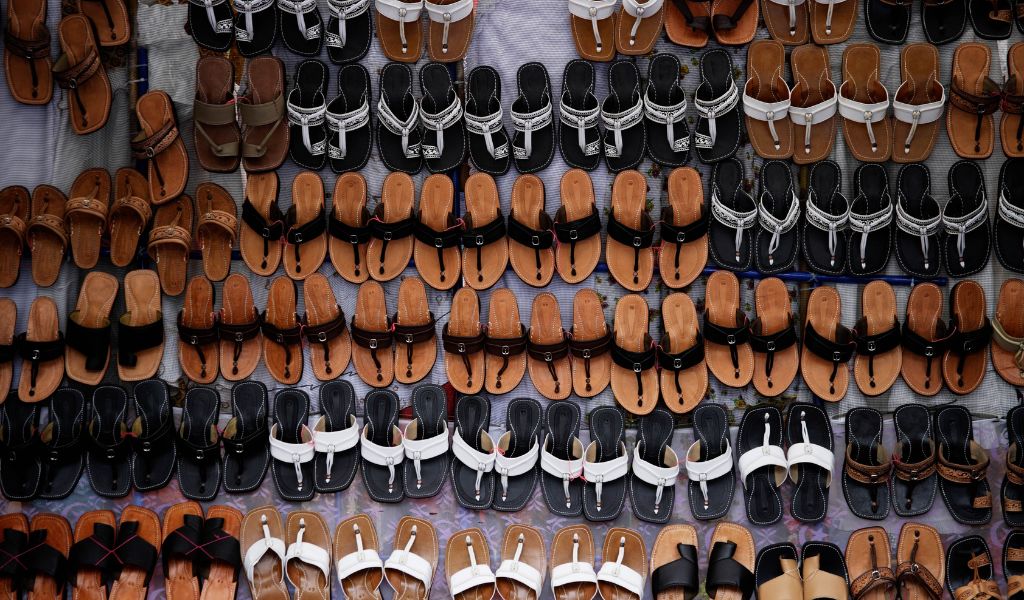 3) Liontis leather Sandals:
Experience timeless style and quality craftsmanship at Liontis leather Sandals, a traditional boutique situated in the heart of Mykonos. The Liontis family has been devoted to providing their customers with the best leather sandals for over 70 years, and their skill and enthusiasm are evident in each stitch and sole.
Once you smell the robust, leathery aroma that drifts from the store, you'll know you've come to the right place. Inside, you'll discover an array of classic designs in various shades, suitable for women, men, and children of all ages.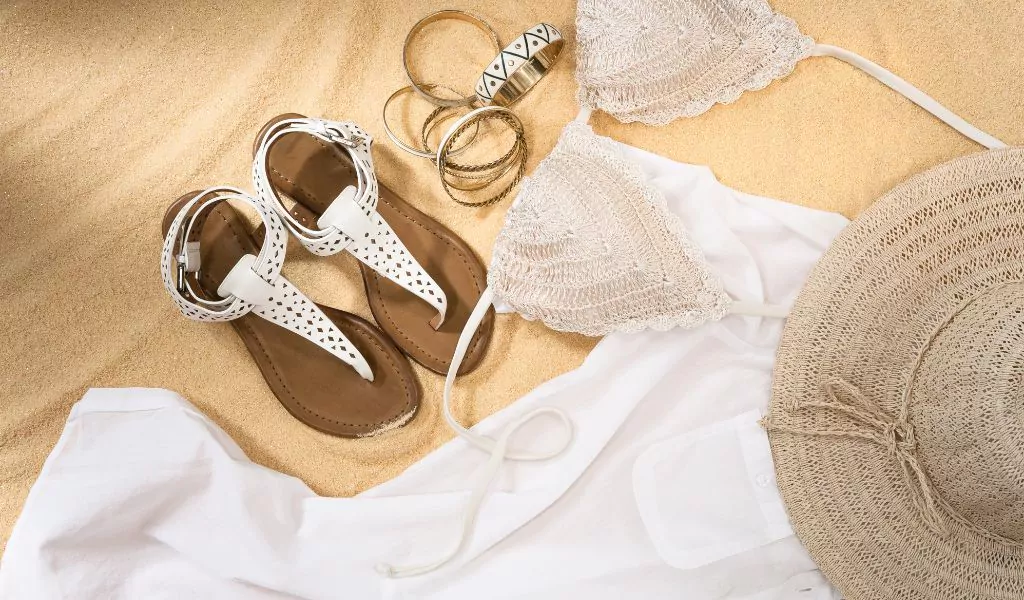 4) Tia Handmade Sandals:
Uncover the enchantment of handcrafted excellence at Tia Handmade Sandals, a fashionable boutique in Mykonos. This is the ideal spot for ladies and kids who value the better things in life, including sandals that are as remarkable as they are trendy.
At Tia Handmade, each pair of sandals is an artistic creation, made with the greatest consideration and thoughtfulness. With the proprietor's inviting and accommodating nature, you can be certain that you'll get a shopping experience that is truly unparalleled.
With so many shopping options to choose from, the only thing left to do is to plan your visit to Mykonos island Greece and get ready for an unforgettable experience. Happy shopping!
Let us paint you a scene: you're preparing to go to Mykonos for a deserved break yet haven't found the ideal spot to rest. Don't stress, we have you secured! We have searched the island to carefully pick a wide assortment of hotels that suit every desire and fancy.
Whether you're searching for extravagance, cost-effectiveness, or a blend of both, we have an inn that will make you feel like you've arrived in heaven. So, unwind and let the Mykonos-hotels.com team direct you to your fantasy getaway spot.