Uncover the Island's Treasure Trove: Top 9 Things to Do in Mykonos, Greece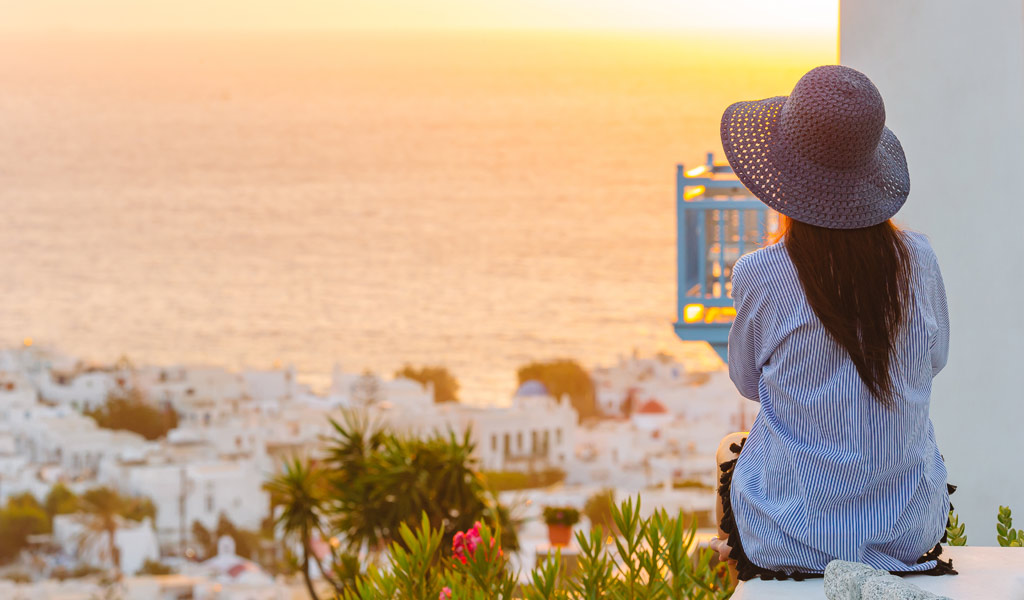 Step into the sun-kissed, dazzling world of Mykonos, where white-washed buildings, turquoise waters, and vibrant energy come together in perfect harmony. This breathtaking Greek island is the epitome of luxury, adventure, and relaxation, and there's no shortage of things to do in Mykonos to keep you entertained.
From lounging on iconic beaches, to indulging in tantalizing local cuisine, exploring ancient history, and immersing in its vibrant nightlife, there's something for everyone on this enchanting island. Whether you're seeking a tranquil escape or a non-stop vacation experience, you'll find it all here in Mykonos.
So pack your bags, grab your sunscreen, and get ready for an unforgettable adventure – here are the top 9 things to do in Mykonos that you won't want to miss.
1) Explore the island's iconic beaches of Paradise Beach, Super Paradise Beach, and Elia Beach.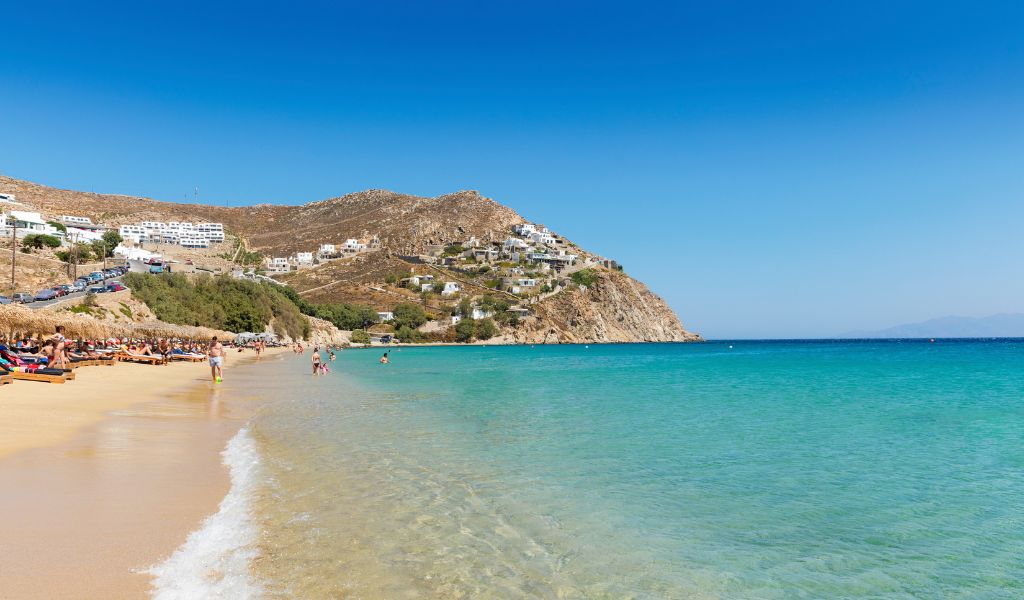 As you approach the shimmering Aegean Sea on the shores of Mykonos, the salty sea air caresses your face and the sound of waves crashing against the shore invades your senses. With iconic beaches like Paradise, Super Paradise, and Elia, you're guaranteed to have an unforgettable coastal experience.
Let's start with Paradise Beach – the hub of Mykonos' electrifying party scene. With pulsating music, an abundance of drinks, and a lively crowd, you'll feel the energy of this beach instantly. Immerse yourself in the vibrant atmosphere and dance the night away with the beat of the waves.
If you're looking for a more tranquil beach experience, Super Paradise Beach is the perfect fit. Its serene waters are like a mirror reflecting the breathtaking sunsets, while the peaceful surroundings invite you to unwind and bask in the sun.
Elia Beach, on the other hand, offers a family-friendly atmosphere, with its long stretch of soft, golden sand and shallow waters perfect for kids to play and swim. Spend the day here, soaking up the sun and creating memories to last a lifetime.
2) Admire Stunning Views from the Venetian Castle
Perched high on a hill, the 16th-century Venetian Castle of Mykonos awaits you with open arms. Get ready to be transported to a world of breathtaking beauty and tranquil magic.
Step inside the castle walls and be awed by the breathtaking panoramic views that lay before you. The Aegean Sea sparkles like diamonds, dotted with picturesque islands, while the rugged coastline of Mykonos is etched with charming villages and pristine beaches.
As the sun sets, the sky comes alive with a symphony of colors, painting the castle and the sea in hues of orange, pink, and red. Savor this moment with a cocktail in hand and let the stunning views take your breath away. This tranquil haven is the perfect escape from the hustle and bustle of the island, offering the perfect atmosphere for relaxation and rejuvenation.
3)  Escape into the Heart of Mykonos Nightlife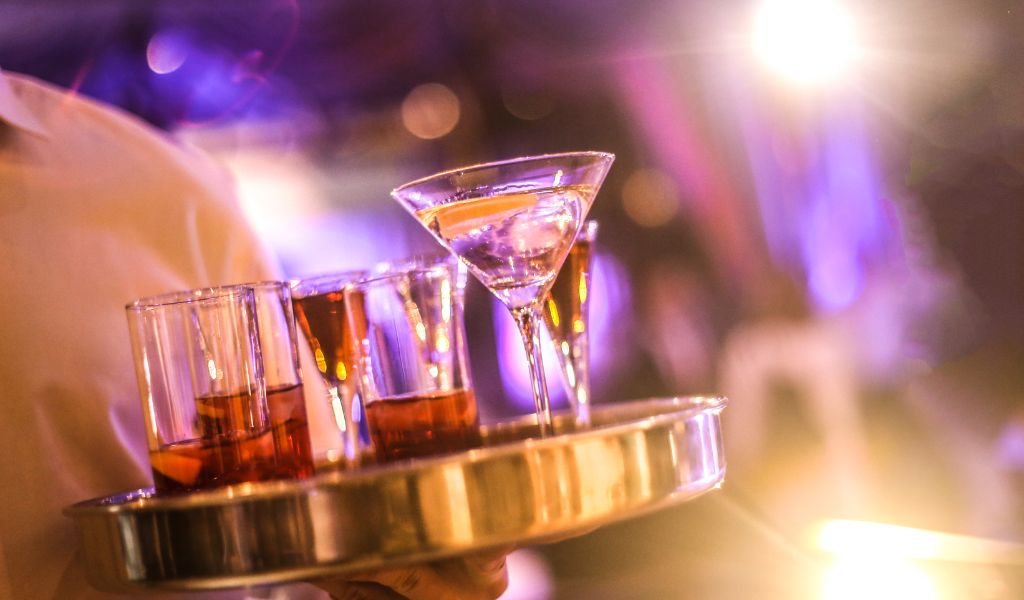 A world-famous destination for party lovers, Mykonos will capture your heart with its electric energy and breathtaking atmosphere. Immerse yourself in the rhythm of the night and let your feet lead the way to an unforgettable experience.
Indulge in the hottest clubs and bars Mykonos has to offer:
Scorpios: Soak in the stunning views of Paraga Beach while swaying to the beats of world-class DJs at this open-air club. Let the vibrant atmosphere envelop you and make new friends as you dance into the night.
Nammos: Experience luxury and exclusivity at its finest at this upscale beach club in Psarou Beach. Be seen amongst the high-energy crowd and indulge in a night of non-stop partying.
Jackie O': Get wild in the heart of Mykonos Town at this iconic club, where you'll find yourself in the midst of celebrity sightings, wild parties, and non-stop dancing.
Cavo Paradiso: Marvel at the breathtaking views of the Aegean Sea from atop a cliff at this legendary club. Immerse yourself in the best of Mykonos' nightlife and create memories to last a lifetime.
Tropicana Beach Club: Join the wild party scene at this popular club in Paradise Beach. Get ready for an unforgettable night filled with laughter, music, and dancing.
Mykonos offers a diverse range of nightlife options for all types of party-goers. Embrace the rhythm of the night and make memories to last a lifetime in this pulsating island paradise.
4)  Stroll Through the Winding Streets of Little Venice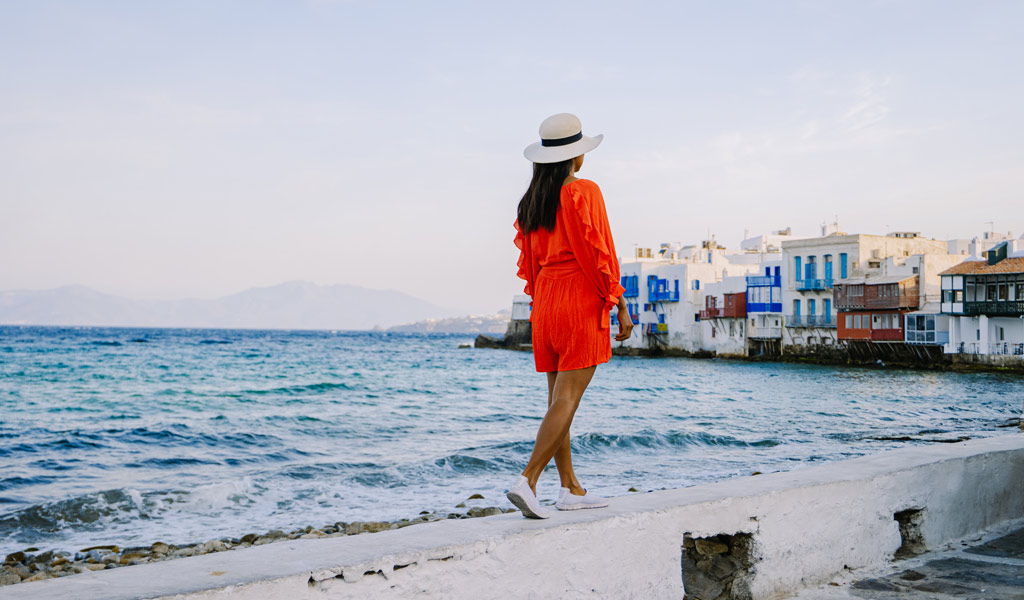 Immerse yourself in the heart of Mykonos' Little Venice, a hidden gem with streets that wind and twist like a fairytale. Surrounded by an array of traditional tavernas, cafes and bars, you can't help but feel the weight of the world lifting away as you take in the stunning views of the Aegean Sea. Savor the moment with a coffee or cocktail in hand and bask in the cozy and relaxed atmosphere.
For a gastronomic adventure, indulge in the flavors of the Aegean at one of Little Venice's charming restaurants like "Kastro's" with its succulent seafood dishes, or "Sunset's" with its breathtaking views that are perfect for a romantic evening. Whether you're exploring on your own or seeking a peaceful escape with your loved one, Little Venice in Mykonos is a haven for travelers from all walks of life. Get ready to be swept away by its timeless beauty.
5) Uncover the Rich History of Delos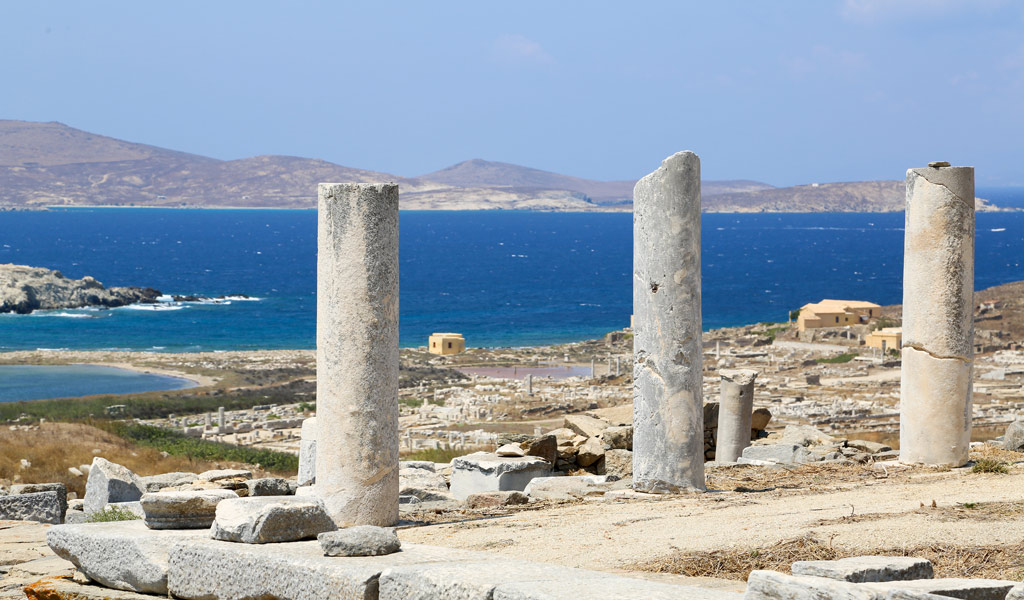 Delos, a short sail away from the vibrant island of Mykonos, beckons history lovers and culture aficionados to embark on a journey through time. This ancient island is a treasure trove of rich heritage and a window into the Aegean's fascinating past.
As you wander the sun-kissed ruins of temples, theaters, and homes, your imagination will come alive as you visualize life in ancient Greece. The Sanctuary of Apollo, a religious hub of immense significance, will leave you in awe, while the Terrace of the Lions, guarded by majestic marble lions, is an iconic sight that you won't forget. Delos is a unique blend of history and mythology, waiting for you to uncover its secrets and be enchanted by its timeless beauty.
6)  Get a Taste of Authentic Greece in Ano Mera and Ornos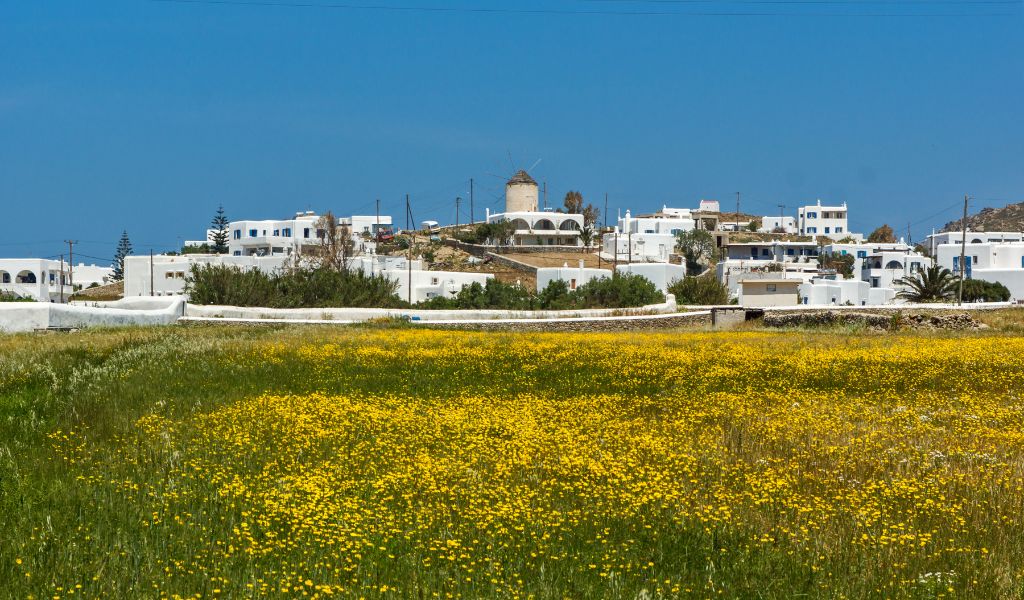 Immerse yourself in the traditional Greek culture by visiting the charming villages of Ano Mera and Ornos. Known for their peaceful ambiance and relaxed atmosphere, these villages offer a stark contrast to the bustling Mykonos town. Take a leisurely stroll through the quaint streets, indulge in the local cuisine, and sample some of the special dishes that the area is famous for.
Ano Mera is known for its quaint cafes and traditional tavernas serving hearty stews and grilled meats, while Ornos boasts a variety of high-end restaurants offering fresh seafood straight from the Aegean. Whether you're looking for a quiet lunch or a romantic dinner, you're sure to find something that suits your taste in Ano Mera and Ornos.
7) Embark on a Memorable Boat Tour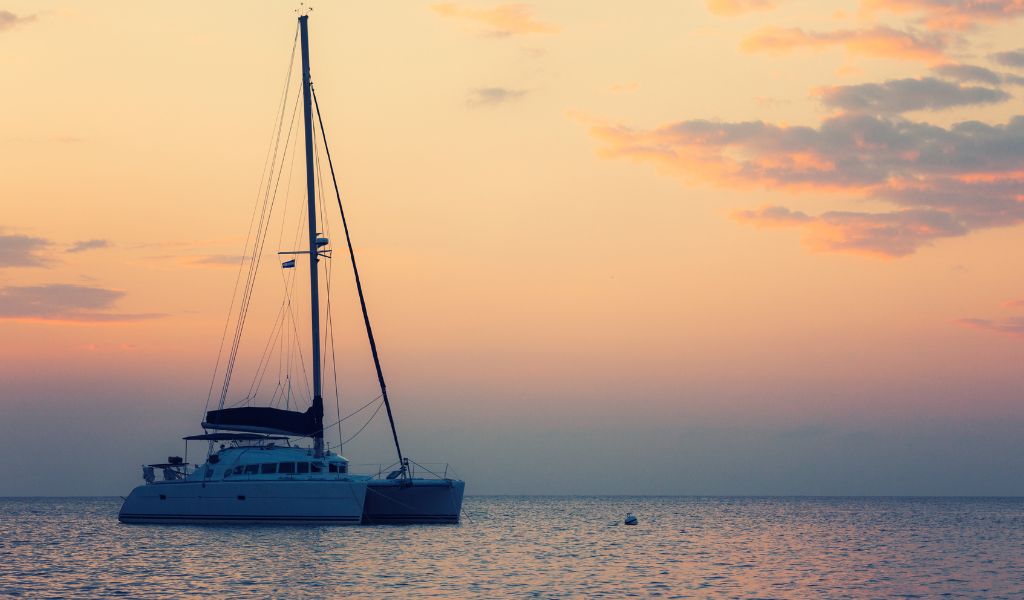 Mykonos Island Greece is a maritime treasure waiting to be discovered. Set sail on a scenic boat tour and let the gentle waves wash away your worries as you take in the breathtaking views of hidden coves, pristine beaches, and quaint fishing villages.
Plunge into secluded bays for a swim, bask in the sun and make memories that will last a lifetime. From a picturesque sunset tour to a full-day adventure to the south coast, the options are endless.
Imagine the unforgettable experience of a Little Venice sunset cruise, a private excursion tailored just for you, a snorkeling sea safari that takes you to the underwater world, or a catamaran tour to the exotic Rhenia Island. These Mykonos boat tours offer a window into the soul of Mykonos, making your vacation a journey to remember.
8) Shop for Unique Souvenirs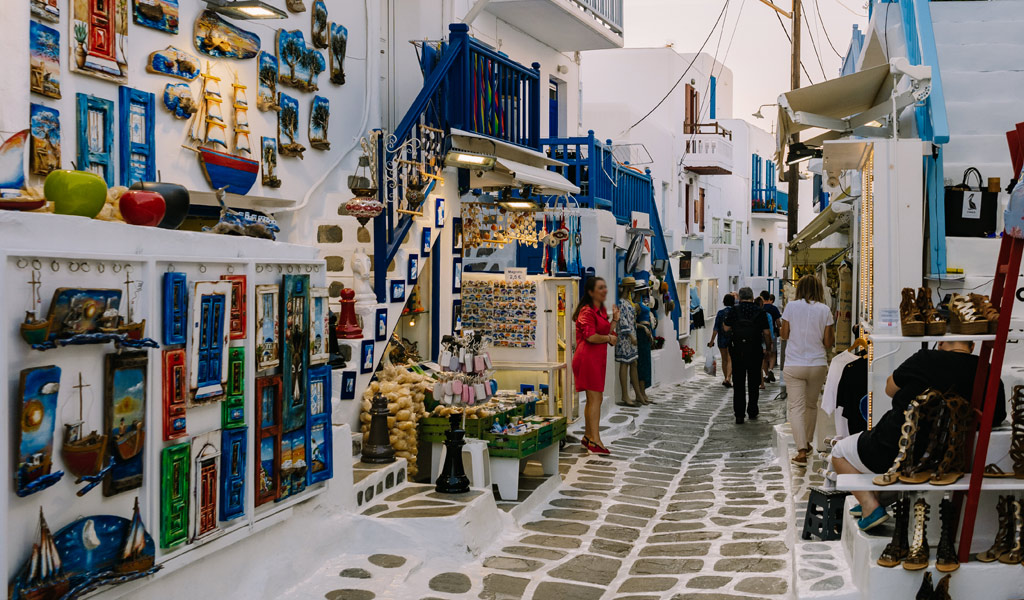 Mykonos Town is home to a variety of colorful boutiques and shops offering unique souvenirs, jewelry, and clothing. Take home a piece of the island and remember your amazing vacation for years to come.
Mykonos Town is a shopper's paradise and the perfect destination for anyone looking for unique, one-of-a-kind souvenirs and art pieces to take home as a lasting memory of their amazing vacation. Whether you're exploring the gorgeous cobblestone Matogianni steet, the charming alley of Zouganeli, or the picturesque Little Venice neighborhood, you'll be surrounded by a plethora of colorful boutiques and shops offering a variety of jewelry, clothing, and souvenirs that perfectly capture the essence of the island.
From the artisanal wooden and rope art on Zouganeli alley to the beautifully handcrafted leather sandals of Little Venice, every shop has its own distinct style and personality, making it a truly unforgettable shopping experience. Whether you're looking for a piece of jewelry to commemorate your trip or a hand-stitched knitted item to keep you warm during the colder months, you'll find something that speaks to you in these beautiful shopping destinations.
Read also our article about the best shopping spots in Mykonos
9) Indulge in Local Cuisine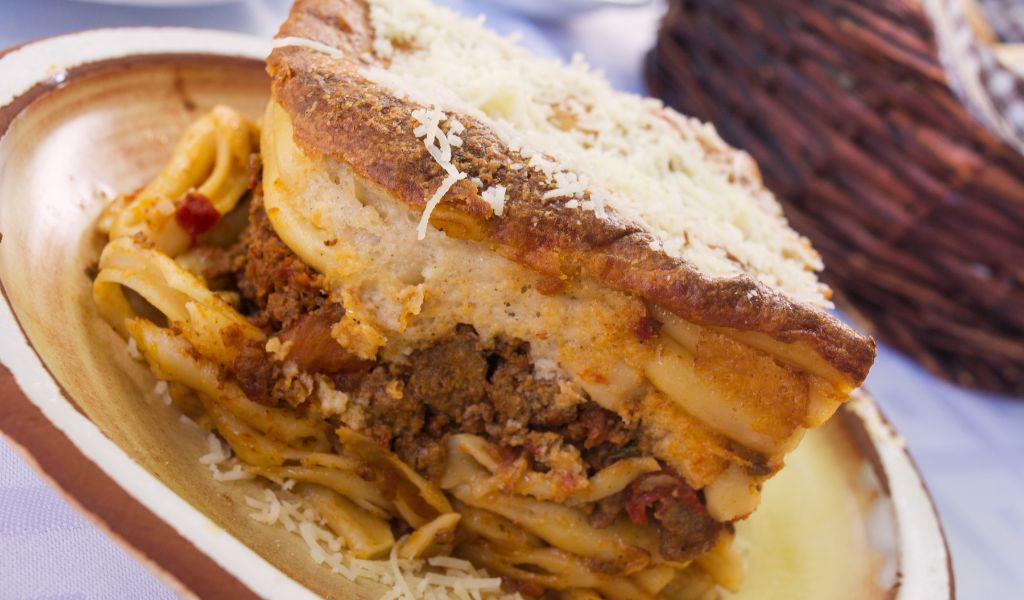 Mykonos is known for its delicious local cuisine, including dishes like moussaka, tzatziki, and grilled seafood. Dine at one of the island's traditional tavernas or high-end restaurants for a truly authentic and delicious experience.
Embark on a culinary journey to the heart of Greece and discover the authentic taste of traditional dishes that will tantalize your taste buds. We have handpicked four of the most enchanting places where you can savor the essence of Greece in every bite.
To Steki tou Proedrou Traditional Restaurant
Travel to Ano Mera in Mykonos and step into the warm embrace of "To Steki tou Proedrou". This charming restaurant is a celebration of traditional recipes, prepared with love and passion, using only the freshest local ingredients. Be tempted by daily stews that simmer to perfection, juicy meats from the family farm, succulent seafood, and fresh salads brimming with Mykonian goodness. Don't miss the chance to sink your teeth into the legendary lamb chops or the decadent homemade burger. Top off your meal with a sweet treat from the owners – the semolina halva.
Limnios Tavern: A Sunset Symphony of Flavors
Experience the magic of Greece at Limnios Tavern, a hidden gem in Agios Stefanos. Overlooking the stunning view of Delos and the picturesque sunset, this tavern has been serving traditional Greek cuisine for over 20 years. Savor the mouth-watering flavors of dolmades, moussaka, soutzoukakia, and lamb chops, each bursting with authentic taste and aroma.
To Kafeneio tou Bakoya: A Taste of Authenticity
Travel back in time to the charming old-style Greek kafeneio (café), "To Kafeneio tou Bakoya", where locals gather to catch up on community news, drink and eat. This tiny cafe has been in operation since the late 1970s, run by the warm and welcoming family. Sit in its nice atmosphere, surrounded by wooden tables and chairs, and taste the delectable Mykonian sausages, flavorful omelets, and fresh "atherina" fish. Don't forget to pair your meal with a glass of ouzo for a truly authentic experience.
Nikolas' Tavern: A Feast by the Sea
Discover the picturesque beachfront tavern, Nikolas' Tavern, on Agia Anna Beach, where you can indulge in a feast of fresh seafood caught daily by the owner himself. Take a seat on the blonde sand, surrounded by the breeze and soothing sounds of the sea, and taste the authentic flavors of traditional homemade dishes such as pastitsio and moussaka. The tavern's character remains unchanged for over three generations, and all ingredients, from the vegetables to the meats, are sourced from the family's farm or local producers. Savor every bite and experience the true essence of Greek cuisine.
As you come to the end of this article, we hope that you feel inspired to plan your next vacation to the stunning island of Mykonos. The memories made and the unforgettable experiences of "things to do in Mykonos" are just a plane ride away!
Embarking upon a mesmerizing odyssey to the fabled shores of Mykonos, in search of the quintessential sanctuary to call your own? Allow our seasoned team to serve as your compass, guiding you to the epitome of Mykonian accommodations. Delve into our artfully crafted article, Where to Stay in Mykonos, a comprehensive mosaic of the island's multifarious and beguiling regions. With meticulous precision, we have hand-selected a refined assortment of hotels, categorized by their locales, ensuring your aspirations of an ethereal Mykonos escapade unfurl into treasured memories that echo through time.